11 April, 2022
Call for illustrator/designer
For the FUNding Peace online course
 Background
SCI is a century-old organisation dedicated to promoting a culture of peace, and Sustainability and Gender Inclusivity are an essential part of it. To better support people all around the world who are initiating their first educational project (seminar, training course, youth exchange…) we are currently developing an online course focusing on some key elements that should be considered in planning, organising, and evaluating a project. 
Our ambition is to develop an online course that is visually attractive and user-friendly, allows for flexibility in learning, integrates videos, and offers easy group interaction and peer support. We are now developing a new online course in project management with three modules: Components of a project; Sustainability; Gender.
The online course is part of the project FUNding Peace.
To support the design/ visual aspect of the online course, we are looking for an illustrator who will join us in our endeavour.
We are looking for a person who:
Has experience illustrating publications/content for online platform of a similar length/style;

Is flexible and willing to work in a communicative process with the project team, including online meetings at important points of the process during the month of April & May 2022;

Ability to communicate in English;

(Ideally) has some familiarity with the topic of sustainability and gender, and/or with the work and values of SCI.
The tasks:
We estimate the total volume of the content for the online course as an equivalent of

50-60 pages of text

.

We encourage you to have a look at the existing modules in our

learning platform

to have a better understanding. (create an account to have access to the course…) 

We request to have an online meeting

at the end of April

to define the tasks.

A first draft for feedback should be ready in mid-May.

The final edit should be ready

by the 31st of May

.
What we can offer:
Service contract and payment for services, for an amount to be agreed.

The opportunity to be involved in the creation of a resource that will support people practising peace and peace education.

High visibility of your work within the movement and for youth and volunteer organisations beyond SCI.
How to apply:
If you are interested in using your design/illustration skills to support this project, please send a sample of your work, a quote (what you would normally expect to be paid for such work) and a draft proposal of a creature/character for the online course to Anaïck at officeltv@sci.ngo by 25th April 2022.
The earthquake recently affecting Turkey and Syria is the biggest of the last centuries. Read more to know how you can help.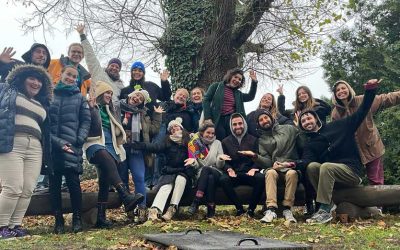 In December 2022, SCI Austria organised a training about colonialism and volunteering, aiming to learn and think about colonialism, its definition and its structures, and to help organisations better prepare volunteers that go to the Global South. To decolonize ourselves, in other words. Participants from different organisations or branches of SCI benefitted from this training. Now they have returned to their organisations and activities with new tools to struggle with eurocentrism, racism and colonialism within NGOs.
SCI Poland invites you to register for the webinar entitled "Recipes for high-quality educational events", which will take place on 27.02.2023, 16-17 CET