6 December, 2020
End of 100for100 donation campaign
Thank you for supporting us!
In June 2020, we launched the fundraising campaign 100€ for 100 years, in a moment where SCI was already facing difficult and challenging times and Covid-19 was hitting us hard.
SCI reached out to you, our friends around the world, who want to see SCI bloom as a centenarian, and you responded, helping us in our work for a better future for you and for future generations.
The donation campaign has now officially ended, and we want to thank all the donors and those who helped spreading the campaign!
Thanks to you, the campaign raised a total of 15,270€.
We are really grateful to all of you for making it possible to reach our goal!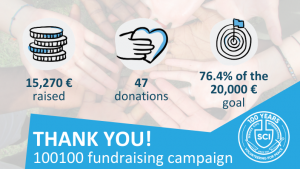 From 24th August to 7th September 2022, 15 participants took part in a workcamp in organized by SCI Italy at "La Città dell'Utopia". Throughout the camp they collected and discussed different stories about local, historical and current fascism.
You are invited to the 4th event of the Vision Seminar series: SCI: one international peace movement or a network of individual organisations? 📅 Saturday, 1 October – 11h00-13h00 CEST, 📍 Online on zoom. ⏰ Register by 27 September.
Pauline, our new Project & Office volunteer comes from France and joined the SCI International Secretariat in Antwerp. As she begins her journey with the SCI movement, she shares her thoughts, hopes and ideas for her long term volunteering project in Belgium.