10 June, 2022
Service Civique at the International Secretariat of SCI – apply!
Are you eligible for the Service Civique? Here a long-term opportunity for you!
Long-term opportunity for citizens or residents of France
The International Secretariat of Service Civil International is looking for a project and office Service Civique volunteer! 
Where:
SCI International Secretariat, Antwerp, Belgium
Period:
05 September 2022 – 04 September 2023
Title:
Project and office Service Civique Volunteer
SCI has been organizing international volunteering projects for 100 years internationally, organising short term voluntary projects (workcamps) as well as mid-term and long-term volunteering exchanges. SCI's vision is a world of peace, social justice and sustainable development, where all people live together with mutual respect and without recourse to any form of violence to solve conflicts. SCI's mission is to promote a culture of peace by organising international volunteering projects with local and global impact. The volunteer's work will support this mission.
The volunteer will support the organisation of international (online) meetings and events, the collection of statistics, relations with donors and other tasks that will be added later in the year. 
The placement requires creativity, a keen interest in the topic and the ability (or interest in developing as a skill) to multitask. The Finance Officer and the Volunteer Coordinator will act as the direct supervisor and many of the projects will be done in collaboration, with strong support for self-initiative and innovative ideas. 
The volunteer will work a total of 30 hours a week and will receive 2 free days per month during the voluntary service.
Placement tasks
Support the organisation of the International Committee Meeting (ICM) (20%)
ICM is SCI's bi-annual assembly and will be happening online in December (long) and June (one day)
Supporting with the internal communication of the event;

Supporting with the formatting and organising of official documentation;

Helping with minutes taking and finalising minutes after the meeting;

Technical support with online streaming and online platforms.
Support with statistics (20%)
Support transferring data to an excel spreadsheet and communicate with branches to support submitting their data

Support with infographics/video tutorials to help SCI organisations better understand the process
Fundraising and donor management (20%)
Collecting material to show updates of SCI's activities to donors (e.g. pictures, interviews with SCI staff and volunteers, quotes, …)

Editing the material

Creating a newsletter for donors

Finding new ways to manage donor relations
Gathertown events (20%)
Organising gathertown events
Other (20%)
Infographics/videos/visuals for finance/statistics/insurance processes

Survey of the Members' Area (internal knowledge management system) and updating and re-organising links, information, materials

A personal project agreed upon with the supervisor + camp coordinator training and workcamp coordination;

Share the general work of the office, such as answering telephone calls, filing, joining office meetings;

Other tasks as they may arise.
Who are we looking for?
Someone who can apply to the Service Civique, aged between 18 -25, who has:
An interest in the topics of human rights, solidarity, volunteering, intercultural dialogue and specific project topics mentioned above, and who is eager to contribute to SCI's mission of promoting a culture of peace;

An interest in learning the organisational side of working in an international NGO, internal communication and donor management;

An interest in increasing graphic design skills in software such as Indesign, Piktochart and Canva;

Good organisational skills and attention to detail;

Good English language skills (spoken and written) and/or be willing to improve

Creativity and self-initiative;

Interest to help, learn and share, to work in a busy international office, to multitask and to work in teams.

Any previous experience with volunteering or with SCI is a plus.
What do we offer you?
A furnished room in an apartment with shared facilities (livingroom, kitchen, bathroom) for 190 euros (all utilities included; personal stuff such as food, hygienic materials not included)

A bike sharing card to explore the beautiful city of Antwerp;

A personal mentor who will support you during your time in Belgium;

Participation in international meetings (EPM & ICM), a camp coordinator training with SCI France and an international workcamp.
How to apply?
Apply as soon as possible by contacting Maxime at SCI France: service-civique@sci-france.org
The earthquake recently affecting Turkey and Syria is the biggest of the last centuries. Read more to know how you can help.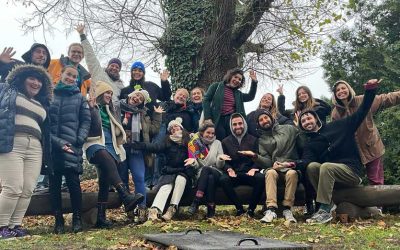 In December 2022, SCI Austria organised a training about colonialism and volunteering, aiming to learn and think about colonialism, its definition and its structures, and to help organisations better prepare volunteers that go to the Global South. To decolonize ourselves, in other words. Participants from different organisations or branches of SCI benefitted from this training. Now they have returned to their organisations and activities with new tools to struggle with eurocentrism, racism and colonialism within NGOs.
SCI Poland invites you to register for the webinar entitled "Recipes for high-quality educational events", which will take place on 27.02.2023, 16-17 CET