Education
IIWC of PKBI: Street Literacy Camp 2017
The project took place in:
Indonesia
Written by Mara Melão from Portugal
My name is Mara Melão, I'm a 24 year old student living in Lisbon, Portugal and I'm a volunteer in the Street Literacy Camp! This was my first time as an international volunteer and experienced this many cultural contrasts, and the first time I realized how many children live with so little access to education.
The street literacy has as main goal to provide books and access to knowledge to marginalized kids while playing in the streets, raising kids dream through the boundaries, as well as provide a cultural exchange between the community and the volunteers.
They are known as the "Anak Pasar", which means children of the market because they live and spend the biggest part of their days rambling around the market. Every day in the afternoon we gather the kids from there and take them to gardens or other public spaces and make a library in the middle of the street, read to them in English, play some Math games, we dance and sing, and enjoy to the fullest all of those moments we spent together.
We also visit different schools of the community with the same aim of a cultural exchange and raising kids dream, encourage them to think outside the box, to absorb all the knowledge and information through all means they can: Knowledge is power!
We bound through the culture, the knowledge, the laughs and the love we share with each other. We did never find the language as an insurmountable barrier, we always understand each other through our actions and this great relationship we establish between us.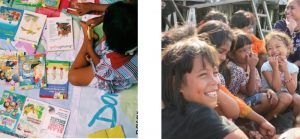 Read more Voices of Volunteers