Art and culture
Monastery hills and valleys
The project took place in:
Ukraine
Written by Daria Sakharova
Have you ever wondered what will happen if you gather a Catholic, an Orthodox, a Hindu and an atheist in one place? I'll tell you – it will be the best thing that can ever happen in summer!
This year's workcamp was a marvelous mixture of hard work and intercultural communication!
You may think that the work being so hard is a drawback – no: it doesn't entirely exhaust you, but tires you only to the extent when you can reach a certain state of mind that makes you forget all your everyday chores, troubles with work and existential contemplation.
The pleasant afternoon fatigue puts you in a mood that is perfect for perceiving the fine notes of a special national mentality that each of the participants adds to the general atmosphere of the camp. And also makes you appreciate the warm shower and tasty food even more!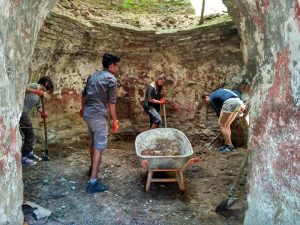 Strangers a few days ago, we became a warm family for the period of the camp and for years to come.
We ate Belgian chocolate, learnt French, shooed away cows from our hammock, drank Masala chai, delved into linguistic research of international idioms, participated in discussions on Indian cinematography, enjoyed the beautiful and breathtaking surroundings of the monastery and so much more – all in one workcamp!
However different our personal conclusions may be, this camp was an unforgettable experience for every one of us!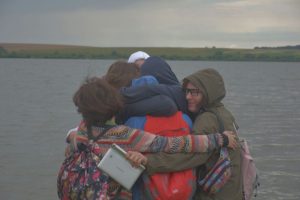 Read more Voices of Volunteers