Art and culture
10 months in 10 moments
Written by Carole Corbeau from France
My Service Civique Experience
My name is Carole, I am 24 years old and I graduated with a Master's degree in communication, more precisely in event communication, in 2020. In times of a pandemic, it was not the best time to find work directly after the studies, so, in 2021, I went freelance to do small web marketing assignments, while looking for an experience abroad. On the Service Civique Français website, I came across the volunteer mission sheet: "Promotion of voluntary commitments and participation in local community life with SCI Italy". After a first interview with SCI France then a second with SCI Italy, in July, the verdict fell, I was accepted to be the next Civic Service volunteer for 10 months at SCI Italy!
So, I stayed for 10 months and here are 10 moments that I want to highlight to illustrate my volunteering experience with SCI Italy:
My training with SCI France

My arrival at the Città dell'Utopia

Discovering Rome and beyond

Our family diners between flatmates

Our Italian class with Antonella

The English lessons I gave

The Soup Festival

Parties at the Acrobax and other "centri sociali"

Living Library Week

Coordinator training
My training with SCI France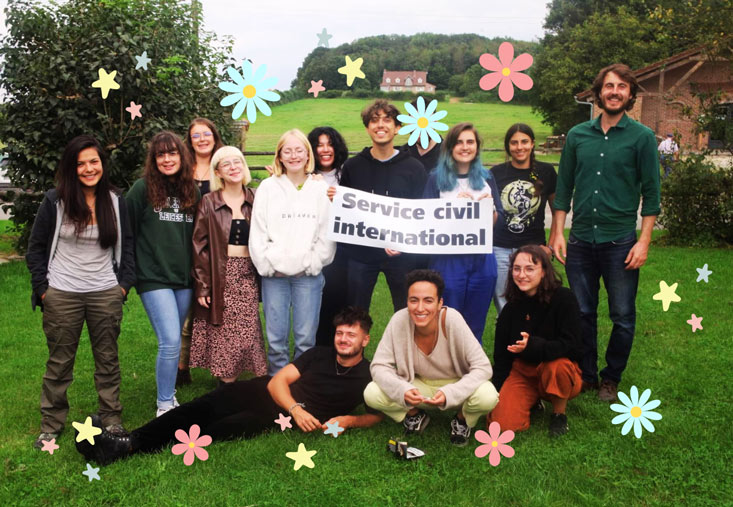 A few days before the big departure, a dozen other French civic services and I were trained for 5 days to learn more about our role, our rights and duties as long-term volunteers. The activities set up were super interesting and allowed us to understand all the issues and values ​​of Service Civil International. We played games, held themed discussions, did a bit of team building, etc.
What I enjoyed the most during this training was sharing these moments with lots of great people I got to know. (especially Lila, my roommate and colleague at SCI Italy) I made friends with most of them and it made me feel like part of the SCI network.
"We shared great moments and we laughed a lot with people who will have the same experience as us, which is reassuring before leaving. Special mention for the food" – Lila
It was my first step with the SCI and I have very good memories of it.
My arrival at the Città dell'Utopia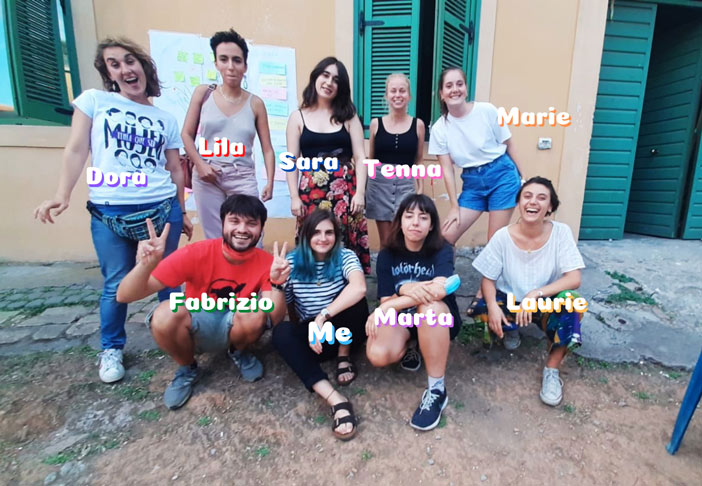 September 15, how can we forget this date? I had just left Paris and it was 16° C and I arrived in Rome under a heat which I did not expect. After some transportation hassles, I managed to arrive in front of the stairs of La Città dell'Utopia. My first impression: it is very green! La Città dell'Utopia is a large orange house located on a small hill with lots of trees and plants. In the past, it was a trattoria, an inn, a warehouse, a squat… before becoming the social laboratory of SCI Italy in 2003.
This historic building has existed for 200 years and has managed over the years to keep its place in the middle of a very urbanized area in the San Paolo district a few kilometers from the center of Rome.
"The most important thing for me was that you all felt safe and able to create your place in the flat and in the office" – Dora, SCI Italy Coordinator
My arrival was marked by the discovery of the place, in particular its mosquitoes (no, it's not a detail) but also the other volunteers (my future flatmates and friends), the STAFF of SCI Italy and all the other people gravitating around the Città dell'Utopia. It took me a while to get used to getting to know the people, remembering all the names, understanding all the roles, but everyone's kindness allowed me to quickly find my place.
Discovering Rome and beyond
I lived in Milan for 5 months during my Erasmus in 2019 and although Rome is also in Italy, I quickly felt the difference in lifestyle. Rome is a magnificent city (much more beautiful than Milan), which will delight fans of history, art and culture.
"Rome is a bit like going to a museum every day, but a lively museum" – Marie
On the other hand, it is a city that requires patience. Indeed, only 3 metro lines for a city whose area is 10 times larger than Paris, which means that trips are done at their own pace. In addition, Rome is not a very "bike friendly" city, it is more practical to have a car, which is not our case. So we adapt and wait for the bus. And if we're late, no problem, it's the custom here. However in San Paolo, we are lucky to live next to a metro station.
Rome is a city where it is difficult to get bored. There are so many things to do that you don't know where to go. Exhibition here, festival there. Many neighborhoods offer different atmospheres, some are not nearby but with a little motivation and a good group of friends, the trips pass quickly, and then it's always nice to see Rome from the bus.
For me who also likes walks in nature, Rome is a few kilometers from the sea and a few kilometers from the mountains, the train network in the Lazio region is quite developed so it is easy to move to see other pretty cities around from Rome: Tivoli, Bracciano, Castel Gandolfo, Santa Marinella… And if moving around isn't our thing, just around La Città dell'Utopia there are plenty of great places to spend your time . You can fully live your Italian experience since even doing nothing is a way of life that they call La dolce vità.
Our family diners between flatmates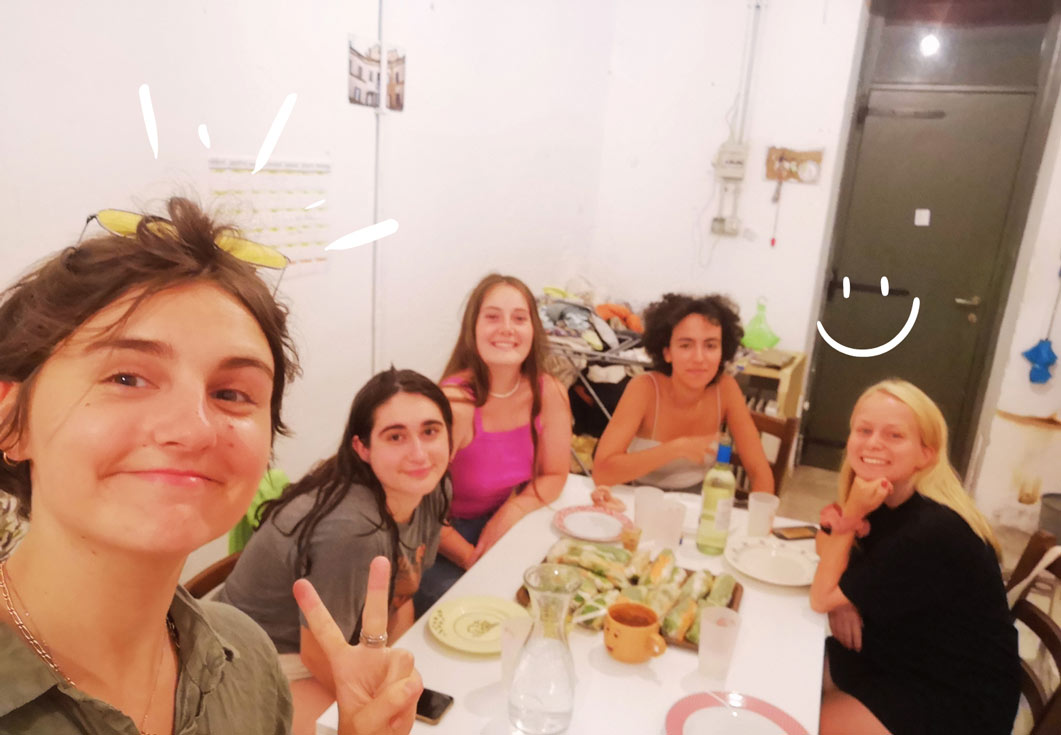 Living in a shared apartment is not always easy, especially when the people you live with are also the people you work with. All in an apartment in which you share your room. We were 5, three French, one Portuguese and one Danish.
Luckily, we all arrived at the same time, it was easier for everyone to find their place and adapt to the rhythm of life at La Città dell'Utopia. To facilitate this life in shared accommodation, we have set up "The wheel of household chores" which allows each week to know who was responsible for the cleanliness of the different rooms of the house. Among these tasks, there is one of cooking a meal for the whole flat. We usually did this on Sunday evening. It allowed us to discuss together, to talk about our feelings, all around a good cooked meal. I think these dinners made me feel comfortable in the apartment and with my flatmates. I always had a little trouble expressing my disagreements (I tended to complain without really explaining what the problem was) but for the sake of shared life, I made an effort and now I can say that with good communication everything goes much better.
"You have warmed up the place after two years of COVID" – Fabrizio, short-term volunteering coordinator at SCI Italy
We were a real team, and it was something that was felt throughout the Città dell'Utopia. What I remember most with the girls is the sorority. We may all have different personalities but we have always supported each other and I think that without them, my experience would not have been the same.
Our Italian class with Antonella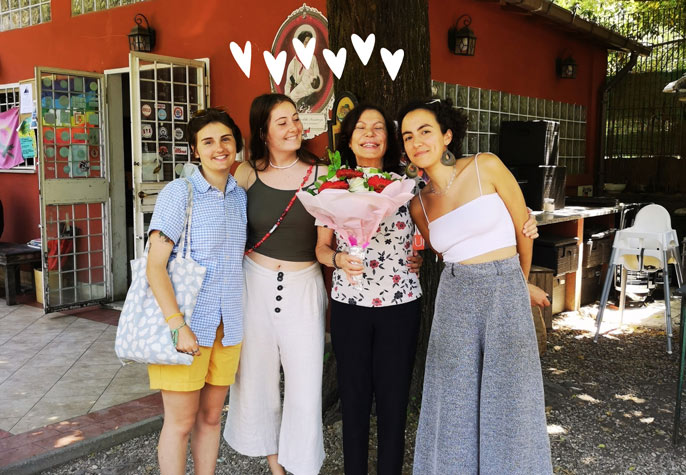 Although almost everyone who works in SCI speaks English, a good level of Italian is highly valued and makes life and work easier. I already spoke a little when I arrived, thanks to my 5 months of Erasmus and the courses I took in high school, but still it took me a little time to adapt. Fortunately, we were able to take Italian lessons at Casetta Rossa, a self-managed social space located in Garbatella. Every day from 10 a.m. to 12 a.m., volunteers come to teach Italian to foreigners. Among these volunteers, Antonella, a retired air hostess, was our teacher during my entire stay in Rome. She is a language lover who speaks Italian ("a good Italian, not the one from Rome", as she liked to remind us), but also French, English, Spanish and a little Portuguese. She passed on her passion to us through lessons that combined text reading, grammar exercises, dictations and discussions.
"Antonella is very cultured, so we talked a lot about culture, history and politics. She likes to share her knowledge and it shows." – Sarah
Even if I was not the most diligent and forgot to do my homework, thanks to her, I felt a real improvement in my oral expression, which was also the case for my 3 flatmates who also followed classes with her. Today I can say that I speak Italian fluently and I feel proud.
The English class I gave
The Città dell'Utopia also offers popular language courses open to everyone. Anyone is welcome to learn but also to teach a foreign language. It is for this reason that volunteers are invited to give lessons if they wish. I jumped at the chance to give English lessons (my two French flatmates were already giving French lessons). I was in pairs with Tenna, my Danish flatmate. I gave lessons to beginners and her to more advanced levels. I had never had the opportunity to teach English before so it was a challenge. Every week, I had to prepare an hour-long lesson, do research, find exercises, etc. I really got a taste for class, especially because my students were caring and eager to learn, so much so that I was very moved at the end of the last lesson. This made me realize that teaching is something that I really enjoy and that I see myself perpetuating.
"Italians tend to underestimate themselves when it comes to the English language. Seeing our students' desire to learn and their growing confidence is a very rich experience to bring with us." – Tenna
The Soup Festival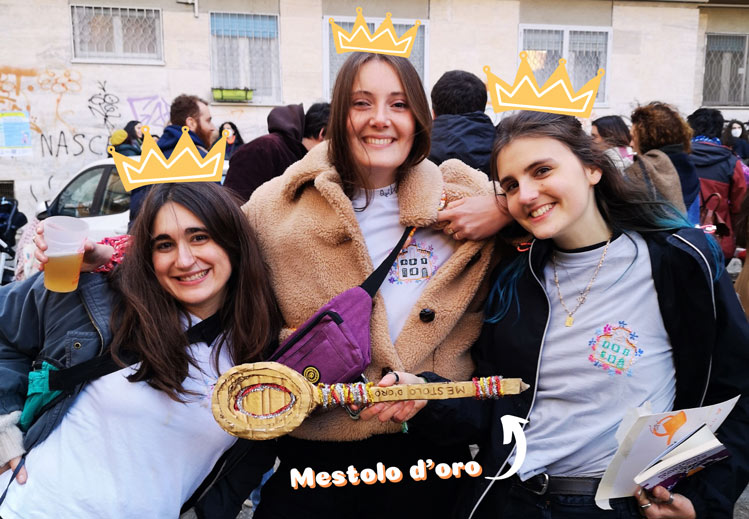 One of the things that intrigued me a lot when I arrived at La Città dell'Utopia is the famous soup festival or more precisely "Festival Internazionale della Zuppa di Roma" which is the biggest event organized in the year. This festival originated in Lille and was brought by a former activist here in Rome more than 15 years ago. And since then, every year, this unmissable event is organized where soups are put in competition, all in a festive and musical atmosphere.
"For me, this festival brings together all the values ​​of La Città dell'Utopia in one day." – Laurie, ex-coordinator of La Città dell'Utopia
For the organization, La Città dell'Utopia is planning an assembly in January open to anyone wishing to take part. Thus, every two weeks, we all talked together about the different stages, we discussed the theme and the activities that we wanted to set up.
On Sunday April 3, the 15th edition took place on the theme of "la cura" the care. Festival-goers had the chance to participate in workshops around care, the performance of the Murga Sin con Trullo, a popular meal, concerts, and most importantly: the tasting and voting of the soups. I was very invested, because I attended all the assemblies and I saw the festival come together from the beginning, also because this year we decided to make the soup of the volunteers. Together we brainstormed the recipe and cooked and presented our Dolce Arancio soup to the public. I knew our soup was good since we put our love in it but I didn't expect it to win the quality prize and second place in the contest! Smile never left my face that day.
Parties at the Acrobax and other "centri sociali"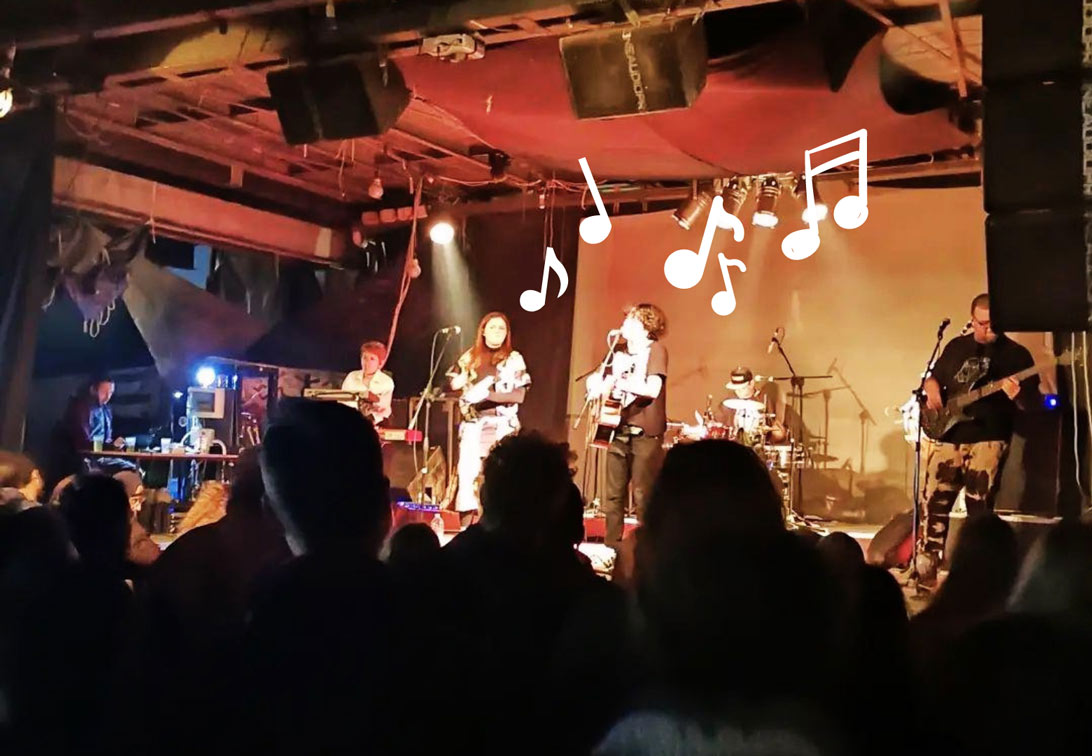 "Acrobax is the perfect place to party while being with people who share our values" – Marie
Acrobax is what is called a "centro sociale" (social center), it occupies an old cynodrome (the space where greyhound races take place) 15 minutes walk from the Città dell'Utopia, convenient to get there. It is rather known for its engaged evenings, for example in collaboration with feminist or anti-fascist organizations. Concert or DJ set, everything will depend on the program of the evening, often Latin American music that allows you to have fun on the dance floor.
It is a place where you meet many people from the "Rete Roma Sud" (South of Rome Network) working and volunteering in other social centers. Like "CSOA La Strada", "CSOA Auro e Marco", "CSOA Forte Prenestino", Porto Fluviale… during these 10 months, we visited lots of politically engaged places, which allowed us to get to know lots of interesting people. All these meetings have helped me develop my political commitment and strengthen my values. I feel like I have grown up as a citizen.
Living Library Week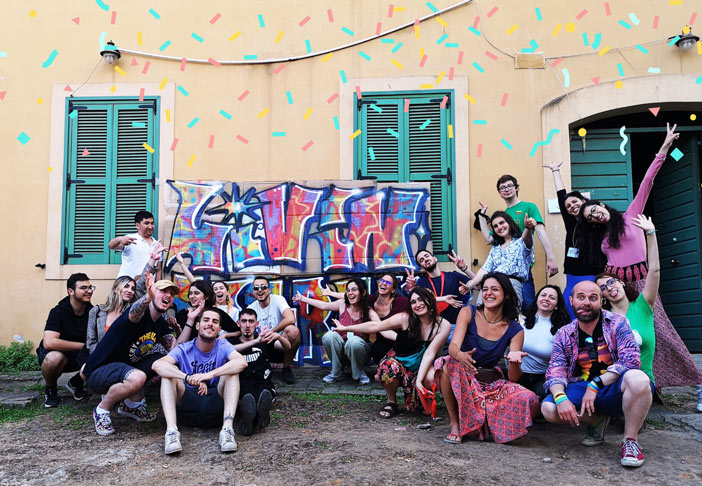 One of the biggest projects during the year that I worked on was the Youth Exchange "Living Library Week". A Youth Exchange is an Erasmus+ program outside the school or university for a few days allowing people between the ages of 18 and 30 from different countries to meet and work together on a common project. Initially planned for 2020 and postponed to 2022, the basics were there but there was still everything to prepare. With my roommate Sara, we were in pairs to support the coordination. She was in charge of the logistics part and I of the relationship with the partners and participants. From the month of March, I carried out several missions such as: launching the call for group leaders, launching the call for participants, choosing group leaders, sharing information with partners, preparing online calls, facilitating calls, helping to create the agenda, choosing the participants, getting in touch with them, preparing the infosheet and sending it… Stress and doubts were present during these months of preparation but my colleagues from SCI Italy were able to reassure me and support me when things were not going well. It was their unfailing support that kept me motivated until the end.
From May 4 to 13 we welcomed 25 participants from Italy, Austria, Hungary, Spain and Greece. The purpose of this exchange was for them to explore together the themes of emotional intelligence and interpersonal relationships, thanks to the Living Library tool. During these ten days we have prepared different activities and games to help them feel comfortable and express themselves. The final event was a success and everyone was happy with what we accomplished together.
"I wanted it to be a project that helps people connect with their own feelings and emotions, their needs and with others. I'm really happy that we succeeded." – Sarah
In addition to all the skills that working on this project gave me, I loved being in contact with the participants and getting to know them. Their enthusiasm was precious and made me want to relive a similar experience. The pride I take from it is still intact.
Coordinator training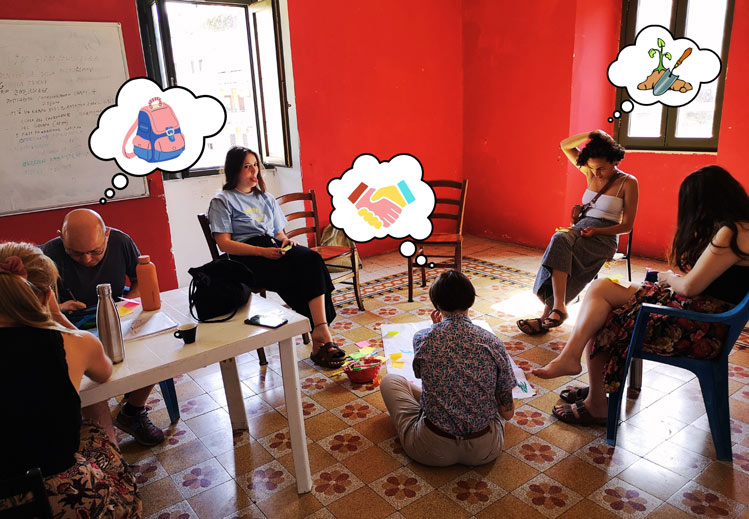 Thanks to our year spent with the organization, we were given the opportunity to follow the training to become a coordinator from 20 to 22 May. Indeed, SCI Italy offers training to participate in or coordinate a volunteer camp. These training sessions are available to everyone. Through non-formal education activities, we deepened our skills in non-violent communication and conflict management, which I believe are fundamental concepts. This helped me a lot since it allowed me to strengthen my knowledge of SCI as well as better understand the course of a volunteer camp.
In conclusion
There are still so many things I could talk about because in 10 months I had time to do 1001 things. Through this testimonial, I would like to thank the entire SCI and LCU team, in particular Marta, my communication partner for having passed on her knowledge and trust to me, Dora for having accomplished her role as coordinator wonderfully by always being present for us, Laurie, for her positivity and her benevolence, Fabrizio for his listening and his comforting support, my flatmates Marie, Lila, Sara and Tenna for having shared, my laughter, my tears, my disappointments, my joys… My mentor Sara, for the time we spent together, my friends for their unfailing presence and all the wonderful encounters I have had for allowing me to experience an incredible year, filled with unforgettable memories. Words will never be enough to describe all that these 10 months have given me. What is certain is that my investment in SCI does not stop now. Today these 10 months of volunteering with SCI Italy are over but I will return to the country at the end of August in order to coordinate a camp in Piedmont. I can't wait!
Read more Voices of Volunteers