29 August, 2022
What is a workcamp in Sri Lanka like?
Workcamp in Akurana District
Let me give you some input about my second summer workcamp experience which took place in Akurana District from the 10th to the 16th of August.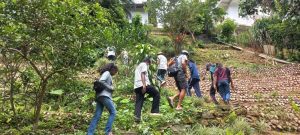 On our first day, we arrived at the campsite, which was the Yalugahawela Waste Management Center, and had an inaugural ceremony with some members of the municipal council. We were offered some tea and milk rice. Indeed the tea breaks are very important here. We usually have one in the morning and one in the afternoon. After that we went to our accommodation place and settled for the week. 
For three days, we worked in this village. We started by cleaning the road leading to the waste center.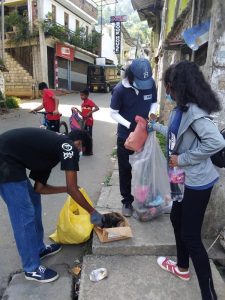 At the beginning the villagers were not joining us, but by the middle of the day they helped us to finish the cleaning and told us the story of the Garbage Center. This moment was really important because it allowed us to create a connection with these people and understand their point of view better. This local community is marginalized by the rest of Akurana people because they are Tamils from Indian descent brought by the British to pick tea. In the past, they didn't have citizenship so they were not able to take legal actions. By talking with them we realized there were more deeper issues between them and the local authorities. Later on that day we even played volleyball with the village youth.
The Inspire Kids, on their side, started their research going from house to house, about the issues that had arisen after establishing the Garbage Center in the village. Their goal is to make everyone aware of the situation of this village by writing an article about them.
In the next few days we cleaned the garden, made a compost bin, planted seeds but most of all we cleaned, repaired and painted the pre-school building and its premises together with the local community. In the evening, some office bearers of the village societies, parents of the pre-school kids' had gathered there for the meeting. The P.S. President addressed the gathering appreciating our work and promising to develop the village further. We had been able to make a bridge between the people of the village and the local authorities for them to meet each other after a long time. Everyone's happy face was a witness of that story.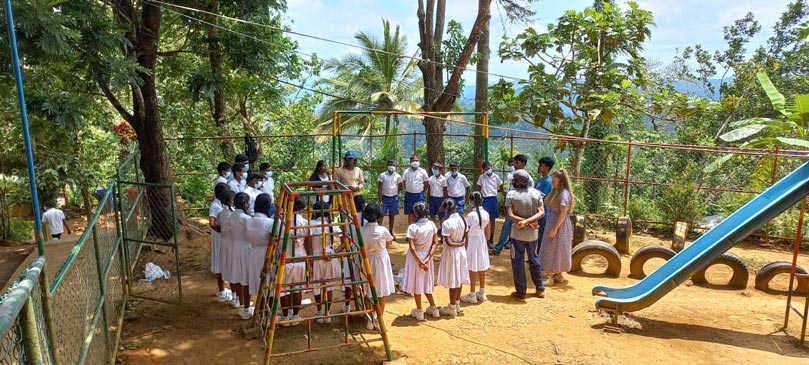 All along the week we were served delicious typical Sri Lankan food. Here the main dish is the "rice & curry", which is basically plain rice, served with different curries made out of vegetables most of the time and sometimes meat or fish. In the evening we had some fried rice and kottu. It was all very tasty "rasai", but also so spicy "sarai" for me and Cléa ! They love chili so much here but even after 4 months here, we are still not completely used to it.
On the last three days of the camp, we focused more on environment awareness. We had two cleaning walks; one in Akurana town and one in Alawathugoda. We collected garbage on both sides of the road under the sun in the morning. Some people didn't care at all about what we were doing but others came and asked us why we were doing this and some of them even joined us. I hope that on that day we could make people more aware about waste pollution. There is still a lot of work to do since the river is also full of plastic, tins, cans and polythene bags. One of our volunteers was really sad to see that because he remembered that as a child he was able to drink without any risk the water from the river. Nowadays this would be really difficult with all this pollution.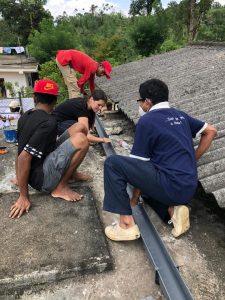 In the afternoon, after this hard work we deserved some fun so we played cricket all together and even had an ice cream! We were also able to visit an organic garden with a lot of various vegetables and fruits. Finally, on the last day, we ran an awareness program in Dippitiya school. The 90 students were divided into three groups and we introduced them in a creative way to the 3R concept: Reduce, Reuse and Recycle concept. Everyone enjoyed the time there and we hope the children will think about this concept in their daily life.
When we are working but also in our free time, we always have fun with our volunteer team. A lot of people really enjoy making jokes, taking funny pictures of each other and posting them into the WhatsApp group or teaching us some funny sentences in Sinhalese (one of the languages of Sri Lanka) which makes everyone laugh so much.
During this workcamp we also enjoyed a lot the experience sharing and the musical evenings, when we were all together singing on a guitar melody played by Sameera, Caral or Nuwan.
And this workcamp doesn't end here! Indeed, we think it's always better to have a follow up with the communities we helped to make our intervention more meaningful. For this village we have several plans. First of all, the kids who went talking to the villagers will write an article and share it in the media for people to be aware of the history of this village and this waste center. We will also provide the municipal council a report about our observations and thoughts regarding the situation of the village in order for them to understand this community and their wishes better. Finally, we are already planning to have one workcamp a year in this village to keep making people aware of climate change and waste management.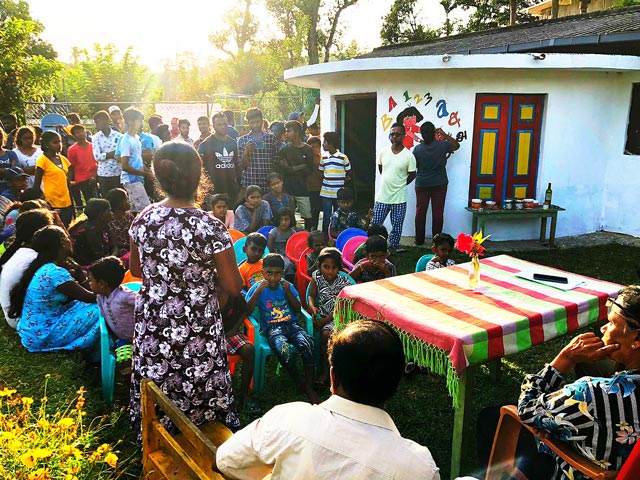 By SCI Sri Lanka. Thanks Youna for writing the article!
We are looking for a trainer to join an antimilitarist seminar in Rome, Italy, from April 16 to 22, 2023. Deadline to apply is February 12!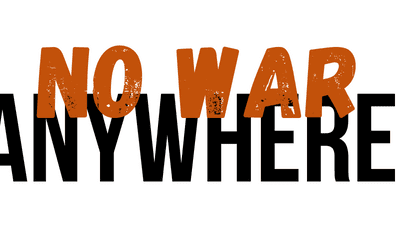 Join SCI's new antimilitarism project, in Rome, Italy, on 16-22 April, 2023! We are looking for motivated young people, passionate about peace, antimilitarism and advocacy. Deadline to apply is 20 February!
Inex Slovakia is looking for 2 long-term ESC volunteers to join their team in Bratislava.