Art and culture
A Malaysian volunteer in a workcamp in Vietnam
The project took place in:
Vietnam
Written by Chan Chun Yong from Malaysia
On the 5th August- 15th August 2016, I had joined a summer workcamp held in Vinh Long, Vietnam In which my job is to teach the elementary school students in the rural area of Vinh Long about English.
I arrived at Ho Chi Minh the very first day and get to know other participants from different country such as Vietnam, Japan, Korea, Spain and Indonesia. We had an introduction and ice breaking session in order to know each other better. The next day we depart to Vinh Long in a van and the journey took approximately 3 and half hours. We were welcomed by the host family when we arrived there and we had a really great dinner with the family.
The next day, we started to discuss and plan about the activities that we are going to have in the school on the next day. Our focus is to let the children learn some basic English in an interesting way, so we decided to conduct some game in which the children will gain some knowledge in English throughout the games. Besides, we divided ourselves into 3 groups in order to handle different group of children of total amount approximately 60 students. We had a great time with the students and they gave us 100% cooperation as well.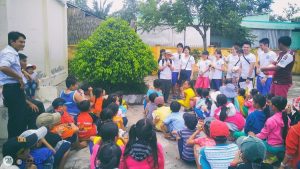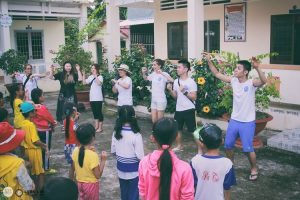 For the second day, it was a sport day in which all students are asked to divide into 3 groups as usual and we as the committee will handle and conduct the sports. For sport day, our main objective is to let them know about teamwork besides teaching them some new English vocabularies throughout the sports/games.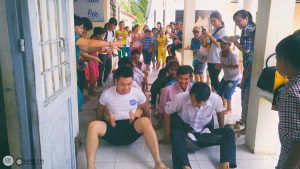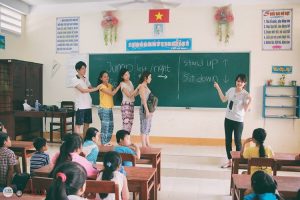 We enjoyed ourselves very much in the school even though communication is the main problem as students' English level is nearly zero and we had to use body languages most of the time or seek for help from the local participants for translation. We can see that the students had a lot of fun and enjoyed very much.
Throughout the workcamp, we were assigned to plan and prepare our daily meal (lunch and dinner) based on a rotation basis according to our own group. It was really fun and interesting preparing meals with other participants as we were mixed up in a group, which means we have different nationality in the group and we always got to try some international cuisine such as Japanese, Chinese, Spanish, Korean and even Vietnamese food for our meals throughout the workcamp.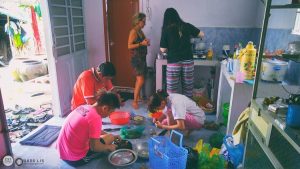 During the free time, we will sit down together and chitchat about our own stories from our homeland, share our very own experiences in school, in life, and sometimes play some games in order to strengthen our bonding in this camp. Besides, we played a game called " secret buddy" in which we will have to take care of someone without letting them know and this had further strengthen our relationship.  At the night, we will review back what we had done for the whole day , and try to figure out the solutions for any problems we were facing, to make the next day better.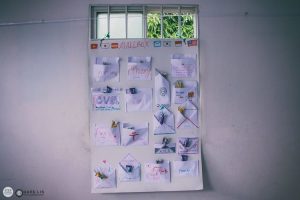 For the last day in the school, we had cultural exchange with the students in which participants will have to promote the culture of their own country in any way. I decided to promote Malaysia to the students by introducing them the local famous song "Rasa Sayang" and teach the students to dance to it. They enjoyed the song and the dance very much.
After our session officially ended, we had a dinner with the local teachers and they prepared some Vietnamese food as a way of showing gratitude to all of us.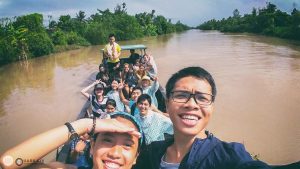 And finally, it is the time for us to leave the village and head back to Ho Chi Minh City, we couldn't thank much for the hospitality and help from the host family all this while.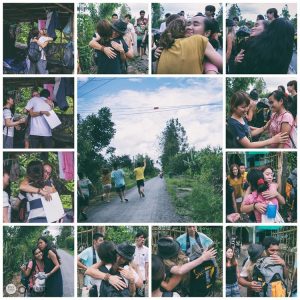 It was really hard for all of us to say goodbye because there were too much memories we had made here throughout the one week camp and those memories are going to stay deep inside our heart, forever.
Back to Ho Chi Minh City , we had a city tour guided by Wendy.We visited the famous spot in Ho Chi Minh city such as war museum, Ben Thanh Market, Saigon Square etc. In the afternoon, we had a small exchange program with the students of University of Science and Human Resources, HCMC. We learnt about the history, geography and also the famous things in Vietnam through slideshows and we all were really impressed.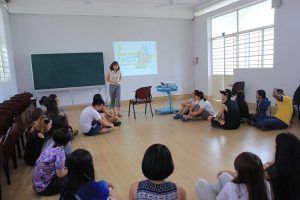 And after that, we all went out of the university and had a "scavenger hunt" in which we were divided into groups and assigned task. We got to explore the Ho Chi Minh city while completing the tasks given. It was really tiring but fun anyway. We ended our day with dinner with the amazing people from university.
So here comes to the end of the Vietnam Summer Workcamp 2016 by STEP Forward Exchange. Personally, I think this program had benefited me a lot and the experience I gained throughout the camp is really priceless. I have met a bunch of motivated people from all around the world with the same mission, we get to know each other cultures and background better and we spent some really great moment together in the camp. The organisation of the whole camp was good and we had a lot of interesting activities from time to time. It was way more better than what I expect at the beginning. And lastly, thanks to SCI Malaysia for giving me this chance to try out something new to me, which is going to remain in my memory for lifetime.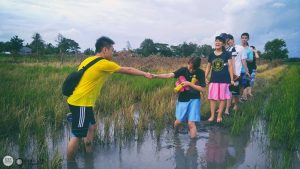 Read more Voices of Volunteers