Environment
From Russia with love
The project took place in:
Italy
Written by Tyshchuk Nataliae from Russia
I can't say that I am a experienced traveler and at the same time I can't  say that I have never been somewhere. Having visited a couple of countries I realized that I had avoided Europe, and it's the next goal on my list. A wonderful idea came to my mind "Maybe I can be a volunteer?". I thought that I can help people, try something new and see Europe. It encouraged me to search for opportunities to participate in a volunteer program. It took around 3 months. To be honest it was really difficult to find out about things which you have never tried and I also didn't have friends who could tell me more about volunteering. Finally, I found an organization which was able to help me. I chose the project which was related to restoration of a fountain in France. I took this chance and sent a fee of 9 thousand rubles and I started waiting. The acceptance letter came to me in 1 week. There was an invitation from the host in my hands after some time and I started collecting documents but I found out about the changed exam dates so my trip was canceled. I told myself "Good bye, Europe and my summer". I was so sad but I decided to start looking for a new project. Spain, Germany, Czech Republic, Poland you can an option for anyone. In the end my choice was made in favor of Italy.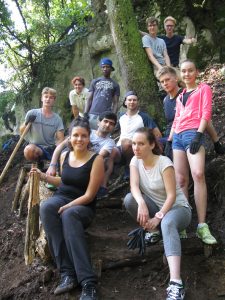 The Russian volunteer organization let me change the project and I started to wait for the long-awaited invitation. Finally, my documents and passport with the visa were ready! Good news for people who don't like to deal with papers – everything was very easy, considering that I did it by myself without any third-parties services. Having bought tickets to Rome I started counting days and waiting for the trip. I got to Moscow by bus and then went to sunny Italy by plane with my friend Denis.  We had 4 hours of excellent flight and arrived in Rome. To begin with, my trips have never gone without adventures and that time wasn't an exception. We thought about which station we need to buy ticket to and in the end we trusted the "Rome2Rio" app. Having bought the ticket, we boarded a comfortable train which was able to bring us to a bus station where the bus start its trip to Calcata. However, something went wrong and we didn't see the station we were told we were supposed to see and there was just a dense forest. We trusted that app for the second time and end up an unknown destination.
I asked one young guy "How can we get to Calcata?" and he said that we should come back and take the same train. One nice Italian gentleman pointed at a small bus station and told us "Go by bus, then change it". We couldn't understand who was right about what we needed to do. Finally trusting the experience of that wise man we went to the nearest bus stop. There weren't any people, it was just me and Denis. We were waiting for 30 minutes under the baking sun and the long-awaited bus finally came. Waving hand the driver told us to go in another direction and we needed to cross the street. After 40 minutes of standing in the Sun my head started to feel dizzy both emotionally and physically. That driver had already gone the circle and went in the direction we needed to go. Having fallen on our bus seat with huge bag with "From Russia with love" written on it, at which the rest of the passengers stared. Having bought the tickets to Calcata in that nice village, we were standing in the bus station and talking about something in Russian of course. One guy came up to us and asked in Russian "Are you going to go to the volunteer project? My name is Andrey". That's how we met with the first Russian participant, who studies in Czech Republic. There were just 4 people in the bus. 1 hour of shaking of unbelievably narrow mountain roads and we were finally there. The coordinator of our project – an Italian girl whose name is Sara sent us a letter with the place of meeting for all volunteers. However, nobody among us read it carefully so we found the church and started waiting for others. Two hour later one lady asked us in perfect English without a tiny bit of accent "Are you volunteers?". As we found out later we were near another church, in another city to be exact. It was Calcata Nova and we needed Calcata. Having looked at us nicely she pointed at the parked car and told us "Sit down, I will take you". In fact we travelled only for 2 minutes and ended up in a totally different place! Old stone walls, structures, narrow streets with fascinating changing of heights – everything was like from a picture from the Internet. A couple minutes later we saw that Italian lady Sara and other guys – future volunteers. Our group was international to say the least: Afghanistan, Serbia, Mali, Poland, Germany and Austria. At that moment I couldn't even imagine what to expect in the following two weeks in Calcata.
The camp was going to start on the day we arrived but we were so exhausted that we didn't have energy for more than a few local tours and getting acquainted with the guys. The tiny town located on the top of the volcanic mountain astounded me from the first sight. We roamed a lot and listed to the history of Calcata with the volunteers. One of the local people let us live in his three-storey house without compensation and I want to thank him. Everybody from Calcata took us with such warmth and kind hearts like they had known us whole life.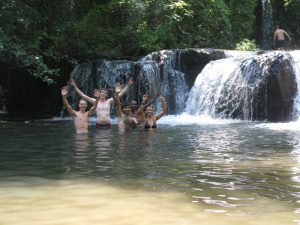 Having returned home everybody was very hungry. We had a lot of groceries but we had to cook them. Sara asked us who wanted to take the initiative and cook the first dinner. Slavs took the responsibility and three Russian guys and a lovely Serbian girl Ana cooked rice and baked chicken in a rush. Full and tired but very happy we went to bed looking forward to the next day. We had a hearty breakfast and a meeting with the organization which would work with us. What I noticed the most was that those people really liked what they were doing and this fact couldn't make me happier. The rangers (as they called themselves) explained the goals and the objectives clearly and we took this initiatively. Armed with gloves, shovels, rakes, hoes we went to one of the historic place where worked the first half of that day. It was then when I tried what is called pizza- dough with tomato paste. It was so nice and tasty.
As a rule, we worked every day just for 3-4 hours and the events, which organizers made for us took the rest of the time. In the very first days we went to a real Italian party, tried traditional Italian pasta and learned a dance. When and where else could we have this unique opportunity? After that day I was so excited and couldn't imagine what surprises were waiting for us in this work camp. As we found out later there would be a lot of them. We attended a cooking pizza workshop. Of course I saved that recipe and I surprise all my friends with real Italian pizza.
We worked in the forest almost every day and we also had an opportunity to enjoy nature and we used it. We found out a lot about historical features of Calcata and adjusting area. I had a feeling as if I was at a tour with a guide. It was very interesting to listen to him, I absorbed that knowledge eagerly.
The 2 weeks of staying there was like an eternity but not because it was boring. Rather, I enjoyed every moment. The first week was so long for me and the second just started and finished in a moment. Without a doubt, we became an organic whole, a big friendly team, a family, where everybody played their unique role. I can't even imagine our work camp with somebody else and it isn't even necessary.
Throughout our work camp we met a lot of creative and interesting people. One time we visited kind people who made musical instruments. At the end of evening we sat in a circle and sang the Hare Krishna mantra. Can you imagine it for one second? I also couldn't before that day. The Arabian evening organized for us let us feel the arabian atmosphere despite the fact that we were in a small Italian village. I found out a lot about the Italians and it even seemed that they are similar to Russian. I remember how we were invited to someone's birthday, I didn't even understand whose, but the atmosphere of an Italian celebration was felt by me for 100 percent. The guitar songs, playing musical instruments, dancing and the local food – everything left an unforgettable impression.
I want to note that there were a lot of talented guys in our work camp. Almost everybody could play one musical instrument or even two. I promised myself that I must start playing some instrument not to fall behind. Music united us to a great extent. It's surprising, it sounds unbelievable but it's true. I really hope that our relationship can be safe and sound and we will keep connected with each other, even though it may not be very often. It is not only the camp that unites us but because every one of us wants to make this world a better place. The last days I remember better because I realized that soon I had to leave this nice place and say goodbye to everybody and it was the reason why every moment was special for me. Together we talked about what else we can do for Calcata and make it better. And there was a quest in the last day that everybody enjoyed. Divided into two teams we did funny tasks, ran around the whole town. Then I realized again that we were very friendly and each person was very dear to me.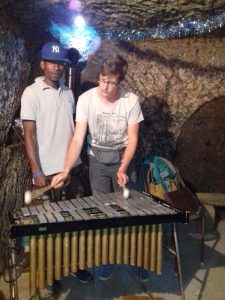 We experienced a lot for that time together, did a lot of useful things for this wonderful town, which in turn gave us a part of itself. The town let us plunge into something incredible, not feeling like a regular tourist. It gave us a chance to wander in the marvelous narrow streets, talked with talented local people, admiring beautiful Italian nature. I will never be the same after Calcata. Never. Now it is inside me.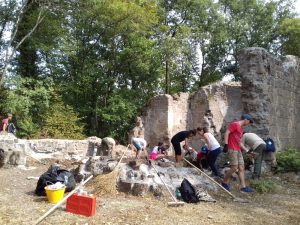 It isn't my first trip, but it left a lot of pleasant things, vivid impressions in my memory. I sincerely wish everybody to experience something like this or something similar. I am really grateful that everything was the way it was. Calcata will always stay in my heart and I promised I would come back some day…
Read more Voices of Volunteers