Environment
The first living fairy tale in Slovenia
The project took place in:
Slovenia
Written by Zavod Voluntariat
The workcamp season in Slovenia has already started: our first workcamp began on the 7th of May in Škofljica, a small village in the green situated only 10 km away from the capital city Ljubljana.
8 and a half volunteers (the half is a cute 4 year old hard worker from Germany) are working and living together for 3 weeks in V Pravljici (literally «In a fairy tale»), the eco farm where unlucky animals from all around the country can find a nice shelter to recover from their bad breakdown.
The bravest volunteers are sleeping in the barn, while a few of them have preferred the small guest house next to it. Everyday they have different tasks: building the shelter's, repairing the fences, taking care of the animals and of course helping in the preparation of the meals, which are all vegan or vegetarian and super delicious.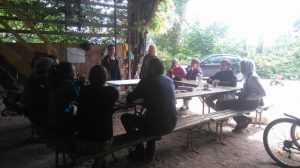 Of course during the days the participants are delighted with the company of the guests of the farm: the turkey Ingrid (which actually acts as a dog in a turkey body) and the dogs Luna and Lana keep following them always hoping to be petted, while the goats, the horses, the cows and the pigs entertain them with their sounds.
In order to fully enjoy the peaceful atmosphere of the farm, the wifi is accessible only 2 hours per day, usually in the evenings after volunteers have gathered in a circle to discuss the day.
We as SCI Slovenia visited the workcamp to make an evaluation last week: we are sitting in our office now, still wondering where did we find the strength to leave this amazing place.
Read more Voices of Volunteers