Education
Tour of Freedom – Cycling Activism in Kosovo
The project took place in:
Kosovo
Written by Anonymous from Kosovo
The Problem is not the WASTE.
the contaminated AIR;
WATER
and SOIL.
It is the collective Apathy that makes a whole global society live in the Illusion that everything is fine as it is.
-Tour of Freedom participant
We got used to our lives so much, that we seem unable to see how hostile to life some of our habits and ways of thinking and acting became. Kosovo faces a number of social challenges that manifest in environmental problems, such as severe air pollution, contamination of water and soil and a serious problem with accurate waste dumping or recycling. Those environmental issues again become social challenges- the severe pollution on every scale causing mental issues from asthma to heart disease and cancer. We are the nature. Contaminating it is contaminating ourselves.
With those facts as a motivation, 15 young people from all over Europe and Kosovo united for 24 days on the seats of their bikes to cross Kosovo from north to south and raise awareness upon the interconnectedness of social and environmental problems and climate justice, and the urgency to change things, starting on personal level, in order to survive collectively.
Being a climate for peace travelling workcamp, we tried to live the most sustainable within our group, trying to minimize our carbon and waste footprint, and water and electricity consumption- by living the positive example of what a future could look like: supporting each other in small communities, working together, exchanging skills and knowledge, consuming less, local and seasonal, and through all this living less materialistic and focused more on experiencing and being active.
Coming through 8 communities of different ethnicities all over Kosovo, we dispersed our ideas for possible solutions to social challenges that become environmental challenges and the other way-round.
A mural on the banks of the river that separates the city of Mitrovica into north and south, into Serbian and Albanian community- barely any interaction, and a river severely contaminated, instead of being the flow of life.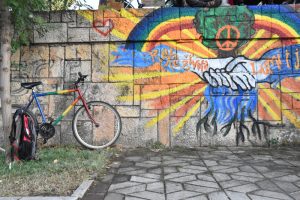 A performance in the centre of Prishtina, that is only 10km away from both coal power plants Kosovo A and B, considered as he biggest single polluters in whole Europe, blowing their toxic breathe into the concrete jungle of Kosovo's capital.
Hours of joy and laugh with kids from minority communities all over Kosovo, imagining and partly creating a different future full of unlimited creativity, freedom and justice.
Spreading our stories through exhibitions and a Human Library, inspiring activism and speaking up at BREfest, GAIA's first gathering under the peaks of Sharr Mountains in the south of Kosovo, uniting activists, utopiates, change-makers for a fest of creation and exchange.
We hope to bring up the winds of inspiration and activism next year again, uniting even more people for this second biketour of change. Stay tuned!
Click here more information and impressions from the Tour of Freedom.
Read more Voices of Volunteers