27 April, 2022
Online International Volunteering Fair #2
Ready to launch your volunteering journey?
After the success of the first edition in December, we are so happy to invite you to the second edition of our Online International Volunteering Fair:
? 9 May 2022 
? Online on Gathertown – free entrance!
? Open all day, and with time allocated to meet with organisations at

10:00-11:00 CEST

and

16:00-17:00 CEST
The Online International Volunteering Fair is a chance for young people and anyone interested in volunteering to get real-time information about the hundreds of opportunities that are available. Sometimes it is difficult to choose among so many different projects, so we are here to help!
You can meet us online, in Gathertown, for a fun and interactive experience, on 9 May – Europe Day.
Anyone can access the fair all day (CEST times), for free, and explore our different rooms:
The hallway

, with booths from different organisations from all over the world and information about their projects

The Fly-in Movie Room

, with movies about volunteering and SCI projects

The Chronicles' room

, to read testimonies from our volunteers

The Info Room

, to know more about SCI and volunteering in general, including short-term, long-term and European programmes
At 10:00 to 11:00 CEST, and at 16:00 to 17:00 CEST, participants can meet with our organisations in person: volunteers, activists, camp coordinators, staff members or organisers will be available to answer all your questions about volunteering opportunities, what to expect from their projects, the application process, the impact of your volunteering, and more.
You will be able to meet people from SCI Switzerland, SCI Madrid, SCI Catalunya, KVT Finland, PVN Albania, EST Yes, INEX Slovakia, SCI Slovenia, the International Secretariat, and IVS-GB, who will welcome participants in personalised spaces and activities to discover their work and their workcamps.
This event is part of the European Year of Youth activities and it's an opportunity for all European and non-European young people to discover and choose among more than 200 volunteering projects where they can learn new skills and ideas, while being engaged in activities that benefit local communities and promote positive peace around the world.
Don't miss your chance to make a difference this year: come to the fair, get your questions answered, and launch your volunteering journey!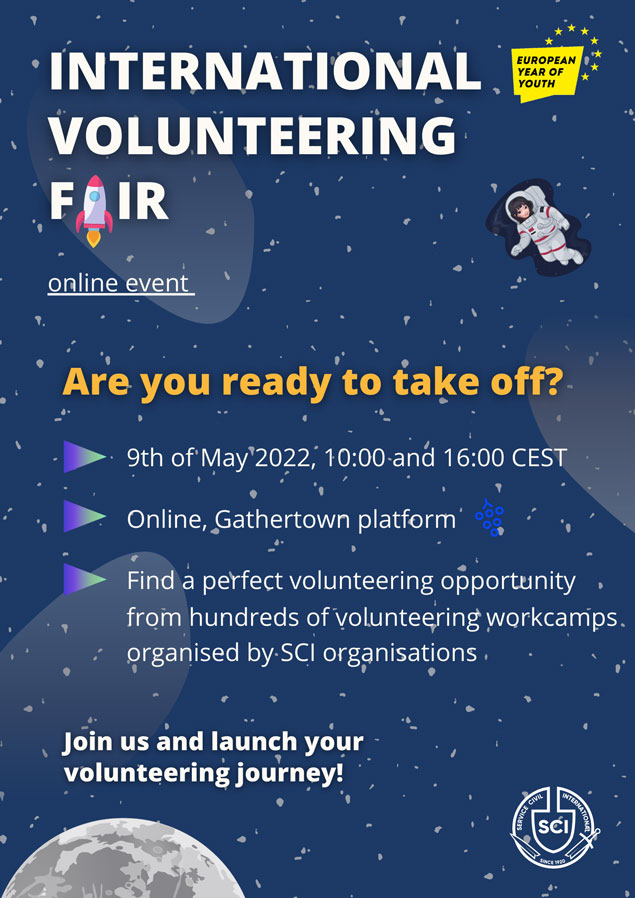 Are you a young person, youth worker, activist, or volunteer who is eager to enhance your understanding of media literacy, take an active role to promote intercultural dialogue, and combat hate speech and discrimination in the community you live in by using digital tools? The project: "Media (red)using stereotypes and divisions between youth" is for you! 📅 24-29th of September 📍 Durres, Albania ⏰ Apply by 1 September 2022
In 2021-2022, SCI Hong Kong China works on the Global Development Education Project with three secondary schools to create a platform for students to work together across countries despite the limitations on international travel, to acquire knowledge, develop attitudes and skills as well as allow them to take actions towards creating an inclusive and just world. Read about the project!
What is the formula behind quality non-formal education? Is it possible in a digital environment? 28 people from 9 different countries gathered to find this out from 7 to 14 July 2022 in the village of Emen, Bulgaria. The Learning Lab(oratory) Training Course was part of the project "Learning Lab(oratory): quality non-formal education in the digital world".