Other
Let's deconstruct Voluntourism by talking about it
The project took place in:
France
During the third edition of « le festival des voyageurs alternatifs » set up by the Interphaz association, SCI France and partners organized a conference about « Voluntourism ».
We were welcomed by the University of Lille SHS in the library. In this way we enjoyed talking about this subject on a beautiful setting.
How can we avoid those Voluntourism organizations? How can we identify them? How can we fight against this practice? Here are some of the questions we addressed during this day.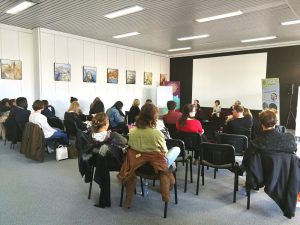 We invited to join the debate Alizée Delpierre, a French Sociologist who studied Voluntourism. She added a scientific viewpoint on this question.
The debate lasted more than an hour, with video clips and microphone passing.
That was the moment for SCI France to repeat its' commitment against Voluntourism, opening the debate to raise awareness among young people. Defining a problem is the first step to its resolution. Between forcing laughs and strong awareness, this conference brought us a space of speech.
Being conscious and free of mind is the beginning of being truly informed.
Read more Voices of Volunteers