21 October, 2020
A report on the 2020 Exchange platform Meeting
The SCI network meet to exchange good practices
On Monday, the first online EPM of SCI ended. EPM, the exchange platform meeting, is the space, where practitioners of the whole SCI network meet to exchange good practices, discuss exchanges and guidelines, and a place to seek inspiration. Due to the circumstances, this year's EPM had to be switched into online mode. A challenge in many ways, but in the end, we managed to meet in this online space for two weeks. A total of 163 participants from SCI branches, groups, partners, and contact organisations attended. Between the 5th and 19th of October, 38 EPM sessions took place, plus the Global Long- and Midterm Volunteering meeting and the Working Group internal sessions. A big thank you to everyone who participated and made this possible! And special thanks to all the facilitators, the team of the International Secretariat, and all volunteers taking minutes!
As this was the first online meeting of this size and structure for SCI, many things were new and experimental. Therefore your feedback is very important for us to know what to do better next time! If you have participated in a session and you haven't already done so, please let us know using this form: https://forms.gle/eeqWkzMJRLzoRUnA6
And even though EPM 2020 is officially closed, some of us will continue meeting in order to work on ideas that were born during this time!
Kasia, a new communication volunteer from Poland, joined the SCI International Secretariat in Antwerp. As she begins her journey with the SCI movement, she shares her thoughts, hopes and ideas for her long term volunteering project in Belgium.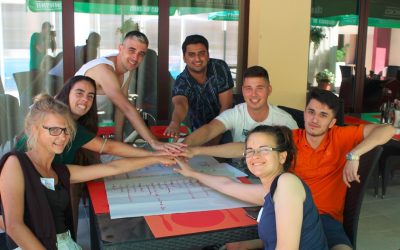 This July, thirty-one youth workers, volunteers and activists from ten European countries participated in a "Volunteering Project Management" seminar organised by CVS-Bulgaria, the Bulgarian branch of SCI. They met in Dryanovo to promote the philosophy and values of volunteering and deepen their knowledge of the volunteer project management.
Between 15th September and 3rd October 2021, follow the "From Dreams to Actions" Online Training Course and become a changemaker for a more peaceful world! Last chance to apply!