26 October, 2020
We have a new intern!
Uma joins the International Secretariat
When I had to choose an internship, the activist in me was looking for a place where I could discover cultures and contribute to a better world, on my way. I've always been passionate about different cultures. SCI shows the connections between all these unique cultures. Working in a big organization like SCI made me realize that it doesn't matter how big the distance between people is. But when you work together, you can make a huge difference in the world, despite the differences. That is one of the many reasons why I chose SCI for my internship, and I am very excited to be a part of it. For me, I hope that this is the start of a new beginning.
Kasia, a new communication volunteer from Poland, joined the SCI International Secretariat in Antwerp. As she begins her journey with the SCI movement, she shares her thoughts, hopes and ideas for her long term volunteering project in Belgium.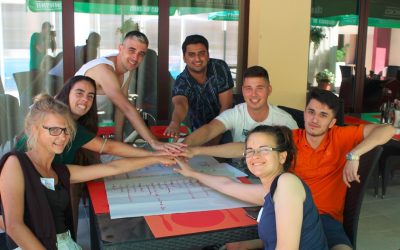 This July, thirty-one youth workers, volunteers and activists from ten European countries participated in a "Volunteering Project Management" seminar organised by CVS-Bulgaria, the Bulgarian branch of SCI. They met in Dryanovo to promote the philosophy and values of volunteering and deepen their knowledge of the volunteer project management.
Between 15th September and 3rd October 2021, follow the "From Dreams to Actions" Online Training Course and become a changemaker for a more peaceful world! Last chance to apply!