29 October, 2020
In memory of Eleanor Will
A life of adventure, generous until the end
Eleanor Rose Will was an adventurous soul, always ready to learn and exchange with others, travelling around the world to enrich her knowledge and understanding of other cultures and ways of life.
She volunteered with SCI during her formative years as an undergraduate student of Geography and Political Institutions, and this experience had a profound effect on Eleanor's life. 
During her holidays she volunteered with SCI in both France and India, joining workcamps to improve living conditions in a leprosarium and urban slum areas. It was during this time she met several of her life time friends and also the sister of His Holiness the Dalai Lama.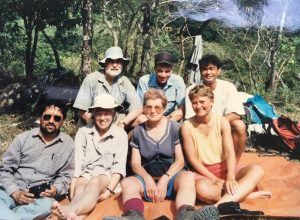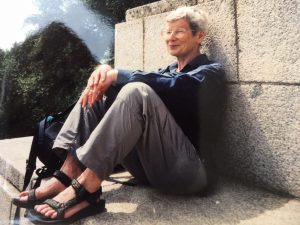 In Nepal with her sister and friends, and on one of her travels
After this experience, Eleanor went to live and work in Pakistan for her first teaching engagement, continued her higher education in London, worked for the UK Foreign Office, lived in Papua New Guinea, to finally come back to teaching in the UK. After retiring, she could indulge in her passion for travelling, meeting friends and family across the world who she had been in touch with all her life. Even Parkinson's disease could not really stop her, as she continued meeting with her exercise group and lunch club, always able to hold her own in any political debates that arose over lunch.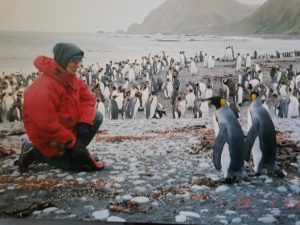 In Antartica
Eleanor (24th March 1937) sadly passed away, peacefully, on 2nd May 2020. But her memory will live long with her family and friends, who remember her as a great internationalist and as an enthusiastic and intrepid traveller. 
Eleanor was a real jewel of a friend. I am privileged enough to be able to claim a diamond jubilee of close friendship with her. […] Her passion for travel and adventure knew no bounds! – Ishrat Lindblat
And we want to remember her as an SCI volunteer who carried the values, knowledge and skills developed in her international volunteering service throughout her life, and who used them to promote peace and understanding with the people around her. Her generosity lives on, with a legacy gift of £ 5000 donated to SCI that will help others to enjoy the experience she had. We are very thankful that Eleanor remembered her experience with SCI with great fondness and that she decided to contribute to our mission of peace one more time.
If you want to know more about Eleanor's inspiring life, you can visit the tribute page set up in her memory.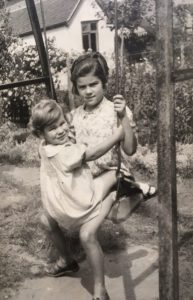 As a child I remember Eleanor always coming to family parties. She seemed so exciting, unconventional and such a free spirit as she told stories of her travels far and wide. – Guy Cowhig
Eleanor was someone who was renowned for her global friendships and her unlimited hospitality. – Hilary
Eleanor [was] an intrepid traveller and walker who was incredible at keeping in touch […] with dozens of cousins and an equal number of friends across the world. She was also so caring when someone was sick, writing, phoning and visiting when at all possible. – Imogen
Dear Eleanor, [we've] shared family, friends, and adventures. You were the spark that enlivened all: the motivating force for early morning swims, blackberry picking, heading into the wilderness, understanding foreign cultures, and having a good laugh when things went awry. Godspeed! – Leslie
Kasia, a new communication volunteer from Poland, joined the SCI International Secretariat in Antwerp. As she begins her journey with the SCI movement, she shares her thoughts, hopes and ideas for her long term volunteering project in Belgium.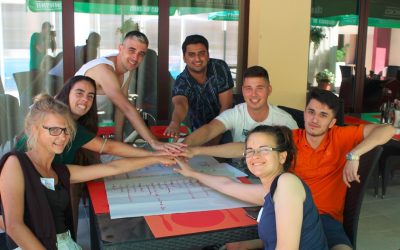 This July, thirty-one youth workers, volunteers and activists from ten European countries participated in a "Volunteering Project Management" seminar organised by CVS-Bulgaria, the Bulgarian branch of SCI. They met in Dryanovo to promote the philosophy and values of volunteering and deepen their knowledge of the volunteer project management.
Between 15th September and 3rd October 2021, follow the "From Dreams to Actions" Online Training Course and become a changemaker for a more peaceful world! Last chance to apply!