3 November, 2020
We have a new tech volunteer!
Théo joins the International Secretariat
I have finished a Diploma of Higher Education in the IT development domain in 2 years, after my high school diploma. I took a break during my studies to volunteer at SCI. After this volunteering, I want to continue my studies, in 1 year for a vocational bachelor's degree in IT development.
This will be my first volunteer experience. I will discover a more practical way of learning which is why I choose to volunteer and which I choose also for my studies. I want to learn more about SCI and the world of volunteering.
I want to step out of my comfort zone. Being in another country and improving my English, meeting new and different people, and learning from them, will be a rewarding experience. It is really amazing to be part of this international community. Also, I will improve my level in informatics which is useful for myself, my future studies, and work after.
Kasia, a new communication volunteer from Poland, joined the SCI International Secretariat in Antwerp. As she begins her journey with the SCI movement, she shares her thoughts, hopes and ideas for her long term volunteering project in Belgium.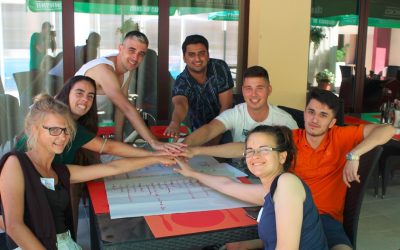 This July, thirty-one youth workers, volunteers and activists from ten European countries participated in a "Volunteering Project Management" seminar organised by CVS-Bulgaria, the Bulgarian branch of SCI. They met in Dryanovo to promote the philosophy and values of volunteering and deepen their knowledge of the volunteer project management.
Between 15th September and 3rd October 2021, follow the "From Dreams to Actions" Online Training Course and become a changemaker for a more peaceful world! Last chance to apply!