24 November, 2020
SCI (Swiss branch) has received the "Prix Civiva"
For 100 years of engagement in civil service
SCI Switzerland has received a price called "Prix Civiva" in honor of the movement's 100 years of engagement in alternative service, today's so-called civil service. The prize – a massive stone engraved with SCI Switzerland's name – was handed over from the representative of CIVIVA Lisa Mazzone to Ursula, a committee member of SCI Switzerland. It is issued each year by the Swiss association of conscientious objectors who do "civil service"
The ceremony took place on October 2 in Berne. A great speech was held by the former Swiss federal minister of interior and social affairs, Ruth Dreifuss, now 80 years old, a socialist, of Jewish family origin, women rights activist and former trade unionist who has been, for long, sympathising with our movement.
Link CIVIVA: https://www.servicecivil.ch/civiva (French)
Kasia, a new communication volunteer from Poland, joined the SCI International Secretariat in Antwerp. As she begins her journey with the SCI movement, she shares her thoughts, hopes and ideas for her long term volunteering project in Belgium.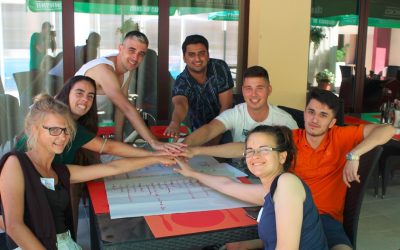 This July, thirty-one youth workers, volunteers and activists from ten European countries participated in a "Volunteering Project Management" seminar organised by CVS-Bulgaria, the Bulgarian branch of SCI. They met in Dryanovo to promote the philosophy and values of volunteering and deepen their knowledge of the volunteer project management.
Between 15th September and 3rd October 2021, follow the "From Dreams to Actions" Online Training Course and become a changemaker for a more peaceful world! Last chance to apply!