SCI's annual report showcases the work of the international coordination and movement over the past year. Besides information on SCI's finances, decision-making structures and statistics of the past year, the annual report gives information about our projects and campaigns as well as insights into the activities of our branches.
This year was a year of transition, from a COVID-19 dominated world, to one where many activities are again possible, but only when embracing the unpredictability of our new reality, and having in store multiple back-up plans and safety scenarios. Many activities reflected the flexibility and resilience of your organisations and volunteers, together with the determination in carrying out our mission for peace in different creative ways.
Our Strategic Plan
In 2021, the work to accomplish our mission was guided by our Strategic Plan for 2020-2023.
Currently, SCI's movement around the world consists of …
In 2021, as a way to safely continue our activities in the midst of the COVID-19 pandemic, SCI kept organising online workcamps, first implemented in 2020, alongside regular workcamps.
Workcamps focussed on different themes, many centering their activities on children and youth, environmental protection, climate and sustainable lifestyle, and art, culture and local history. A few workcamps allowed participants to work with people with disabilities and to contribute to community life and international solidarity, and raised awareness on the topics of poverty and social injustice. Online workcamps mostly tackled issues of antiracism, antifascism, remembrance, gender and sexuality.
Out of the 105 workcamps, 8 took place online

5%

5%
Like each year, we organized international voluntary projects for people of all ages and backgrounds to promote a culture of peace.
16-17

18-25

26-35

36-45

46-65

+65
16-17

18-25

26-35

36-45

46-65

+65
first workcamp experience

1-3 workcamps

4-7 workcamps

8 or + workcamps

Unknown
first workcamp experience

1-3 workcamps

4-7 workcamps

8 or + workcamps

Unknown
International projects are one of the tools helping the SCI Movement achieve its strategic goals and strengthen the organisation in the following key areas: cooperation, sharing, advocacy, financial strength and transparency, capacity building, and communication.
Online activities: sharing expertise
Given SCI's expertise with online activities, built in the past two years of international projects and events carried out online, we participated in various consultations and interviews to share our experience and recommendations on the topic.
Strategic Co-operation between National Agencies on Digital Youth Work (SNAC - DYW)
Our input to SALTO Inclusion & Diversity's SNAC – DYW was included in a document showcasing the results of the expert group process and survey about learning experiences with hybrid, blended and online mobility activities: Safe, Confident, Connected and Inspired.

Good practices: inclusion in digital youth work (podcast interview)
We participated in a podcast interview conducted by SALTO Inclusion & Diversity Resource Centre, together with Michele Di Paola, about good practices of digital learning activities in the context of the EU Youth Programmes (Erasmus+/ESC). Our interview was featured in the Second season: quality in digital transformation, in the 7th and 8th episode on Adapting digital youth work activities during the COVID-19 pandemic.
JINT-magazine: SCOOP
We participated in an interview for the SCOOP magazine by the Belgian-Flemish National Agency JINT and we were featured in the December 2021 edition: SCOOP #06: Digitaal jeugdwerk (digital youth work). The article is in Dutch, and it presents our experience in digitalising international activities, especially workcamps and training courses.
SCI was founded in 1920 and many activities to celebrate its 100th year of existence, as well as the 100 years of International Voluntary Service, were postponed to 2021 due to the pandemic. The activities aimed to honor and reflect on our history as well as the current state of International Voluntary Service.
We organised actions for peace around the world, an international reunion online, we created a Virtual Museum and videos on our history, as well as kept selling our historical book.
What does the year 2020 mean to you?
I was very excited to get engaged in the 2020 process, it is a strong feeling inside of me. In the process towards 2020 we can see the richness of our movement. It is not, by the way, just a big bang – on the contrary, we should move forward towards the next 100 years.
Highlights from our branches
Our SCI branches around the world showed resilience, commitment and kept the SCI spirit alive during the pandemic, organising activities that supported their affected communities, learning from their experience and passing on the knowledge, and advocating for human rights and climate justice. Have a look at some examples below.
COVID 19: Lessons Learned, International Youth work after the pandemic
By SCI Madrid
An international seminar to
exchange experiences, ideas and best practices on the impact of the Covid-19 Pandemic on international youth work. As a result, a manual for youth and volunteering organisations was cre
ated
.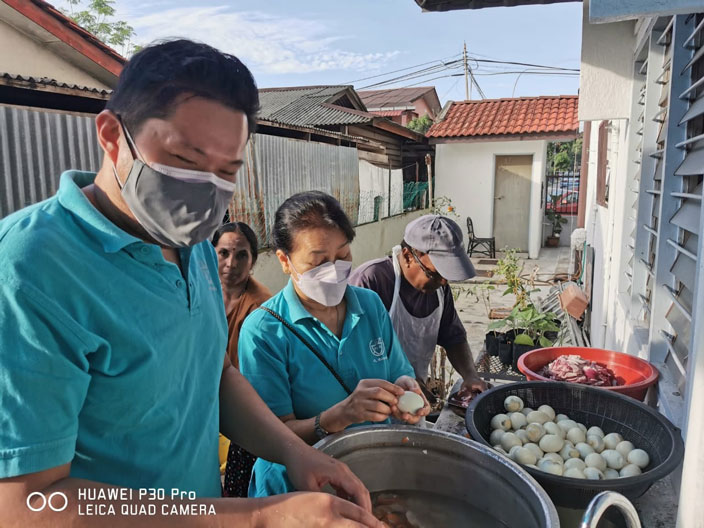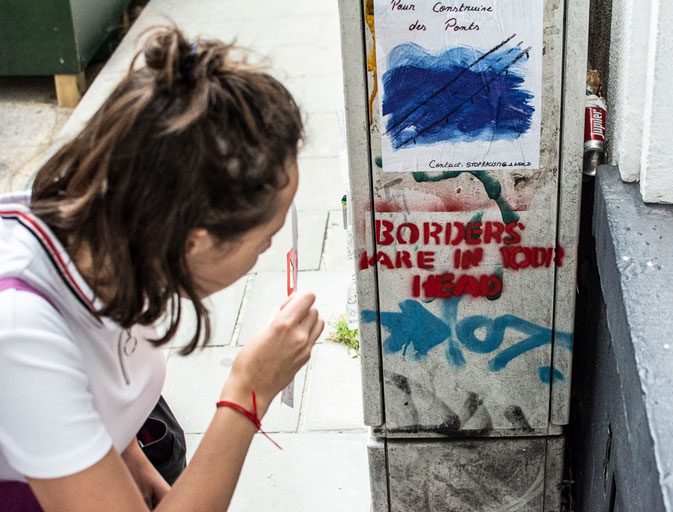 Acting collectively | Collage Day!
By SCI Belgium
An action in the streets of Brussels to reclaim public space during the pandemic and talk about migration justice. Volunteers used slogans such as "Migrants also have the right to life", "No one is illegal", "Borders are in your heads".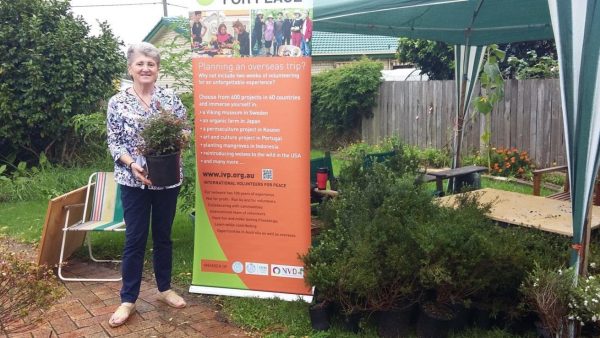 Plants for Peace
By IVP Australia
The project was awarded funds from SCI's Disaster Relief microgrant.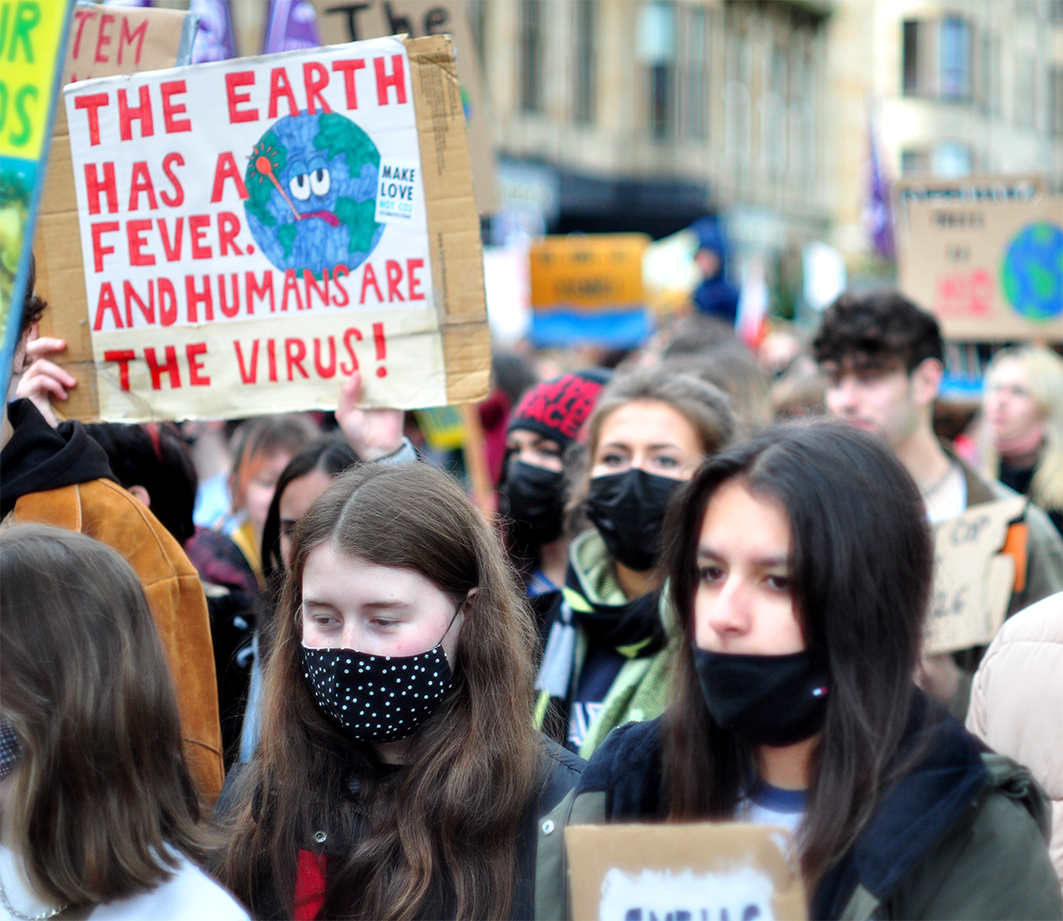 COP26 and the Climate Coalition
Consortium Municipalities-Civil Society: Local power for Sustainable Volunteering
By PVN Albania
The creation of a consortium between volunteering organisations and Albanian Municipalities with the aim to establish sustainable local volunteering as an act of democracy, active citizenship, peace, solidarity and social cohesion, through a crosssectoral collaboration by using all levels and types of volunteering.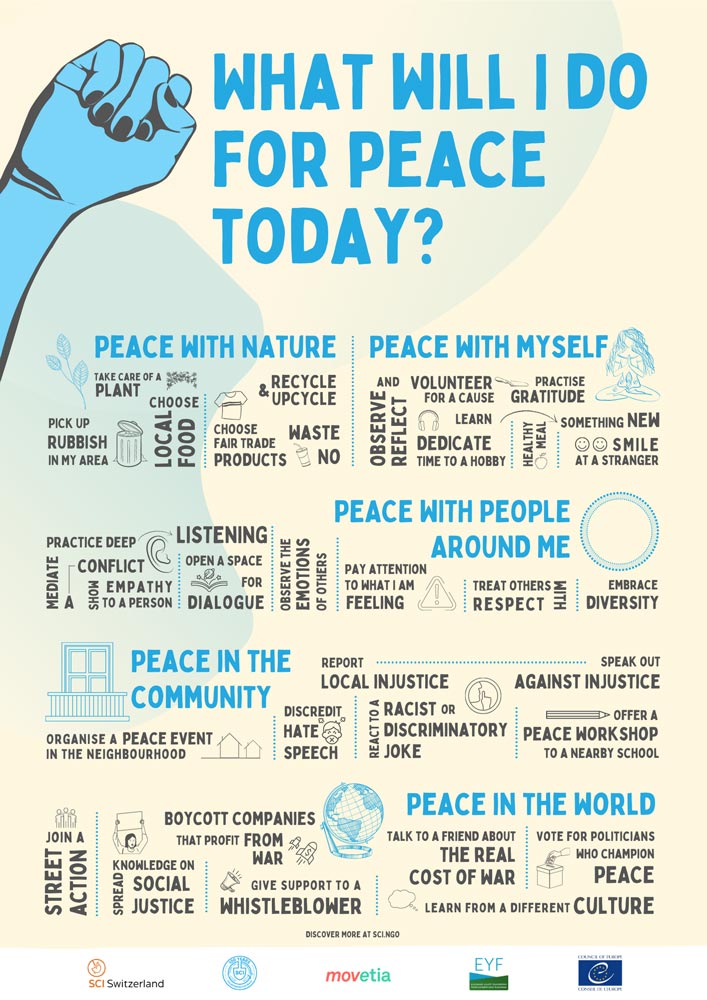 What will I do for Peace today?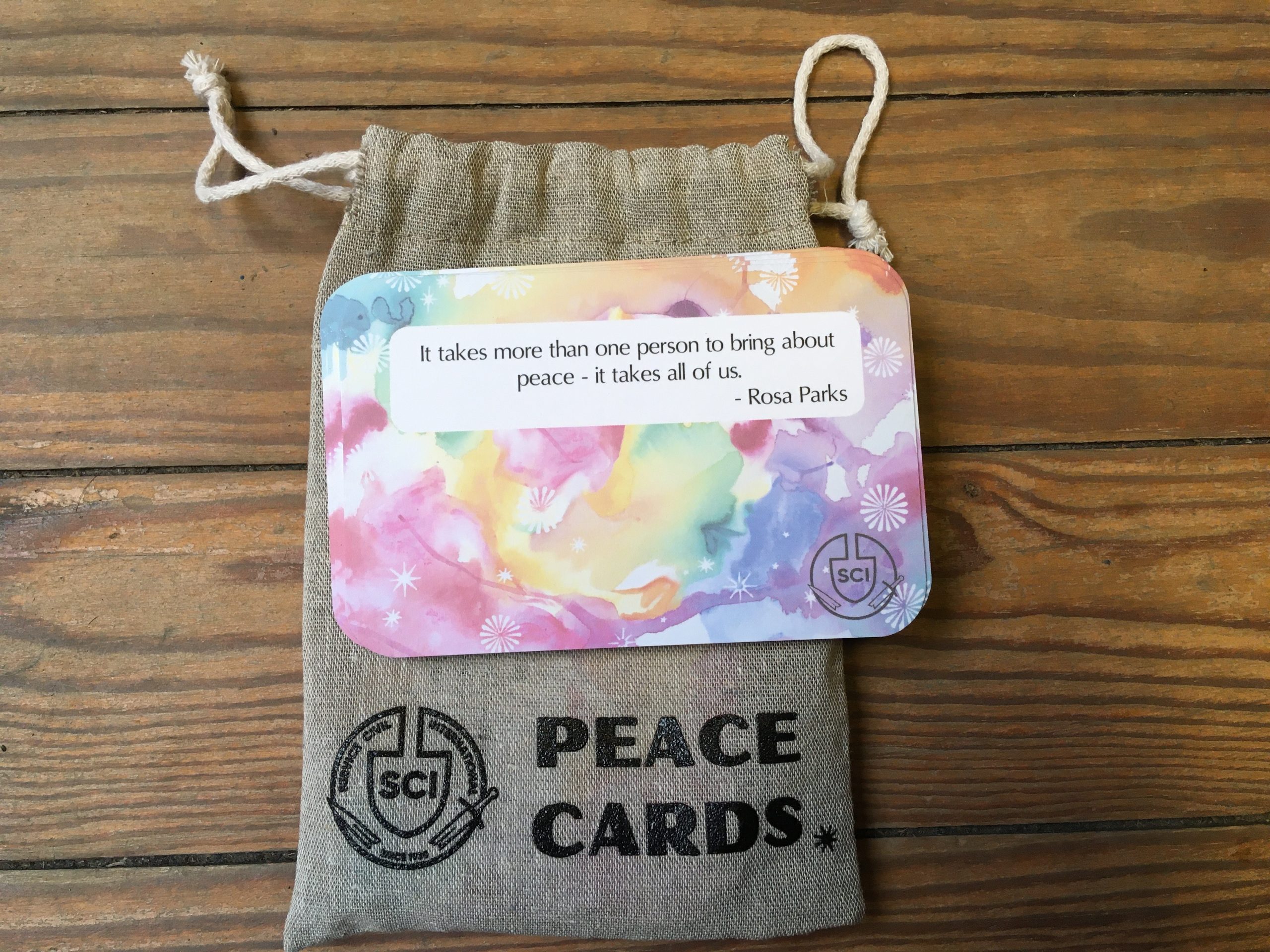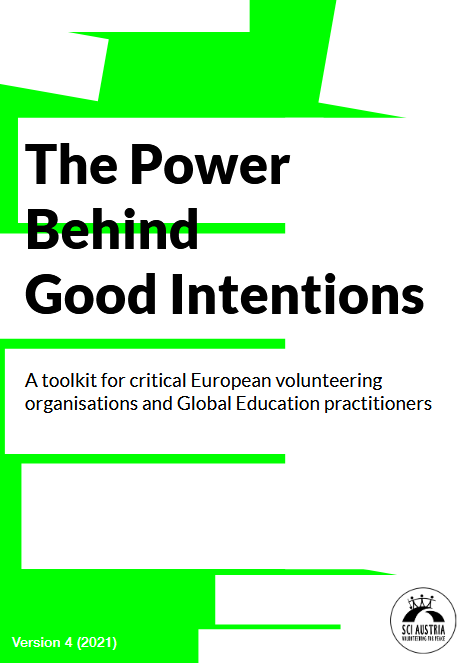 The power behind good intentions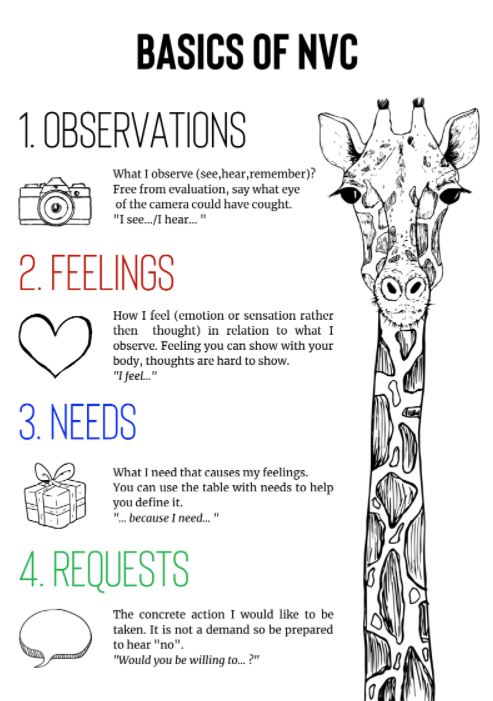 Nonviolent communication games package
I hope my ESC with VSI will inspire many young people to use their free time for volunteering. I want to encourage young people, especially those physically disabled, to be persistent when they are on the road to fulfilment of their goals. Also, I hope to connect with my new friends and make new friendships that will last long after my ESC.
A volunteering project is a space "out of time", an immersion in a completely new context with strangers who quickly become your only landmarks. Participating in a volunteering project means learning, meeting, but also reinventing yourself. Sometimes it's about discovering new qualities and especially making unique encounters. A volunteer project is waking up every day with the feeling of being useful, of doing something good. It's going to sleep, exhausted, feeling like you've been doing your best all day long.
SCI international accounts 2021 in EUR.
* This data is not yet final
SCI international accounts 2021 in EUR.
* This data is not yet final
Our supporters and donors
Thanks to all volunteers, activists, staff members, organisations and donors, in particular those who contributed via our SCItizens subscription
, Thedy von Fellenberg and the following donors: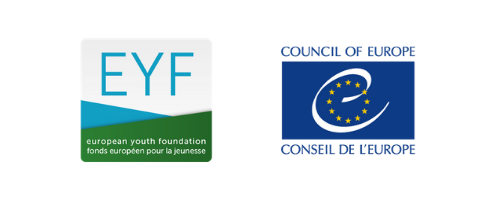 UNESCO's Participation Programme