FLOW
Facilitating, Learning, Organising and Welcoming! A critical Training of Trainers
Through seminars, training programmes, youth exchanges and other educational projects the current challenges of Europe in a globalised world are discussed. Challenges such as the climate crisis, respect for human rights, promotion of tolerance, transcultural exchanges, religious dialogue, global power structures, migration, remembrance work and many more. For this, international projects are very important and there is a need for well-qualified trainers who are sensitive to many issues, think critically and maintain and improve the quality of youth projects in Europe.
There are many activists within the peace movement who want to become active as trainers and organisers of educational projects that contribute to a culture of peace. This is why the International Secretariat of SCI organized a Training of Trainers, with a special focus on peace education and inclusion.
The main objectives of the project are:
to empower people to give trainings in peace education

to provide (future) youth workers with skills, methods, inspirations and new perspectives for 

peace education to get in a good flow while initiating, organising and managing educational projects

to provide (future) youth workers with skills to moderate group dynamics in its different stages 

as well as to create safer spaces in trainings, seminars and youth exchanges

to provide (future) youth workers with skills to involve youth with fewer opportunities in their 

activities and to design non-formal education for youth with fewer opportunities

to share approaches and institutional structures for developing and organising new peace education projects based on the needs of its youth participants (including Project Management 

and EU fundings)

to increase the understanding of intersectional perspectives when facilitating and organising 

youth projects (global justice, gender, class, race, inclusion, climate justice)

to reflect on how power structures can be reproduced in the organisation of projects and how we could integrate the values of the peace movement on all levels of organising educational projects

to sensibilise for inclusive, diverse and less discriminating projects regarding human rights and 

other fundamental and common values of our society
to improve the quality of NFE instruments that can be used in future events, projects, training courses, seminars and general meetings

to build on experiences on topics and target groups that the partners work with

to create more and stronger alliances and solidarity in the peace and volunteering movement,

especially between the organisations involved in this application.

to come up with new international peace-education projects

to establish networks for future cooperation and projects
to strengthen European identity and upgrade cultural and intercultural awareness and expression
"FLOW – Facilitating, Learning, Organising and Welcoming! A critical Training of Trainers" consisted of three elements: an online preparation period; an online training course that took place twice: once in March and once in April; and a follow-up period.
The 26 organisations were involved in the two training sessions from across Europe. 50+ participants attended. Participants consisted of volunteers, staff and activists of volunteering and youth organisations across Europe. 
Online Preparation Period
Starting at the end of January 2021
Participants were invited to participate in the online course "Peace in Practice", which SCI developed as part of an EYF – funded project and which includes a whole chapter on facilitation for peace educators. A padlet was created for the training sessions with different resources and participant were invited to get to know each other before the start of the training. 
The participants were divided in two session: one taking place in March and one in April. 
6 March – 27 March 2021
The Training was split into 5 basic elements: (1) Welcoming, Introduction, Group building, (2) Basics of being a Trainer, (3) Power Structures in Educational Activities, (4) Project Planning and (5) Evaluation & Reflection. During the Training, we worked work with different highly participatory nonformal and informal learning methods (for participants to experience different facilitation methods) and focus on creating a strong safer space that is inclusive for participants from different backgrounds.
As a consequence of the pandemic,  the physical training was transformed into an online training. Taking our experiences from online trainings and activities we organised during 2020 to support this transformation, part of the objective of FLOW was to teach participants how to run online projects themselves. The training consisted of 3 complete working days (some being group sessions via video calls on Zoom, some sessions being individual tasks or informal hangouts on Zoom) as well as 6 evening sessions and several individual tasks over the course of four weeks. A large Padlet resource library and interactive space was also created that participants will continue to have access to.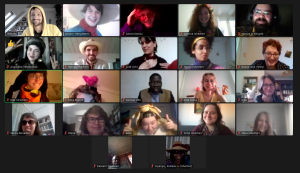 June 2021
In the follow-up period until June 2021, each participant was encouraged to run a workshop with their organisation. The planning of the workshops, as well as other follow-up projects (such as international projects), was started during the time of the training itself and we encouraged participants to work on it as much in the 4 weeks of the training as possible. During the follow-up phase, there was also the possibility to get feedback from the project team as well as from other participants in a peer-review process.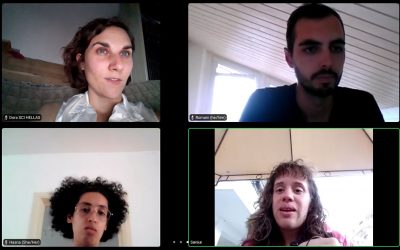 In the first edition of the Change Makers, six people shared their stories with the audience, on a broad range of topics: food sovereignty in Mesoamerica, Female Genital Mutilation, migration, squatting as a political need, defending indigenous rights through music and physical disability.
read more
trained participants for organising and facilitating new international projects on peace education

Local workshops about different topics related to peace as follow-up to the project in the 

participating countries

Ideas and first organisational steps for new international educational Projects

New additions to the "Peace in Practice" online course

A webinar that will summarize some of the most important contents of the training

Social media posts about the project and related topics
The FLOW project is supported by the Erasmus + Programme of the European Union.