2 April, 2020
Hannah is joining the International Secretariat!
Here she answers some questions to introduce herself
Hannah joined the team at the International Secretariat in an unusual way: remotely, from her home in the UK. She will move to Antwerp as soon as the situation allows it. She already started her volunteering experience to support the Peace in Practice project, and here she tells us more about herself:
What other volunteering experiences do you have?
In 2016 I lived in Tanzania for three months, volunteering with International Citizen Service in a remote rural community. I have volunteered for Oxfam as a Constituency Campaigner for a few years, writing to persuade my local MP to support Oxfam's campaigns. I have volunteered in Sheffield at a Conversation Club, to encourage integration between Refugees and locals living there. Most recently, I spent time in Glasgow volunteering on a programme with the Red Cross, where I worked with local organizations in a range of activities such as delivering welcome packages to refugees in Glasgow, volunteering at a soup kitchen, and cleaning out Glasgow's canals!
Why did you join SCI?
Engaging youth in peacebuilding is what initially attracted my attention. In my studies and past volunteering/work experience, I have focused on issues relating to youth, conflict, peacebuilding and human rights – the focus of SCI. I wanted to experience what it is like to work for a peacebuilding organization, and this position offered the perfect opportunity for me to do this. I look forward to learning new skills and gaining a greater understanding of peace in practice.
What will you do here?
I will be supporting the implementation of a year long project in SCI called "Peace in Practice: supporting young people to become peace envoys", specifically to help develop its main output: an online course on peace education. I will also be involved in project communication and management related tasks.
Do you have any expectations for your time here?
I hope to learn more about working for a peacebuilding organization, engaging young people in peace education and implementing actions relating to peace. Through this, I expect to understand the concept of peace in greater depth. I also am looking forward to developing skills in building online tools, including graphic design, as well as other project related tasks. Finally, I am excited to meet new and interesting people, learn more Dutch and enjoy living in Antwerp.

IVP Australia, together with partner organisation, is organising the Raising Peace festival with the aims to celebrate and raise the profile of peace, to create opportunities for collaboration between peace organisations and to inspire young people to take action for peace. The festival will take place over 10 days: 16-26 September 2021 in Australia.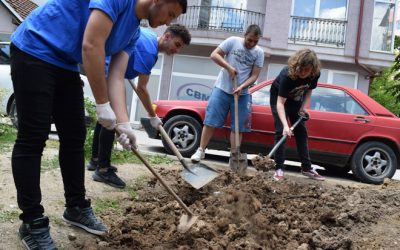 GAIA Kosovo's volunteers created a community garden in an urban space that was left unattended for a long time, bringing a new energy and bright natural colors to the whole area. The work on the garden generated interactions, conversations, new encounters and a lot of smiles between people from different generations, grandparents and young children, teenagers and adults.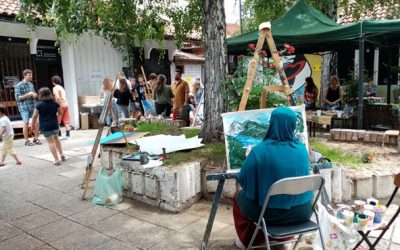 Volunteers at GAIA Kosovo organised a special Sunday fully dedicated to art, in the social and cultural place "Social Space for Deconstruction". When people live their day to day life in a divided city, they sometimes need to rethink about what we, as humans, have in common, and the universal language of art can help us do that.