18 May, 2022
Launching the Vision Seminar and first workshop
What does it mean to work for peace today, in the current context?
We are launching a series of 4 online workshops and a final seminar on a new vision for SCI, and you are invited to the first event!
The Vision Seminar, which was supposed to take place in 2020 in the framework of the celebration of the 100 years of SCI, will finally take place in 2022 (2022 is 2020 too ?).  It will consist of four zoom sessions and a final event, hopefully one face-to-face, around ICM 2022 – find the whole Plan on the Vision Seminar webpage -. We intend to make a link between the 2020 process and the new SCI strategic plan, and, somehow, to be symbolically a bridge between the past and the future. Indeed, in quickly changing and unpredictable times, where new technological and geopolitical developments happen and new paradigms appear every day, we should definitely reflect together on the role of SCI, as well as on the values, methods, meaning and impact of the workcamps and IVS in general, with respect to nowadays new – and old – peace issues. It is time to be VISIONARIES again! The Vision Seminar process is open to everybody, to the oldest and youngest SCI activists, from East to West and from South to North, with some or a lot of experience, AND with a clear will to be part of the SCI new Vision of Peace and of SCI future! We are looking for enthusiastic participants who are interested in contributing to the discussion.
The first event
If you are enthusiastic about the whole process and ready to contribute, you are invited to the first workshop of the series, which will explore the question: What does it mean to work for peace today, in the current context?
 Saturday, June 11 – 11h00-13h00 CEST
 Online on zoom ⏰ Register by 5th of June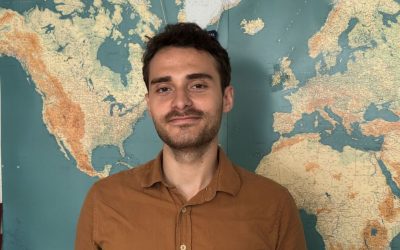 Albanoi will be joining the IS offices for a year here in Antwerp, helping out with communication. Hi everyone! My name is Albanoi and I am the new Communication Volunteer for SCI IS. It feels weird even typing that because when I applied, I did so on a whim and did not think much of it, only to find myself in Antwerp two months later, in an unknown city, alone for the first time. It is exciting...