Peace
Peace on the streets
Written by Stanko Nedic from Switzerland
The 7-day-training "Peace on the Streets" took place from 1st to 7th June in Vienna, organized by SCI Austria as a seminar about Street activism and campaigns, which are connected to spreading peace in different ways. The international SCI training gathered 26 people from all over Europe with three participants from Switzerland: Adina Jessica Karerra, Sara Moreno and I, Stanko Nedic.
For me personally this was a completely new experience as I had never been part of any peace action or seminar regarding the same topic, so I was sure I could learn a lot.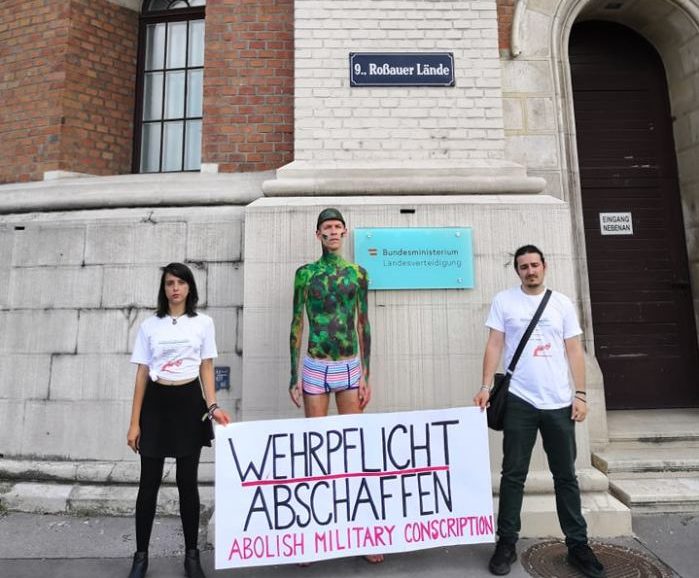 On the first day we were welcomed by Thomas and Valerie who gave us a general introduction about the seminar and the program of this week. On that day we were told that we will organize a street action in the form of a protest in front of the Austrian Ministry of Defense in order to demand the abolishment of Military Conscription. When I heard this, honestly I was very sceptic about it; I was even thinking not to participate, because my main fear was a possible counter-action from some right-wing activist or maybe even the police itself. Eventually, the actual protest was held on the 5th of June, so in time we could prepare all the details for it.
The group dynamic was great, not just while preparing the protest but in general, in everything that we were doing, such as workshops, lectures, etc…
Our main focus was the organization of campaigns, but also it was supported by many guest lecturers who provided us with information about street actions, civil rights, how to communicate with the police and journalists and many other.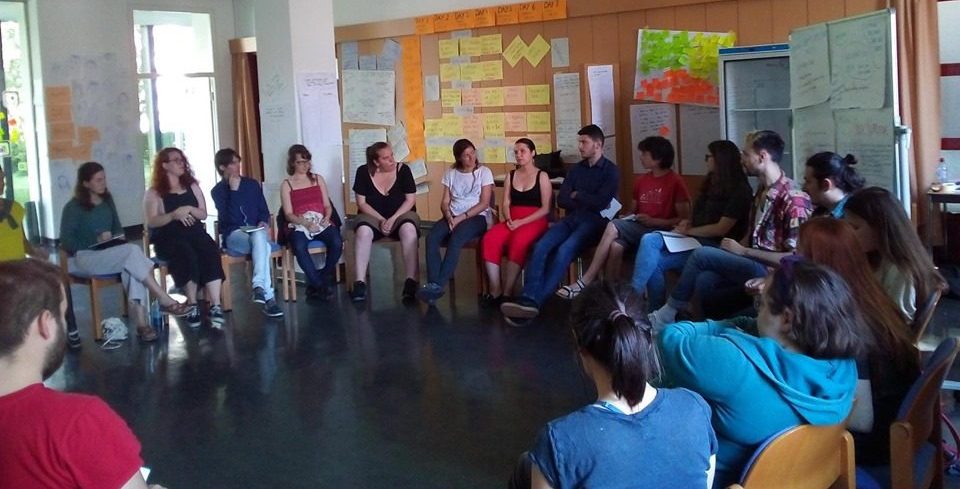 On the day of the actual protest in front of the Ministry, my skepticism was slowly fading away even though not quite, but since the group was very unique I thought that we would not encounter any problems. During the actual protest we stood with signs for 25min and everything went well,and people took our propaganda material . Unfortunately, no journalists covered the protest, but in the end, our action was covered by some media (and social media).
Also, an interesting part of our seminar consisted of workshops organized by the participants themselves, one day before departure, which gave us more working interaction and for me it was also interesting to see what we had in mind and what kind of backgrounds each of us has. There were people with more experience about peace- activism who shared their ideas about how society should work, which is not very far from my journalist-political sphere, but it was great to be a part of it and to hear how people are fighting for their ideas.
As I mentioned before, the group dynamic was great during working hours, but also during our free time. I really liked this about the seminar.
Just as I said in the beginning, peace activism was something new for me, unlike street activism, and work in society in general, so it was good to connect my previous experience from street activism in other spheres to new aspects I learned from participant's ideas of peace "Demilitarization worldwide, gender equality, sexual equality, race and religion equality".
Read more Voices of Volunteers