25 April, 2022
Working for peace with Ukrainian refugees
An article from SCI Poland
Since 24th February, more than 2.8 million people have fled Ukraine to Poland. In March, the total size of the Ukrainian population was estimated at almost 3.5 million, compared to less than 1.5 million a year before. Observing the scale of destruction and terror in Ukraine, it is safe to say that most of those who came here to stay temporarily will remain here for much longer.
Last month we wrote to you about the situation of the refugees in Poland and our plans to help Ukrainian children and teenagers adapt to the new reality. We have also asked you to support us through donations — and you have answered! We are grateful for every contribution, no matter how big. These funds are bringing us closer and closer to our goals. With your help, we might be able to conduct intercultural assistant training for people who speak Ukrainian and Russian and create jobs for the trained individuals. Furthermore, we will organize workshops, integrative activities, and summer camps for children and youth from Ukraine. If you want to support us, we are still looking for donations through PayPal.
While we plan for the future, we also act in the present. Currently, we host four ESC volunteers from Ukraine, one from Russia, and one from Italy. Our amazing volunteers are assisting Ukrainian children in three public schools – two of them located in Poznan and one in the small town of Trzcianka, supporting them with translations and adaptation to the new place. One of our ESC volunteers from Ukraine also supports us in organizing screenings of Ukrainian documentaries, followed by discussions in Polish and Ukrainian. Another volunteer supports local authorities and public institutions in Gostyń with translations, assists in finding accommodation, education, and food for refugees from Ukraine, and organizes activities for children in a local cultural center.
What is next? Our focus is now on the summer workcamps. This year they are especially important as they will benefit refugee children. During workcamps in Trzcianka, Linin, and other projects in Poland which will appear on workcamps.sci.ngo soon, volunteers will work with children and youth from Ukraine. These camps will allow them to have fun, socialize and forget about their traumatic past, even if only for a short time. Unfortunately, to organize these workcamps we need more applications. Although Poland may seem like a risky destination for a foreign trip, it is a safe and welcoming place. We kindly ask you to promote our workcamps in your local communities. Supporting young war refugees is a beautiful example of working for peace and realization of SCI ideals. We invite you to do it together with us.
Thank you to Jan Jęcz from SCI Poland for this submission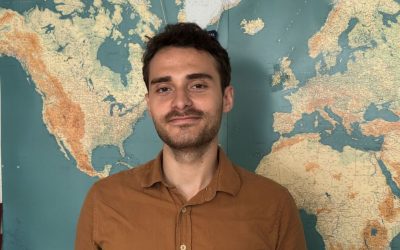 Albanoi will be joining the IS offices for a year here in Antwerp, helping out with communication. Hi everyone! My name is Albanoi and I am the new Communication Volunteer for SCI IS. It feels weird even typing that because when I applied, I did so on a whim and did not think much of it, only to find myself in Antwerp two months later, in an unknown city, alone for the first time. It is exciting...