26 August, 2020
In the wake of Novel Corona Pandemic
SCI India, West Bengal Group's relief efforts and awareness campaign
On 22nd March voluntary public curfew and on 24th March, the national lockdown was declared. A situation of panic and confusion was created as the police came down to put drastic lockdown measures into place. All the telecom media and TV channels started the ceaseless announcements advising for home-stay, for social & physical distancing, and introducing special way of personal hygiene. We noticed the difficulty of the poor people who are living in the nearby slums.
Our group, SCI India, West Bengal joined hands with a local NGO, and the youths put forward their wholehearted efforts to provide dry food packets to the slum dwellers. We are happy to note that we could reach the poorest of the poor and our contribution was cordially appreciated. We not only offered food but also medicine (Blood pressure, Blood Sugar, etc.) to the elderly and masks to a good number of children which were the need for that hour.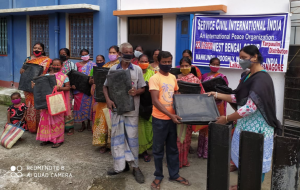 So far we organized 6 food distribution camps in 3 places and from each camp, we distributed on average about 100 packets containing rice, potatoes, pulses, onion, soybean, mastered oil, sugar, salt, and soap turmeric. We distributed 60 tarpaulins after the Amphan storms and a community kitchen was introduced which was continued for 8 days in a slum called Adarshanagore, Mankundu.
As we saw a rapid increase in the infection rate of COVID 19 even in local areas and community conflicts were arising due to ignorance, we felt that creating an awareness campaign was essential. Therefore, On 13th August 2020 SCI India, West Bengal Group organized a COVID 19 combat Campaign which was supported by SDO and Chandernagore to resist community infection.
We planned to raise awareness in the Chandernagore Corporation area. It has 33 wards with a population of 2,00,000 approx. So far one executive magistrate, one teacher, and 5 other people have died here. At the North and South end of the town, two old areas which are inhabited by Muslim populations, severe unrest broke, following the declaration of the containment zone. We contacted the Sub-Divisional Officer (SDO), Ms. Moumita Saha, she welcomed our ideas and assured her support.
The SDO was invited to flag-off the Tableau and warm reception was offered to her with a badge, a book, a sanitizer, and a mask that has the emblem of the 100 years of SCI International. We casually put up our banners on two Toto (Battery) Rickshaws and hired sound systems and played recorded audio speeches for canvassing to make people aware of COVID 19 and also distributed masks and sanitizers to the people who did not have a mask. We also distributed leaflets of the DOs and Don'ts, the symptoms of the virus, and the safety measures. It was also important to highlight to the public the importance of supporting the affected families and not hide the infected because of fear, instead to cooperate with the administration to resist community infection. In the end, we managed to cover about 1/3 of the corporation area.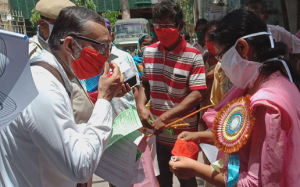 The SDO also delivered her message for our volunteers and passersby. She said "soon we will have vaccines and the normal life will be resumed so please have some patience", she further explained the process followed by the administration and solicited people's cooperation. She assured the people by saying "we are always with you, do not be panicky".
The campaign also offered a ripple effect of massive visibility for SCI. About 35 SCI group volunteers and well-wishers joined the campaign. It was covered by journalists and they reported it on different TV channels. We are happy that this action revitalized the group and gave us excitement to continue the work in the near future.
By Tapas Kumar Sur, secretary of West Bengal Group, SCI India
Kasia, a new communication volunteer from Poland, joined the SCI International Secretariat in Antwerp. As she begins her journey with the SCI movement, she shares her thoughts, hopes and ideas for her long term volunteering project in Belgium.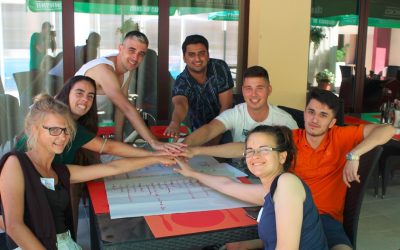 This July, thirty-one youth workers, volunteers and activists from ten European countries participated in a "Volunteering Project Management" seminar organised by CVS-Bulgaria, the Bulgarian branch of SCI. They met in Dryanovo to promote the philosophy and values of volunteering and deepen their knowledge of the volunteer project management.
Between 15th September and 3rd October 2021, follow the "From Dreams to Actions" Online Training Course and become a changemaker for a more peaceful world! Last chance to apply!