24 August, 2020
SCI anniversary bike ride: why not jump on you bike and join us?
#100wheelsforpeace
Before summer we spammed you with several promotion posts about the SCI anniversary bike ride. A group of SCI people had been preparing a bike ride from Amsterdam to Brussels to take place in August 2020. The trip was supposed to start on August 17th, the birthday of Pierre Ceresole bringing together young and old, people with lots of SCI experience and new volunteers, crossing borders in an ecological way and reflecting on challenges in society, SCI, and all other topics that arise when an enthusiastic diverse group of people comes together. A situation we all know so well from our SCI experiences.
VIA Netherlands, the SCI International office, and SCI Belgium got engaged as well as several SCI supporters along the road. Until the end of July, the group still thought the trip was possible. Many had bought their ticket to Amsterdam (departure city) and the organisers had put all logistics in place to make the trip happen.
But then the Belgian government and especially the province of Antwerp (where the International Office is based) put in place more strict Covid-19 measures which made it very difficult to organise the Belgian leg of the trip in a legal way.
The cancellation of the cycling workcamp which was supposed to be part of the anniversary bike ride was a big disappointment among those who had planned to take part. Several participants looked for solutions as they had already bought the ticket or taken holidays to join the tour. And as we know SCI…. we don't give up easily! In no time people adjusted their plans.
A small group came to the Netherlands and cycled around the IJsselmeer; an intensive week of cycling, talking, and sharing experiences while doing about 400 km on the bike.
Paolo Madonni from Italy used his ticket to Belgium to cycle from the South of Belgium to Verdun. Un unforgettable experience according to his own words:
Ciao, I'm in France, alone with my bike, today right in Verdun. I started in North Ardennes on 15th August, then I followed the Meuse River on the bike road "Voie Verte". Yesterday It has been my great day: I was in Esnes en Argonne! I was also lucky because I met by chance The Mayor of the village and we had a very nice conversation. I was not prepared for that! I have given her as a present my Blue bike vest! In the Townhall, there is a permanent exposition with some pictures of Pierre Ceresole. Tomorrow I'll continue for a while and then at night, I'll travel back to Italy.  A wonderful experience!
Silvio Martinelli, living in Switzerland, decided to start an SCI fundraising on Facebook for his Bike Tour of Switzerland for Peace (840 km!). He finished his tour of Switzerland in Bern, where he joined the 100 years of SCI celebration organised by SCI Switzerland! He also sent us some nice pictures and reflections.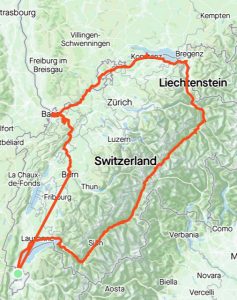 Apart from the beauty of the views, the sense of freedom and peace that biking gives, the sense of achievement, etc. that are easier to imagine, I wanted to offer three other reflections.

They all start with an 'S':

1) Self-awareness: More than usual, I recognized the importance of listening to my body and mind, respect tiredness, recognizing when muscle pain is becoming too strong, when is it important to stop, to drink, to eat, etc. In such a long and intense trip, you cannot afford to fall into pieces or get to the point that you lose concentration and get into an accident. But I believe this very important in everyday life as well.

2) Solidarity: We were three bikers. Doing it alone would have been a totally different experience. Less efficient, riskier, and probably less fun. Each of us was ready to help, encourage, and wait for the other. This sense of solidarity was phenomenal, reminding me of the various workcamps and other projects I did with SCI.

3) Sustainability. This is the aspect that is linked more closely with the ecological theme. If you travel on a light race bike with the intention of doing 150-200km/day and climbing mountains, you need to travel light, just a T-shirt, shorts, sandals, raincoat, repair kit, and little more. You understand the value of each of those items, the importance of water, and not wasting it. You understand that the excess is what you want to avoid. Excess of weight, but also the excess of energy consumption. E.g. it might be tempting to sprint at start, but that would but be sustainable over the 200km. You need to think about what you consume and what it takes to obtain it (energy, water, food) to sustain it over the whole trip. This experience forced me to think about and appreciate the importance of sustainable behavior. In the comfortable city, everyday life is just too easy to forget…
You can still contribute to the Facebook fundraiser!
It is a real pity that the SCI bike ride couldn't take place as planned but we want to keep the spirit alive! Are you doing some cycling sometimes? Take a picture of yourself and post it with the #100yearsofSCI #100wheelsforpeace and tag SCI2020!
At the same time, we hope we can bring together some SCI supporters in 2021 and cross some borders by bike! Stay tuned. And if you want…we still have some nice SCI bike tour vests. Contact Marilou@dds.nl if you want to order one.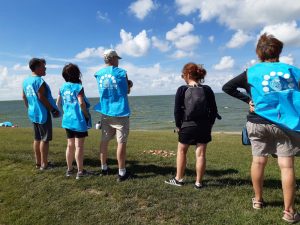 Are you a young person, youth worker, activist, or volunteer who is eager to enhance your understanding of media literacy, take an active role to promote intercultural dialogue, and combat hate speech and discrimination in the community you live in by using digital tools? The project: "Media (red)using stereotypes and divisions between youth" is for you! 📅 24-29th of September 📍 Durres, Albania ⏰ Apply by 1 September 2022
In 2021-2022, SCI Hong Kong China works on the Global Development Education Project with three secondary schools to create a platform for students to work together across countries despite the limitations on international travel, to acquire knowledge, develop attitudes and skills as well as allow them to take actions towards creating an inclusive and just world. Read about the project!
What is the formula behind quality non-formal education? Is it possible in a digital environment? 28 people from 9 different countries gathered to find this out from 7 to 14 July 2022 in the village of Emen, Bulgaria. The Learning Lab(oratory) Training Course was part of the project "Learning Lab(oratory): quality non-formal education in the digital world".