21 October, 2020
Stadtradeln 2020:
SCI-Germany involvement
SCI-Germany has taken part in city cycling (STADTRADELN) again – from 20 September to 10 October 2020. We were cycling for climate protection and at the same time against the high volume of traffic in and around Bonn. City cycling is a campaign of the Climate Alliance network. The aim is to cycle as many kilometers as possible in a given period of time as a group or as individuals, mainly to reduce the participating municipality's own and C0₂ emissions. Due to the Corona pandemic, the city of Bonn and  Rhein-Sieg-Kreis have postponed the action period. Now we would like to pedal all the more motivated together with our citizens and cycle as many kilometers as possible in a climate-neutral way. No matter whether we were at work, in leisure time, or on holiday – the main thing is that we were C0₂-free on the road. All in all, our team (10 people) cycled around 130 km and produced ca 110kg C0₂!
Kasia, a new communication volunteer from Poland, joined the SCI International Secretariat in Antwerp. As she begins her journey with the SCI movement, she shares her thoughts, hopes and ideas for her long term volunteering project in Belgium.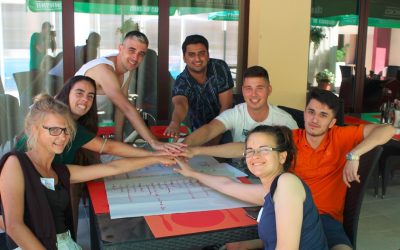 This July, thirty-one youth workers, volunteers and activists from ten European countries participated in a "Volunteering Project Management" seminar organised by CVS-Bulgaria, the Bulgarian branch of SCI. They met in Dryanovo to promote the philosophy and values of volunteering and deepen their knowledge of the volunteer project management.
Between 15th September and 3rd October 2021, follow the "From Dreams to Actions" Online Training Course and become a changemaker for a more peaceful world! Last chance to apply!