29 March, 2021
Traces of Colonialism
A digital exhibition
The online project "Traces of Colonialism" was organized by SCI Germany in cooperation with its partners in Kenya.
For a two-week period, we spanned daily a network between Germany, Kenya, Nigeria, South Africa, Uganda, and Zimbabwe, creating our own digital learning space. We were exchanging our experiences and gaining more knowledge about the colonial past and present. Altogether we were discussing traces of colonialism and related topics in an interactive way, enjoying our international team spirit. The trainers hold a number of workshops about e.g. Pre-colonial History, Racism, Empowerment, Critical Whiteness, and Resistance Movements.
During the rest of the time, everybody searched for traces in the surroundings and documented them by taking photos, creating collages, making the storytelling. As a result, it turned into a digital exhibition.
Let's make traces of colonialism more visible and fight racism!
Kasia, a new communication volunteer from Poland, joined the SCI International Secretariat in Antwerp. As she begins her journey with the SCI movement, she shares her thoughts, hopes and ideas for her long term volunteering project in Belgium.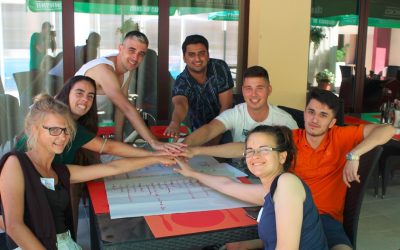 This July, thirty-one youth workers, volunteers and activists from ten European countries participated in a "Volunteering Project Management" seminar organised by CVS-Bulgaria, the Bulgarian branch of SCI. They met in Dryanovo to promote the philosophy and values of volunteering and deepen their knowledge of the volunteer project management.
Between 15th September and 3rd October 2021, follow the "From Dreams to Actions" Online Training Course and become a changemaker for a more peaceful world! Last chance to apply!