31 October, 2022
A global delegation at COP27 in Egypt
Climate change
COP27 in Sharm El Sheikh
In less than a week, the 2022 United Nations Climate Change Conference, also referred to as COP27, will take place from 6th to the 18th of November in Sharm El Sheikh, Egypt. For civil society organizations and NGOs to participate, an organization needs to have obtained observer status with the UNFCCC (United Nations Framework Convention on Climate Change). The official observer status enables an organization to apply for badges, which then allow delegates to participate at the COP. As an international network of volunteers, SCI obtained observer status a few years ago and has previously sent SCI delegates to attend COPs in different countries.
Ongoing structural injustices
During previous conferences -such as last year's COP26 in Glasgow – NGO participants from Western Europe, North America, Australia and New Zealand were overrepresented. According to the Costa Rican NGO La Ruta Del Clima, organizations from these regions send more than seven thousand civil society observers to Glasgow. At the same time, less than two thousand NGO participants were affiliated with organizations from Latin American and Caribbean, Asian-Pacific and African States.
These numbers highlight the ongoing structural injustices at play – while the latter regions are generally more exposed to climate change, they are only responsible for a small share of emissions, especially from a historical perspective. Moreover, the high number of Western organizations present at COP26 in Glasgow meant that their agenda somewhat dominated the conference.
A global delegation
Therefore, following the proposal by active SCI members and volunteers, the SCI decided to apply for COP27 badges in Egypt and forward these to young delegates from the latter regions. While this does not address the structural injustices at play – which do not only include access to COP27 but also the financial means to travel – it allows more affected groups to push for their own agenda at the conference. It is thus a small step for more climate justice.
To find suitable candidates, SCI cooperated with the Youth Constituency of the UNFCCCalso known as YOUNGO. The organization consists of many youth-led organizations, groups, delegations, and individuals working in climate change-related fields. Its aim is to ensure that perspectives of young and future generations are taken into account in the multilateral decision-making processes.
The cooperation between YOUNGO and the SCI enables seven young delegates from Nigeria, Zimbabwe, Sudan, Bangladesh, Brazil, China and Mexico to travel to Sharm El Sheikh next month and to represent the agenda of their respective organization. We had the opportunity to meet the delegates and talk about the upcoming conference during a short online call last week. Throughout the meeting the delegates had the chance to also get to know the work of the SCI.
Human Rights and COP27
While it was a fruitful and lively exchange of different international perspectives, we also talked about the current human rights situation in Egypt. In a recent newspaper article Canadian author and activist Naomi Klein argues that the summit in Egypt creates a moral crisis for the climate movement. We would recommend all of you to read her piece, which also describes the perspective of Egypt's highest profile political prisoner Alaa Abd El Fattah.
If you would like to receive further updates about the conference or contribute to SCI's future work with respect to climate justice you can follow the links below or contact climateteam@sci.ngo
Further links
– Eco-Newsletter from Climate Action Network International (CAN):https://climatenetwork.org/resource_type/eco-newsletter/
– Whatsapp COP27 updates from E3G:
https://www.e3g.org/news/e3g-whatsapp-sign-up-for-cop27-updates/
– Earth Negotiations Bulletin from IISD:
https://enb.iisd.org/get-updates
– Podcast La Ruta del Clima:
https://larutadelclima.org/english/podcast/
– YOUNGO channels:
https://instagram.com/youngo.unfccc;
https://www.tiktok.com/@Youngo,unfccc;
https://www.linkedin.com/company/youngo-unfccc;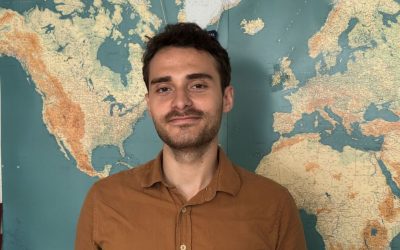 Albanoi will be joining the IS offices for a year here in Antwerp, helping out with communication. Hi everyone! My name is Albanoi and I am the new Communication Volunteer for SCI IS. It feels weird even typing that because when I applied, I did so on a whim and did not think much of it, only to find myself in Antwerp two months later, in an unknown city, alone for the first time. It is exciting...