16 October, 2023
SCI Italy's new volunteers: Fatma, Simon, Ángela, Bess
The new long term volunteers that will be working with SCI Italia and La Città dell'Utopia.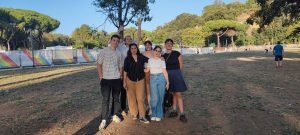 A couple of weeks ago the new volunteers arrived at "La Cittá dell'Utopia" in Rome to support and work alongside the projects that will take place here and in the organization.
Fatma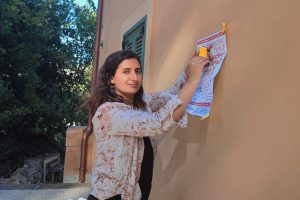 My name is Fatma, I am 26 years old and I`m from the Kurdish part of Turkey, Kurdistan. I decided to have a gap year as an ESC volunteer with SCI and La Città dell'utopia. I found them from a  sending organization, they had a post on their Instagram where they had a link, and the title was something like, 'open esc call'. I am in the department of la città, which is a project of SCI Italia; for now, I don't have a particular position, sometimes I do communication, logistics, events, and preparing the events and festivals.
When I was studying I also had part-time jobs to sustain myself. I studied English teaching and human studies in Istanbul, I just graduated and was working as an undergraduate research assistant part-time in the university in the department of English and had one student. Finished and came here.
Last year I participated in an ESC project in Romania then I learned about the existence of this kind of project, the European Solidarity Corps, and I found it there is a long-term option, I talked to someone who had done it and thought it could be a good idea to have a pause a bit after finishing school and just after starting a job, so I started to plan this year as a gap year before knowing if I want to go academic maybe this can change throughout the year, it is a pause but not blank, getting to know myself and discovering my borders in a different culture, different language, different country, also challenging yourself because you get out of your comfort zone.
I generally work with organizations working on migration. There was a small project in Istanbul supporting refugee children generally coming from Syria. We were teaching English, Turkish, math, and other subjects.  I also worked with another volunteering migration association their focus is generally on the internal migration of Kurds, especially after 1980 because the Kurdish villages and cities were on fire by the state this created a migration, so this association was working on it, also for the children in prison, because when the mother goes to jail, if they are pregnant they have babies, the quality is bad for the children. I worked in the social responsibility club at my university we worked on that kind of project, doing weekly visits and activities for these children, but we had to stop for coronavirus after we tried there was another quarantine and it was discussed to stop the project, because the psychology of children is very important, if you are unstable and they have expectations of you is very hard for them because they are already in a vulnerable situation.
From this experience I want to learn Italian and also learn about the work of an NGO in the field, to compare how it works in my country and maybe extract from both and create my own vision.
Simon
My name is Simon and I am 21 years old.  I come from France, I live in a city in the northwest, very close to Brittany called Mayenne, and I studied in Rennes for two years, and last year I was in Seville, Spain, for an Erasmus and went back to France in July and now I'm in Rome. I have a degree in political sciences so I studied politics and international relations. Renne University had a partnership with the university Pablo de Olavide, which sent five students to study there, I was one of them, I had to do all of the procedures to go abroad and it was not that difficult and it was a good experience, once I was there I think I had the best year of my life.
Even before going back to France I had been looking for the possibilities to go abroad, but it was in France that I heard about SCI and La città dell'Utopia on the Service Civique website, a French program to send people, abroad or in the country, tho do a service or mission during a certain amount of time, and that is how I applied to this project. I decided to come here because I wanted to be in Rome, have an experience in another country, and learn a new language. I want to learn Italian because it is a beautiful language and I'm also very interested in the Mediterranean world, so to know Italian and Spanish would be very beneficial for me in the future.
Now I work for La Cittá dell'Utopia which is the name of the association here, for the moment my duty is to work responding to emails, and the phone, organizing projects and taking part in them, I can be someone who helps in the organization of an event, like for example when we did the terra terra market, in this kind of events I will prepare the place, sometimes cook and I will be one of the coordinators of el festival de la zuppa that will take place in April, right now I'm organizing the schedule for the courses that will be taking place in the social school of la citta dell'utopia. I am really excited. I also want to take the time to visit Rome and to discover Italy, it is a big motivation for me, and it will help me learn Italian. I am happy to be taking part in this project and to meet my colleagues and create an efficient team for this year.
During this experience I would like to meet new people and learn about myself, I think that it is an important thing since it is a new experience in a foreign country, to be alone and have to create new relationships with new people. I think this experience will help me develop skills around relationships with people, social abilities, time management, and other things like responding to emails and other office-related work and knowing more about the Ngo world. At the end of my journey here I hope to be able to speak Italian properly and to be able to say that I actually lived in Rome, and experienced it fully.
Angela
My name is Ángela, I'm from Murcia, a city in the Mediterranean south of Spain. I was looking for something that had to do with the path of communications and media. I found a call on the ESC website looking through European opportunities to learn about the field of communication in other countries, and because I had already started to learn Italian I thought maybe it could be a good experience.
I am in SCI Italia (Service Civil International) supporting the communication department as a long-term volunteer here in Rome, I will be doing communication related tasks such as posting on social media, like Instagram, and Facebook, creating posts and articles for the web, and making videos and interviews to share the SCI ongoing activities. For instance, we had the 75 anniversary of SCI Italia and I commemorated the occasion with a video with some testimonies of volunteers to post on the sci YouTube channel.
I studied audiovisual communication in my home city and gained initial experience in the field by interning with television and radio stations in my hometown. Later I took part in a European program called Eurodisey where I worked in marketing at a communication agency in Sardinia, It was during this time that I began learning Italian. I'm keen to explore how the field of communication operates in Italy and within the context of an NGO. While I have volunteered for various events in my city with other organizations, this opportunity feels like the first time. I feel very excited about the possibility of meeting new people from different places, cultures and backgrounds.
My first day at ¨La Città dell'Utopia¨  coincided with the day of the terra/TERRA farmers market, so it was a bit chaotic but a memorable introduction, there was music, food and artisans, a lot of people came and the casale was full, I feel like it was a good experience for the start since it was so energetic.
I hope to take a valuable experience from this volunteering as well as lasting friendships and compelling stories from this volunteering journey. I believe that connecting with people is at the heart of effective communication, and I look forward to personal and professional growth this year.
Bess
My name is Bess and this Sunday I will be 25. I'm from Belgium, and I live in Brussels, I really like Brussels because it is a very multicultural city where a lot of things are possible and people have great respect towards each other and so I really like Brussels. I was talking to my housemate and he used to do a year working in Luxembourg on a farm like from the European Solidarity Corps and he told me about the thing so I looked it up and I applied for two things but very in one afternoon and then I got I contact with "La Citta dell'Utopia" and now I'm here. This year I will be helping the daily life of "La Citta dell'Utopia" and I hope to get with other people to lower the borders for the community to come here and get very accessible for the neighborhood as well, that's something I think is very valuable. Something that I want to do is to get in contact with activists from Rome and the neighborhood, getting to know what they are doing and how they do things, their resistance and how they go against political things and raise awareness and be together because it is very important for the community I think.
Last year I finished studying conflict and development and wrote my thesis about migrant workers in the south of Italy, I was working as a teacher in a primary school in Brussels which was nice.
Because I don't have a fixed job at the moment I think I can figure out a bit of what I want to do and see what my interests are, I think volunteering is a good way of learning but I think it is important and a good way of working.
I hope to learn Italian, meet activists and their way of working, and see how migration is dealt with within the borders of Europe.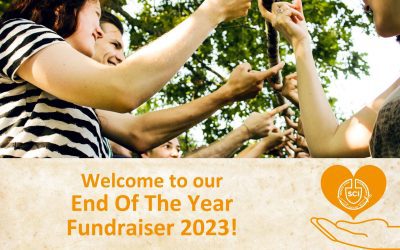 As we approach the end of this year, I would like to address all of you and ask for your support to SCI. The most reliable source and that which would give us the highest level of independence, is YOU!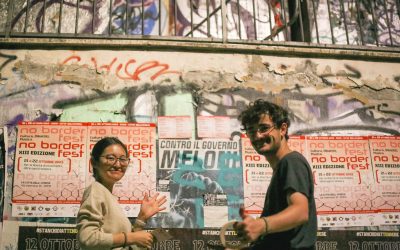 From 10th to 25th November 2023 and ahead of the 13th edition of the No Border Fest, 14 international volunteers arrived from Spain, Portugal, France, Albania, Croatia, Hungary, and Italy to Rome, to offer support, during the two weeks, 'tidying up the space of "La Città dell'Utopia"' leading up to the festival and also during the festival. About the festival The No Border Fest was back in its...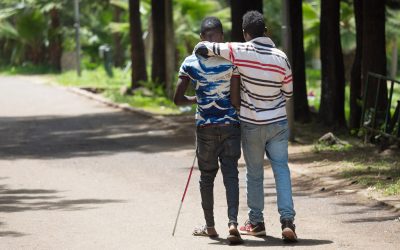 SCI-India's Maharashtra State Group organized a webinar to commemorate the World White Cane Safety Day. The Group has been associated with organizations working on issues faced by the visually impaired for over four decades. The aim of the seminar was to expose new volunteers to the world of the visually impaired, to the challenges they face in daily life and how the little but mighty cane helps...