3 November, 2022
SCI is Recruiting an International Coordinator
International Secretariat of Service Civil International (SCI) Antwerp, Belgium
SCI is looking for a new International Coordinator to lead its International Secretariat located in Antwerp, Belgium.
We are looking for someone with strong leadership and communication skills, intercultural experience, strategic thinking and interest to work in an international organisation with a mission to create a culture of peace. 
ABOUT US
Service Civil International (SCI) is one of the world's oldest and largest international volunteering organisations. Since its establishment in 1920, SCI has been dedicated to promoting a culture of peace through international volunteerism. Through short and long-term volunteer exchanges, SCI helps to break down barriers and prejudices between people of different social, cultural and national backgrounds, and to promote active citizenship. SCI activities include volunteer placements across the globe, seminars and training courses with a focus on non-formal education methods, campaigns and events focused on peace, intercultural understanding and sustainable development. For more information on SCI's activities and structure, please visit our website at www.sci.ngo. 
POSITION DESCRIPTION
The post is based in the International Secretariat of SCI in Antwerp, Belgium and is full-time (37,5 hrs/week) with an open-ended contract in line with Belgian legislation. The candidate must have legal right of employment in Belgium. 
ROLE DESCRIPTION
Main responsibilities of the International Coordinator:
Manage the daily functions of the International Secretariat and cooperate with/coordinate the staff/office (4 full/part-time employees and 3 to 4 long-term volunteers)

Coordinate and support the international movement through conference calls, joint initiatives and facilitation of discussions

Give support and cooperate with the international board (International Executive Committee)

Act as a central point of contact internally/externally

Monitor/develop/implement the yearly plan of action and budget

Organise international meetings, especially general assemblies of the movement (International Committee Meetings)

Legal representation of the organisation, including administration

Explore alternative funding streams and diversification of finances through funding applications

Project management for both operational and project funding (currently largely EU funding), including implementation, collaborative grant writing and reporting
CANDIDATE PROFILE
Required Qualifications:
3-5+ years of professional experience, with increasing responsibility

Proven leadership and organisational skills, including meeting deadlines and effective presentation skills

Self-driven and ready to take initiative on different fronts

Experience coordinating with diverse and multicultural teams, preferably also volunteering teams

Strong interpersonal and diplomatic skills, and ability to communicate effectively in international contexts

Experience in project and financial management

Fluent English, spoken and written C1 minimum

Interest in strategic planning and organisational change

Availability to travel as needed

Availability to work during weekends as needed
Desirable:
Desirable experience managing operating grants or grants from institutional donors (EU, CoE, etc)

Knowledge of Dutch

Experience of working in/with international voluntary service organisations
EMPLOYMENT CONDITIONS
Dynamic, international working environment

Opportunities for professional development and growth, depending on needs

Travel opportunities within and outside Europe

Training opportunities, both internally and externally

Competitive salary based on Belgian NGO Standards (2,780-2,875 euros gross monthly, depending on qualifications and skills), plus benefits foreseen such as meal cheques, travel to work subsidy, 13

th

month salary, etc. 
SCI is an equal opportunities employer and does not discriminate on the basis of race, religion, colour, national origin, gender and sexual orientation, physical or mental disability, or age. 
STARTING DATE
January 2023 (can be negotiated). 
APPLICATION INSTRUCTIONS
Please send your CV and the additional form (download it here) to recruitment@sci.ngo with "Application International Coordinator + [first initial and surname]" in the subject line. Further enquiries can also be addressed to recruitment@sci.ngo. Please note any incomplete applications will not be considered.
The deadline for application is noon CET on 18 November 2022. Early applications are encouraged as applications are accessed as they are received.
We will notify the shortlisted candidates after the deadline of 18 November. If you are not contacted 2 weeks after the deadline, your application has not been successful.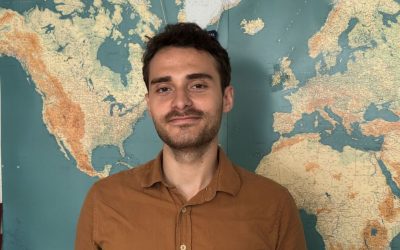 Albanoi will be joining the IS offices for a year here in Antwerp, helping out with communication. Hi everyone! My name is Albanoi and I am the new Communication Volunteer for SCI IS. It feels weird even typing that because when I applied, I did so on a whim and did not think much of it, only to find myself in Antwerp two months later, in an unknown city, alone for the first time. It is exciting...