29 March, 2021
The challenge of facilitating an online study camp
Written by Martin and Paula
Hi! We are Martin and Paula, and we would like to share with you a bit about our experience with the online study-camp project that we facilitated. A little bit of history: it all started in March-April, during the confinement. In SCI we started to think about how we could do some activities online, that were normally carried out in person, and how we could adapt to the pandemic. In May we already had the idea of doing an online workcamp on the topic of gender and we planned to do it in July. Shortly afterward we realized that this had been a mistake since in July people started going out, home confinement gradually ran out, and obviously, no one would want to spend 5 hours a day for 5 days a week in front of the computer.
Then we went back to the initial idea, changed the format, and decided to carry out the project during the fall of 2020 because we thought people would be more available in November. And it was like this! The first time, in July, we did not receive any registration from any participant, but in the second round, in October, we received more than 50 registrations!
Preparing the study camp, we were a little lost, especially because we did not know how excited the participants would be, what level of participation they will have if attendance would be consistent and if a pleasant climate could be created… Although it was not the first time, we were part of an online camp, it was the first time we facilitated one, and some of this uncertainty came out in some fears and emotions. As the sessions went on, we had it more under control, as we could learn from what had previously worked and what didn't. However, there hasn't been any session where we wouldn't be very nervous minutes before we started, and where we didn't have a feeling of satisfaction when it ended.
We think that the project started very, very well! All of the participants arrived at the first session. We met, established the main rules for the camp, and created a very pleasant working environment. Some participants turned on neither the camera nor the microphone, but there were no problems with this because they were actively participating in the chat. One of the biggest challenges we encountered is that the number of participants varied considerably between sessions, showing a downward trend. Since it was not a closed space, the participants followed the camp from home having to combine it with their different daily commitments, so there was no guarantee that people would return to the next sessions. That's why we believe that the first session is the key session to engage the participants.
The role of the participants was very active, they were all quite participative and were very interested in the different topics we covered: inclusive language, gender roles, privileges, the evolution of feminism, LGTBphobia, the concept of virginity, the culture of rape, consent, and sisterhood. The truth is that we have covered many interesting topics which, while not new to most of the participants, have led to sharing ideas with people from different parts of the world.
It was a learning experience. You have to accept that sometimes there are proposals that don't work and you don't have to carry them out (like the daily activities we proposed at the beginning), you need to have everything well prepared and at the same time to be able to improvise according to the group response so you can save the session. It may not be that different from facilitating face-to-face sessions, because it also requires planning as well as interested and participative people. But it can easily get colder, and you need to be very careful to maintain closeness and dynamics within the group. We think it was a very interesting challenge and we are happy and satisfied to have been able to do it.

IVP Australia, together with partner organisation, is organising the Raising Peace festival with the aims to celebrate and raise the profile of peace, to create opportunities for collaboration between peace organisations and to inspire young people to take action for peace. The festival will take place over 10 days: 16-26 September 2021 in Australia.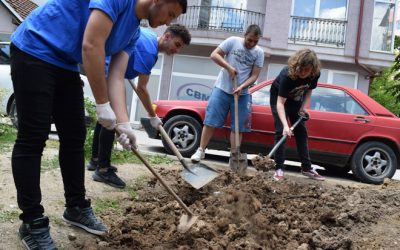 GAIA Kosovo's volunteers created a community garden in an urban space that was left unattended for a long time, bringing a new energy and bright natural colors to the whole area. The work on the garden generated interactions, conversations, new encounters and a lot of smiles between people from different generations, grandparents and young children, teenagers and adults.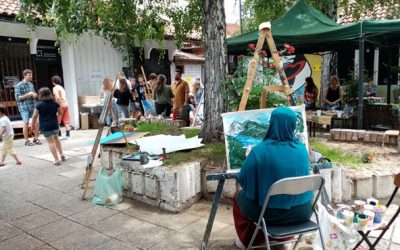 Volunteers at GAIA Kosovo organised a special Sunday fully dedicated to art, in the social and cultural place "Social Space for Deconstruction". When people live their day to day life in a divided city, they sometimes need to rethink about what we, as humans, have in common, and the universal language of art can help us do that.