23 June, 2022
"Digital Detox" and Summer Festival for Roma children
GAIA Kosovo
"We are working on a local, grassroot level to restore communities based on earth care, people care and fair share."
In order to achieve this goal, GAIA SCI Kosovo is organising and implementing various activities. Beginning from community based programs in three different locations in Kosovo, we are also carrying out local actions and campaigns, youth exchanges and gatherings as well as small festivals, storytelling events, publications and even documentary productions.
In the next months, there is a training course for volunteer mentors, a workshop about earthen plasters, a permaculture design certificate course, and a youth exchange about natural building and gender questions coming up. If you are interested in any of these and you want to keep being updated, check out the GAIA website or @gaiakosovo.
Another domain of GAIA are workcamps. Every year, we are hosting these international gatherings in various places of beautiful Kosovo.
One of them will happen now for the sixth time! This specific workcamp organised in cooperation with the Draganac Monastery offers an opportunity for the volunteers to challenge themselves by living in simple conditions and to explore local religious customs. The main work is about helping with the preparation of an Orthodox Christianity "Slava", a celebration in honour of a saint, which is together with Easter and Christmas one of the most important celebrations. Volunteers are working with monks and novices on organizing, cooking and preparing the space for the awaited guests. The volunteers are also helping with agriculture related tasks, as the Monastery cultivates vegetables, has an orchard and takes care of chickens and goats. The workcamp convinces with its great openness to people of all kind – no matter the ethnicity, nationality or religious belief.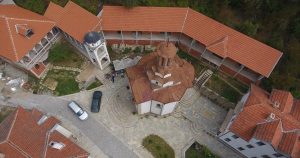 A former volunteer describes the participation in the workcamp as a "digital detox" and furthermore:
"Draganac Monastery is this kind of place that you cannot describe with one sentence. The moment I arrived there, I felt different vibrations, between relaxation, spirituality and excitement. […] The monks paid us two visits to our workcamp, sharing our dinner and sitting with us around the fire. The good vibrations I could feel and that I received from this place are something that I will not forget easily. The truth is: no one can forget it. Two participants from the last year's workcamp came back for Slava and explained to me that they enjoyed the atmosphere in Draganac so much they decided to help once again this year. I will for sure do the same next year."
There are still some free spaces for this year's workcamp in Draganac from 20.07.2022-30.07.2022! If we caught your interest, don't hesitate to get some more information here.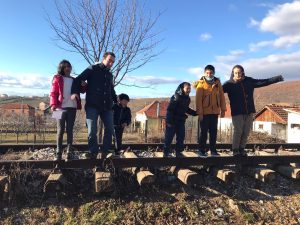 Another workcamp is happening from 04.08.2022-14.08.2022 in an alternative educational space located in the Roma neighborhood in Gracanica. The education space functions mainly through the presence of international volunteers and local members, who support the 30 children and youngsters who currently attend the activities by teaching basic knowledge, languages, arts and crafts while using non-formal education methods. The workcamp's aim is to organise a summer camp with the children and youth. The volunteers will be involved in the organisation of daily activities which will focus on a variety of arts and crafts, music workshops, understanding nature, environment, human rights workshops, science and experiments, language learning, sports and recreation activities etc – the are no limits! Even though most of the activities will take place within the education space itself and the mahala, the volunteers will also participate and help with an excursion outside of Gracanica, supervising the group of kids and youth. During the workcamp, the volunteers will have the opportunity to learn about social injustices, Roma rights, environmental issues and much more.
Click here for more information and read what a previous volunteer says about his experience:
"I see our daily chores: cooking for the group, cleaning the bathroom, fixing broken pipes […] and, while those things may not seem to us worth telling, they now appear important and even beautiful to me, because we carried them out in order to make life easier for those around us, out of love for the small family we became during those two weeks together. However, those things cannot show the power of love nearly as much as the moments we shared with the children of our school. What else, if not love, could make those kids, who live such hard lives amidst poverty and violence, all run at us smiling in the morning to hug us and offer us some of the sweets they were eating? What peace I felt then, as we were walking up the street towards the school and passing by the black fumes of old cars and the red unfinished houses with the kids holding our hands."
Helena from GAIA Kosovo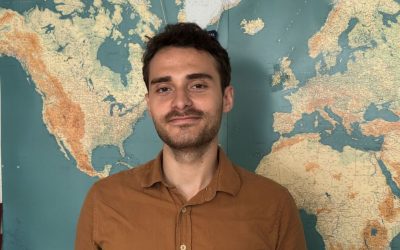 Albanoi will be joining the IS offices for a year here in Antwerp, helping out with communication. Hi everyone! My name is Albanoi and I am the new Communication Volunteer for SCI IS. It feels weird even typing that because when I applied, I did so on a whim and did not think much of it, only to find myself in Antwerp two months later, in an unknown city, alone for the first time. It is exciting...