25 July, 2022
Climate workcamps in Poland
by SCI Poland
This month we began our workcamp season, welcoming international volunteers to three camps: Trzcianka, Wydminy, and Lublin. We would like to briefly present them to you.
Workcamp "Summer School in Trzcianka" was organized in cooperation with the Juliusz Słowacki Elementary School No. 1 in Trzcianka and the City of Trzcianka. The volunteers are helping to organize a day camp for Polish and Ukrainian children in Trzcianka. The theme of the summer camp is ecology. Young participants had the opportunity to create an ecological robot, participate in beekeeping workshops, or take part in designing an app to promote conservation efforts. The work of the international group of volunteers from Poland, Armenia, Georgia, Mexico, and Russia was coordinated by Daria Rekunkova and Hubert Werner.
In Kalisz, we are holding a workcamp "Summer with Theatre". It is jointly organized with the Multi.Art Association and the Bogusławski Theatre. The theme of the summer camp is "What is change and how to tame it?". For two weeks children from Poland and Ukraine learned about it through numerous activities, mainly artistic. There were also threads related to the topic of climate change and environmental protection. The workcamp is attended by people from Italy, Ukraine, Belgium, Finland, and Hungary, and is coordinated by ESC volunteers working in our Poznań office: Svitlana Kukharuk and Elvira Amatuzzi.
Finally, in Wydminy, we co-organized with the Polish Scouting and Guiding Association (ZHP) a workcamp titled "Forest Scout Camp in Masuria". A group of volunteers, among others from Mexico and Ireland, coordinated by Paulina Pastuszek and Urszula Tyc supported the organization of sport, art, and educational activities on ecological topics for the young scouts. The presence of international guests encouraged them also to start speaking English.
Workshops on climate justice were also held at each workcamp. They were organized as part of the project "Together for Climate and Peace", implemented with a grant from the Active Citizens – National Fund funded by Iceland, Liechtenstein and Norway through the EEA Funds.
If you would like to take part in one of this year's workcamps in Poland, there is still a possibility! For example, a workcamp at the Educational Center of Permaculture Gardens in the Lublin region is waiting for applications. Come and visit us!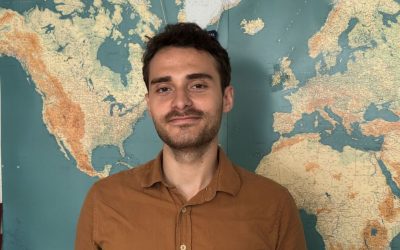 Albanoi will be joining the IS offices for a year here in Antwerp, helping out with communication. Hi everyone! My name is Albanoi and I am the new Communication Volunteer for SCI IS. It feels weird even typing that because when I applied, I did so on a whim and did not think much of it, only to find myself in Antwerp two months later, in an unknown city, alone for the first time. It is exciting...