27 May, 2020
First we eat, then we do everything else
Cookbook Flashmob
Recently we published "A daily plate of peace and non-violence": toolkit with methods and information to present to the participants/volunteers during the projects and cookbook with useful advices about food consumptions & balanced plant-based recipes for the groups in order to stay active and energetic during the projects/workcamps etc. However, right now it is not possible to use it within the groups.
Thus, we encouraged active people all around the globe to make a small action and join our unusual Flashmob (on distance of course) –   preparing at least one dish from the book with the flat mates, family or friends (via Zoom, Skype etc.) during one week.  Since we all need support and motivation to move forward in a current difficult situation, trying new things can help to bring the feeling of joy and connection with others from SCI community, even if we live in the different cities, countries or even continents!
In general, we had three stages, depending on the size:
Office members of SCI-Germany – 04 -11.04.2020
National level (active people and volunteers in Germany) – 10.04 – 17.04.2020
International level (an action for peace in the campaign for 100th anniversary of SCI) – 20.04 – 26.04.2020
In general, the initiative joined more than 20 participants from Germany, Ukraine, Switzerland, Kosovo, Poland, France, that prepared different amount of dishes starting from 1 and ending with 20! They were cooking with and for their flat mates, families, kids, loved ones or even friends via Zoom. The participants of the flash mob took some photos and videos of food or preparation process.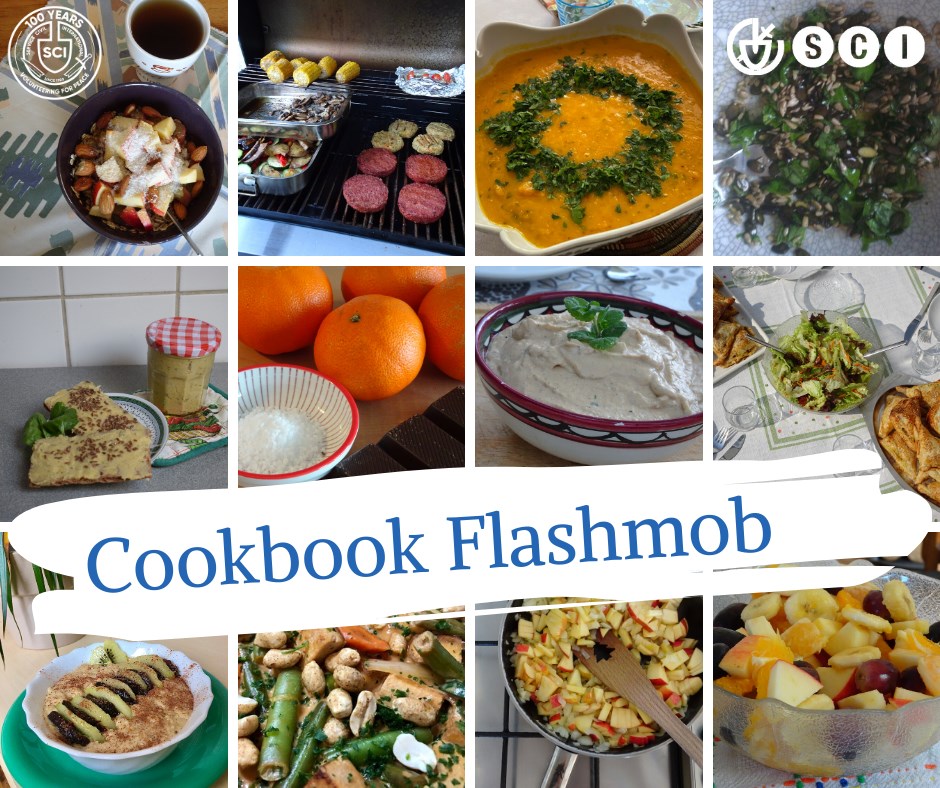 Here are their feedbacks & impressions about the Cookbook:
Anna from Germany: At the beginning I only wanted to try out one recipe. But when I saw how many and simple dishes were included, I gradually cooked my way through almost half of the cookbook. The great thing is that they give you so much freedom to swap ingredients, try out spices and use what you have left or what is in season. The pesto, for example, we made with wild garlic that we collected in the forest on a bike tour. I also gave a glass of each of the homemade spreads to my grandparents, who were very happy!
Anastasia from Ukraine: I wanted to say thank you for this very nice initiative, it brought to me some new and warm experience. I really liked the Cookbook, which gives many inspiring and useful ideas on different variations on well-known dishes and helps to remember about conscious food consumption. It was very interesting to cook Curry in vegetarian version. I liked the result very much and I think I will use this one and other recipes from this book in future.
Anita from Germany: The Mousse au Chocolat is really a dream! I am happy that I am no longer standing in the kitchen forever with the mixer, but that it is made in a flash – and super delicious!
Britta from Germany: We tried the curry recipe with slight changes. We didn't have chickpeas, so we roasted some tofu without oil instead, then added veggies and some groundnuts later on. Secret extra: orange juice. Yummmmmmm!
Judith from Germany: Today I tried the recipe: Traditional Pasta & Vegan Italian Pesto. I chose it because I had very little time to cook. It was really fast and very tasty. My roommate was also very happy about it 🙂
Giuzel from Bulgaria: First of all, I want to thank for the cook book. During the quarantine I have time to improve my cooking skills as well as to try something new. So my first attempt is porridge. This porridge is really cheap, tasty and filling. A wonderful start of the day! I like that in this book there are not only recipes, but recommendations as well, that makes it meaningful.
Margit from Germany: Today I cooked the Spaghetti Bolognese with red lentils with our kids and the kids had a lot of fun cooking and it was really delicious.
Nina from Ukraine: I was really fascinated with the book since currently; I am trying to change my diet into plant-based. This cookbook was useful not only because of the simple and at the same time tasty recipes but also because of the information that it contains. In particular, I took for myself useful information about what should be included in the diet, but also how it can be used in terms of the groups (buying, storing, cooking, using leftovers, etc.). I suppose that this book can inspire and motivate people to rethink about their food consumption and try to leave more sustainably.
Sabine from Germany: This is a very nice cookbook. I decided to recook one of the recipes and chose the pumpkin soup. I was very happy when I found an organic pumpkin at Rewe, though there were some difficulties in chopping it. However, my granddaughter helped a lot, and after the about one-hour preparation my family sat down together at the table. We were 4 people who together took part in 9 workcamps: myself in 3 (Nice France – 1956, North Carolina, USA – 1990, Cappadocia, Turkey – 1994), my daughter in 4 (Neuchatel 1988, Switzerland 1989, Mecklenburg Vorpommern 1990, Slovakia – 1991) my grandson in 2 (Hungary 2009, Tanzania 2010). It was a great feeling.
Flo from Germany: I am a volunteer at GAIA in Kosovo at the moment and I got inspired by your cookbook flash mob. Thank you for the nice recipes and for the initiative to spread values about buying, preparing and consuming food. I tried the recipe Austrian millet stew and carrot salad together with my family. We even managed to be four persons in a kitchen and not to end up in a big argue… What I liked the most was that most of the ingredients were simple and easy to get, especially that you made proposals for using leftovers. Since I am not able to be in Kosovo at my project at the moment it gave me a good feeling to be connected to the world of other volunteers. I will try out more and more of the meals and I am curious.
We hope that our participants could feel connected to the other volunteers and active people all over the globe, and maybe will use other recipes from this book in the future.
Top 5 Popular recipes were:
Traditional Pasta & Vegan Italian Pesto – p. 29
Curry dish – p. 31
Porridge – p. 26
Vegetable Strudel – p. 40
Chickpeas Burger – p. 43
It is so amazing to see how the experiences differs, even if people were following the same recipe, but each brought something unique and special the same as we bring to this world.
Raising awareness and promotion of critical reflection of current practices of food consumption, and furthermore changing your diet can be already tiny steps towards sustainable life. We are grateful everyone who supported our idea!
Overall, we could insure once again that it is not that hard to make some change together!
If you are interested in the printed copies of the Cookbook&Toolkit (6 Euros/package), please fill in the attached order form and send to email: incoming@sci-d.de
Written by SCI Germany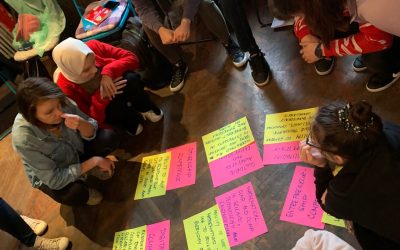 International participants took part in a RutAlternativa Training Course, organised between 4-11 October in Novi Sad. Its aim was to explain the methodology of educational walking tours and to provide those who took part in it with knowledge and tools neccessary to teach others in their communities.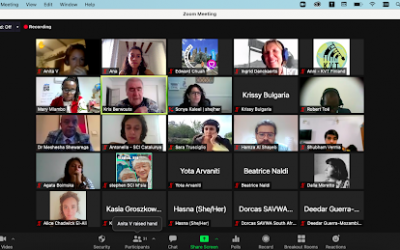 On the 7th of September SCI Catalunya, with the collaboration of SCI International Secretariat, VWAN Nigeria, ZWA Zimbabwe, SCI Italy, SAVWA South Africa, KVT Finland and AJOV Mozambique, as part of Grassroots change: volunteering, leadership and emancipation through hands-on work and mentoring organised a webinar on the topic: Decolonise volunteering - dream or reality?  It connected global...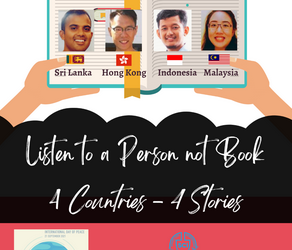 In conjunction with International Day of Peace that takes place on 21st September annually, this year SCI Malaysia has organized a virtual Human Library with the aim of promoting conversations on volunteerism to better our understanding of diversity to help create more inclusive communities across cultural, religious, social, ethnic differences. The topics for this Human Library is Volunteering for Peace.