22 December, 2020
Open Pots Project
by Útilapu Hálózat (SCI Hungary)
Our volunteers started a Solidarity project this autumn (2020). Open Pots events are intercultural gatherings where we cook, talk, and eat together. Every single time we discover a new dish from a new place in the world. Our first opening event was at the very famous "Szimpla Kert" (Simpla Garden), which gave an opportunity to everyone to chill with friends and share their culture, handmade crafts, and home-grown food.
In this place, Sundays also give opportunities for every civil organization to cook for the people.  As the Útilapu Hálózat SCI Hungary, we made Qorma, an afghan dish by our master chef volunteer Najib. We prepared and cooked together from 8 am until 12 am. We made a vegetarian and a meaty big pot. At lunchtime, we served food that we wanted to taste. It cost a symbolic amount because it was a donation-based event. In the end, we just recognized that cooked a lot so we shared it across Budapest streets to help people who really need it. When we gave the food we received big smiles with sparkly eyes. It was seriously a heart-touching moment.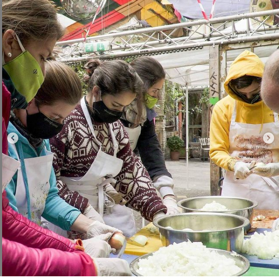 Every month we continue this cooking event series. In the end, we will make an "Open Pots cooking book" which contains our recipes and memories from the events. Because of the pandemic, we decided to cook online together, so you can join and make your lunch in your kitchen with us! Hungarian, Italian and other dishes on the list.  Join us!
"They say to the heart there is a way from your stomach."
We make you happy with our food from around the world!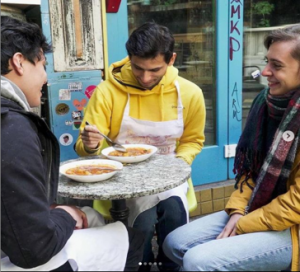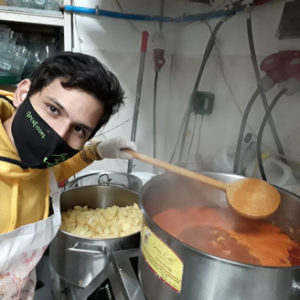 Are you a young person, youth worker, activist, or volunteer who is eager to enhance your understanding of media literacy, take an active role to promote intercultural dialogue, and combat hate speech and discrimination in the community you live in by using digital tools? The project: "Media (red)using stereotypes and divisions between youth" is for you! 📅 24-29th of September 📍 Durres, Albania ⏰ Apply by 1 September 2022
In 2021-2022, SCI Hong Kong China works on the Global Development Education Project with three secondary schools to create a platform for students to work together across countries despite the limitations on international travel, to acquire knowledge, develop attitudes and skills as well as allow them to take actions towards creating an inclusive and just world. Read about the project!
What is the formula behind quality non-formal education? Is it possible in a digital environment? 28 people from 9 different countries gathered to find this out from 7 to 14 July 2022 in the village of Emen, Bulgaria. The Learning Lab(oratory) Training Course was part of the project "Learning Lab(oratory): quality non-formal education in the digital world".