15 May, 2022
Living Library Week
La Città dell'Utopia
From May 4th to 13th, young people from Austria, Greece, Hungary, Spain and Italy participated in the Youth Exchange Living Library Week organized by SCI Italy in Rome at La Città dell'Utopia.
What is a Living Library ?
The concept of the Living Library was born in 2000 in Denmark. The first Living Library was organized by a Youth NGO called 'Stop the Violence' during the Roskilde Festival. It was motivated by the murder of a friend of the five founders. The goal of the project was to educate young people about violence and to prevent it. Ever since the Living Library tool has been used through the years in different contexts with one goal: challenge stereotypes, stigma, prejudice and discrimination.
The Living Library methodology aims to build a positive framework for communication between people, through storytelling, (but also exploring throught theater and art therapy. The theme of each book is the life of a person, and the narrator is the same individual who, through their voice and testimony, shares not only words and expressions but also their own values and beliefs, norms, and myths of the communities in which they were raised. This methodology allows not only to bring people together but also to develop their emotional abilities with an important impact in terms of personal development and active citizenship.
Living Library Week
During 10 days, the participants had the opportunity to explore the themes of emotional intelligence and interpersonal relationships together, through the Living Library tool. Many activities were organized to help them get to know each other, feel more comfortable and be able to share their stories. They did some games, a human museum, guided tour in the city, theater, and many other activities facilitated by our two partner organizations Eduraduno and Laboratorio 53. The goal was also to let them express themselves through any methods by encouraging them to be creative, a lot of material were available for them to use during their free time.
Our Living Library
We opened our Living Library two days: on the afternoon of the 11th with students from the school IIS Leonardo Da Vinci and on the evening of the 12th of May as a public event, both at La Città dell'Utopia in the south of Rome. During the events, 9 books were presented with different topics: travel, dreams, gender, discrimination, racism, activisim etc. The readers could go through the catalog and choose the book that inspired them the most. They were guided by librarians, and supported by dictionaries if needed. We let our books express themselves the way they wanted: reading, talking, singing, we even hosted a live graffiti session. One of the most beautiful things is that the stories shared were listened to by people from different backgrounds and the readers had the occasion to have a discussion with the books. Among them, Francesca, told us about her experience as a book :
"The story I shared is a story that I had already told many times but I had never told it in such a synthetic structured way and with a narrative tone, with friends with whom I shared it it was very more informal, no need to create a narrative thread. It was very interesting and it was nice to see the interest on the part of the readers that was also different between people" she said. The participants were also in charge of decorating the space and they presented a small exhibition of all the creations that were made during the activities so the readers could immerse themselves into our little world.
Youth Exchange: a way to connect with the others – some words from our participants
Beyond the events, one of the things that was important to us was to allow participants to create links and good memories between them. For 10 days, they had to learn to live together, to adapt to each other. For some had already had the opportunity to live this kind of experience, for others it was totally new. We wanted to know more about how they felt so we asked them to tell us about their journey. Marta, group leader from Catalunya: "In my opinion, the project went very well, I felt good and respected by the coordinators and by the participants. I really enjoyed participating and listening to others. It was an opportunity for me to get to know people you've never seen before in another way that surely if it wasn't for this project, I wouldn't have connected with these people in this way."
Francesca : "It is a wonderful opportunity to get involved, to get to know people from your age all over Europe. You establish relationships in the context in which you spend 24 hours a day and therefore you become very quickly close also thanks to the activities that facilitate the creation of bonds. Overall, it is a wonderful opportunity to improve as a person and for a better social network." It is a project coordinated by SCI Italy in collaboration with Útilapu Hálózat – SCI Hungary, SCI Austria, Servei Civil Internacional, SCI Hellas, Eduraduno, Laboratorio 53 and co-financed by the Erasmus+ program of the European Union.
Thank you to Carole Corbeau from SCI Italy for this submission!
Noëlla is our new office volunteer, she's 21 years old and comes from France. She will work on statistics, on the preparation of our big event International Committee Meeting, on the fundraising and donor management and on some events on Gathertown.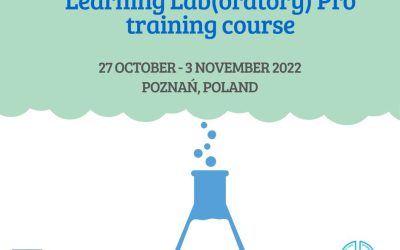 Are you an educator, a (to-be) trainer, willing to discover how to organise high-quality and more inclusive learning activities in both in-person and online environments? Apply for this training course! 📅 27 October – 3 November 2022 📍 Poznań, Poland ⏰ Apply by 2 October
Discover all the activities by SCI-India, Maharashtra State Group, in observance of the International Day of Peace. Their SCI Volunteers spread all over Maharashtra, in different cities, took a lead role in the activities, from mediation sessions, to drawing competitions, webinars and discussions. Get inspired!