3 August, 2020
New illustrations for SCI
by @pojamnik!
You might have noticed that our website is now more unique and fun thanks to the wonderful illustrations by Gosia, an SCI volunteer who dedicated her time and artistic talent to enrich our website and help us spread the message of SCI more effectively. We were very lucky that she decided to collaborate with us as an online volunteer!
I'm a Polish artist who just finished an European Solidarity Corps project as a Placement Officer in the Irish branch of SCI – Voluntary Service International (VSI). It allowed me to learn how SCI works from the inside, and meet a lot of its members in person. I decided to illustrate for SCI to give them something more visible and, in a way, celebrate the work I did during my placement. After my project I am more aware of how important it is to volunteer, and how good it feels, especially if you can do something that you like. As an artist, I feel that my skills are the most valuable thing that I have to offer and I'm glad I could share them.
Have a look at her art and follow her on instagram: @pojamnik.
Thank you Gosia!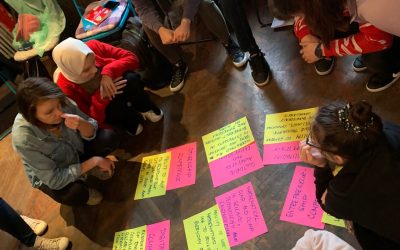 International participants took part in a RutAlternativa Training Course, organised between 4-11 October in Novi Sad. Its aim was to explain the methodology of educational walking tours and to provide those who took part in it with knowledge and tools neccessary to teach others in their communities.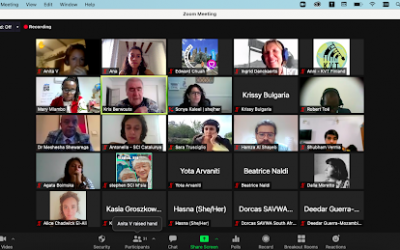 On the 7th of September SCI Catalunya, with the collaboration of SCI International Secretariat, VWAN Nigeria, ZWA Zimbabwe, SCI Italy, SAVWA South Africa, KVT Finland and AJOV Mozambique, as part of Grassroots change: volunteering, leadership and emancipation through hands-on work and mentoring organised a webinar on the topic: Decolonise volunteering - dream or reality?  It connected global...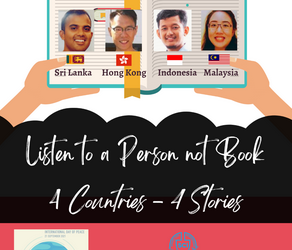 In conjunction with International Day of Peace that takes place on 21st September annually, this year SCI Malaysia has organized a virtual Human Library with the aim of promoting conversations on volunteerism to better our understanding of diversity to help create more inclusive communities across cultural, religious, social, ethnic differences. The topics for this Human Library is Volunteering for Peace.