5 June, 2020
Stories contest "Voice yourself"
Results
In April, we launched a Stories contest "Voice yourself" and since then we received 8 stories that the jury has now evaluated.
First, we want to thank all the participants for their generosity in sharing their experiences and reflections on volunteering for peace with the SCI movement. Their personal experiences act as a strong motivation for us to continue working for peace. We believe that there is nothing more inspiring than the example of life itself. And we hope this articles inspires you too to contribute to the creation of a more fair and peaceful world.
At last, we are very happy announce that the winner of the first SCI Stories contest "Voice yourself" is the story Generations of inspirations through SCI volunteerism, written by Bernadine David Yatawara. Bernadine worked as a Development Practitioner in Community Development in Sri Lanka for over 40 years and she is volunteering with the Blue Rose Special Needs School and Training Centre. Her story is the story of her family and how SCI and the essence of volunteerism, through workcamps, have touched the lives of 3 generations in Sri Lanka.
In the year of our 100th anniversary, we consider that this inter-generational testimony represents the long-term impact of activism for peace.
We want to share the other stories that also stand out for reflecting the essence of the SCI movement:
So, if you have some time, participate in a workcamp because the world needs help everywhere and you will never forget the time!
I can't breath… I need something to change me and my environment. What should I do?
You will never be able to save the entire world, but you can make a difference to one single persons life. You have the opportunity to write your story the way you want to tell it in a few years time. And is there anything better then telling in your story that you enabled others to write theirs?
I never thought to cross half the world to find myself in a small village, but there I was, excited to fulfil a dream and scared to be far from home, tiny in the crowd.
In 1960, I was only fourteen when I responded to a call for volunteers launched by the eminent Edwin de Robillard who was busy setting up "Compagnons Batisseurs" in the aftermath of cyclones Alix and Carol that hit Mauritius causing chaos and desolation.
For me, it's the old in the new, the simplicity in all the complexity of our lives, it's the individuality in collectivism. It's the challenges that fall to your share and your strength to handle with dignity. My inner devils fought and this was the stage of accepting the situation.
Volunteering is that moment when you forget that you are volunteering in order to help change lives because it is changing yours.
Different visions, in different contexts, with different actors but with common goals and values. Volunteers visions are the brushstrokes that colour SCI and bring it to life. Thank you very much to all the participants!
We only hope that you enjoy these readings and that they encourage you to live your own peace adventures with us.
If you want read more, here you can order the 100th anniversary book 'Words about Deeds' where we have collected stories of SCI peace activism since 1920.
Written by Esther Hernández Díaz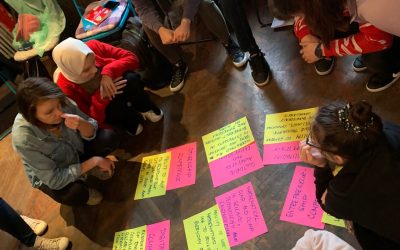 International participants took part in a RutAlternativa Training Course, organised between 4-11 October in Novi Sad. Its aim was to explain the methodology of educational walking tours and to provide those who took part in it with knowledge and tools neccessary to teach others in their communities.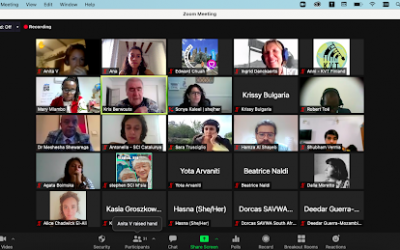 On the 7th of September SCI Catalunya, with the collaboration of SCI International Secretariat, VWAN Nigeria, ZWA Zimbabwe, SCI Italy, SAVWA South Africa, KVT Finland and AJOV Mozambique, as part of Grassroots change: volunteering, leadership and emancipation through hands-on work and mentoring organised a webinar on the topic: Decolonise volunteering - dream or reality?  It connected global...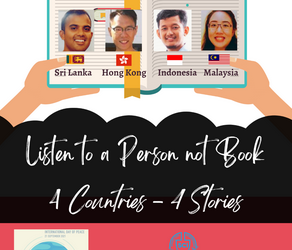 In conjunction with International Day of Peace that takes place on 21st September annually, this year SCI Malaysia has organized a virtual Human Library with the aim of promoting conversations on volunteerism to better our understanding of diversity to help create more inclusive communities across cultural, religious, social, ethnic differences. The topics for this Human Library is Volunteering for Peace.