25 January, 2021
POETIC DREAMS
Exhibition of poems by GAIA Kosovo
From the 12th till the 14th of January, a temporary exhibition of poems took place in Mitrovica's Mehë Uka square.
During this time of the pandemic, in which gathering and activities can not be launched, the Social Space for Deconstruction thought about a different approach. Hence, instead of bringing children into the newly created space, the SSD's team went to different schools to invite the children and teenagers of Mitrovica to take part in a poetry project. The idea behind this project was to allow us to dream a bit in these uncertain times. The project "Poetic Dreams" was oriented towards the theme of dreams and children and teenagers could write a poem on one of the following topics: Dreams of the future / What are dreams made of? / What do I dream about?
16 poems in Albanian and Bosnian were collected and printed to be displayed in Mitrovica's public space on wooden panels built by a local carpenter.
During those three days, which were pretty cold and sometimes snowy, kids were playing under the structures while the older ones were reading the poems. At the same time, intrigued faces were staring at the wooden structures, wondering what was sold or which author was promoted.
Most of the budding poets came by the exhibition and were given booklets of their poems while enjoying the sight of their work on the public square. It even gave back hope to one of them, who gave up on publishing poems since they would often be published without or with a wrong name.
The exhibition ended under the snow, with families all around, kids sliding and playing in the snow.
Thank you to all the people that relayed the information about the project and a special thanks to Anesa Colakovich from the school Bedri Gjinaj and her students.
Here you can view the poems (in Serbian and Albanian).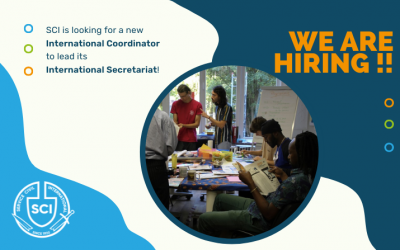 SCI is looking for a new International Coordinator to lead its International Secretariat located in Antwerp, Belgium. We are looking for someone with strong leadership and communication skills, intercultural experience, strategic thinking and interest to work in an international organisation with a mission to create a culture of peace. Read the full call and apply by 15 September 2021 (noon).

IVP Australia, together with partner organisation, is organising the Raising Peace festival with the aims to celebrate and raise the profile of peace, to create opportunities for collaboration between peace organisations and to inspire young people to take action for peace. The festival will take place over 10 days: 16-26 September 2021 in Australia.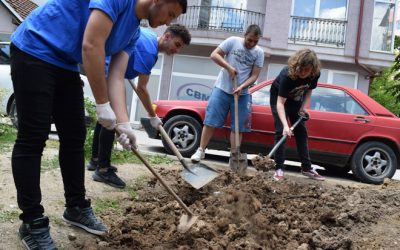 GAIA Kosovo's volunteers created a community garden in an urban space that was left unattended for a long time, bringing a new energy and bright natural colors to the whole area. The work on the garden generated interactions, conversations, new encounters and a lot of smiles between people from different generations, grandparents and young children, teenagers and adults.