25 January, 2021
POETIC DREAMS
Exhibition of poems by GAIA Kosovo
From the 12th till the 14th of January, a temporary exhibition of poems took place in Mitrovica's Mehë Uka square.
During this time of the pandemic, in which gathering and activities can not be launched, the Social Space for Deconstruction thought about a different approach. Hence, instead of bringing children into the newly created space, the SSD's team went to different schools to invite the children and teenagers of Mitrovica to take part in a poetry project. The idea behind this project was to allow us to dream a bit in these uncertain times. The project "Poetic Dreams" was oriented towards the theme of dreams and children and teenagers could write a poem on one of the following topics: Dreams of the future / What are dreams made of? / What do I dream about?
16 poems in Albanian and Bosnian were collected and printed to be displayed in Mitrovica's public space on wooden panels built by a local carpenter.
During those three days, which were pretty cold and sometimes snowy, kids were playing under the structures while the older ones were reading the poems. At the same time, intrigued faces were staring at the wooden structures, wondering what was sold or which author was promoted.
Most of the budding poets came by the exhibition and were given booklets of their poems while enjoying the sight of their work on the public square. It even gave back hope to one of them, who gave up on publishing poems since they would often be published without or with a wrong name.
The exhibition ended under the snow, with families all around, kids sliding and playing in the snow.
Thank you to all the people that relayed the information about the project and a special thanks to Anesa Colakovich from the school Bedri Gjinaj and her students.
Here you can view the poems (in Serbian and Albanian).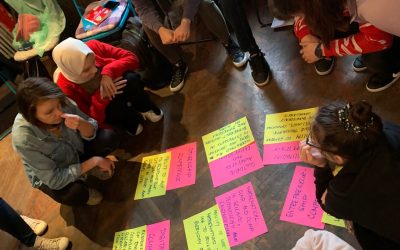 International participants took part in a RutAlternativa Training Course, organised between 4-11 October in Novi Sad. Its aim was to explain the methodology of educational walking tours and to provide those who took part in it with knowledge and tools neccessary to teach others in their communities.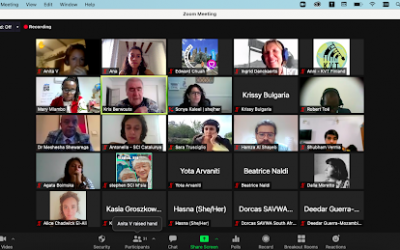 On the 7th of September SCI Catalunya, with the collaboration of SCI International Secretariat, VWAN Nigeria, ZWA Zimbabwe, SCI Italy, SAVWA South Africa, KVT Finland and AJOV Mozambique, as part of Grassroots change: volunteering, leadership and emancipation through hands-on work and mentoring organised a webinar on the topic: Decolonise volunteering - dream or reality?  It connected global...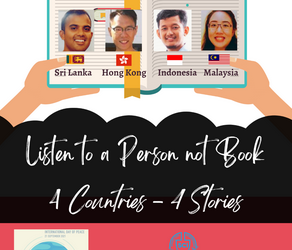 In conjunction with International Day of Peace that takes place on 21st September annually, this year SCI Malaysia has organized a virtual Human Library with the aim of promoting conversations on volunteerism to better our understanding of diversity to help create more inclusive communities across cultural, religious, social, ethnic differences. The topics for this Human Library is Volunteering for Peace.