15 November, 2021
Conference of Polluters 26
Reports from a volunteer
The pressing matters of climate change has been discussed on the 26th global United Nations Climate Change Conference of the Parties (COP26). It was hosted by the UK in Glasgow and lasted from the 31st October to 12th November 2021.
Robert Unwin, our long-standing volunteer and workcamper, participated in the events surrounding the COP26. He has been involved with the organisations such as IVS in the UK and VOLU in Ghana. He was also an activist for IVS-DEEP (Development Education and Exchange Programme).  
Robert shared with us three reports in which he details his experience of participating in the Youth Strike for Climate Justice, Global Day of Action and People's Summit for Climate Justice.  
Youth Strike for Climate Justice – 5th November 2021
A major theme of Fridays for Future youth strike, to coincide with the UN COP26 Youth Day, was to highlight the experiences of people from the global south – disproportionately both affected by the climate crisis and excluded from COP26.
A highlight was a group of indigenous Amazonian activists who led the march and spoke at the rally. A passionate speech was given by a young Ecuadorian earth defender from the frontline.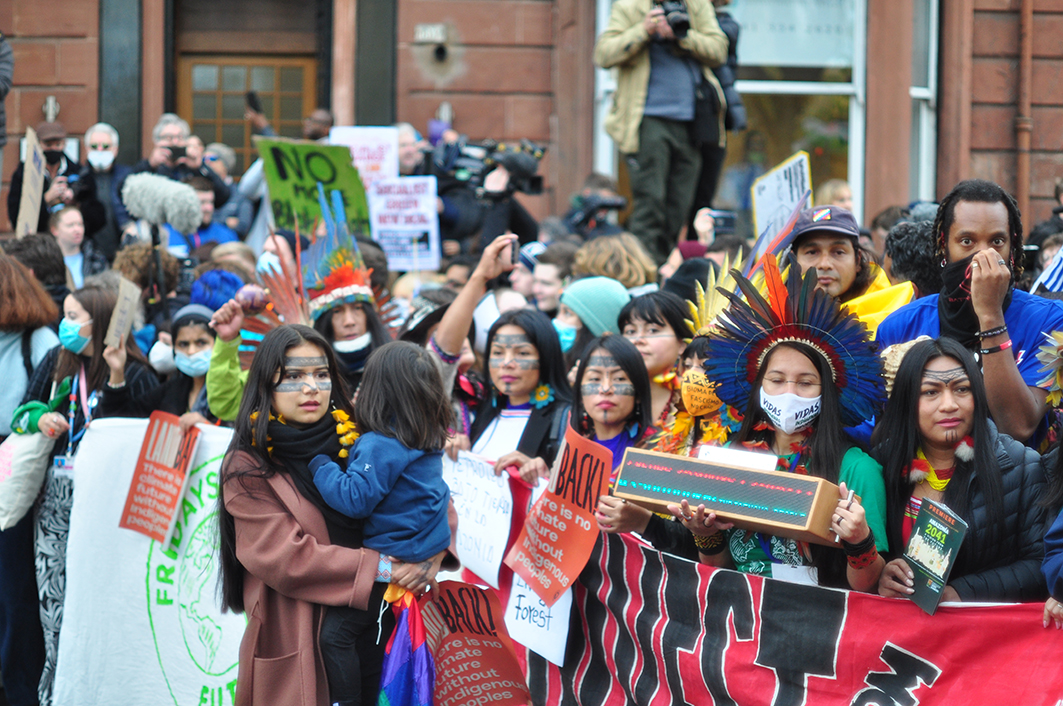 An estimated 25,000 people of all ages thronged the streets of Glasgow but it was the children and young people who were especially prominent. A parent of a young child said that her child's school had been supportive once they knew the reason for the absence.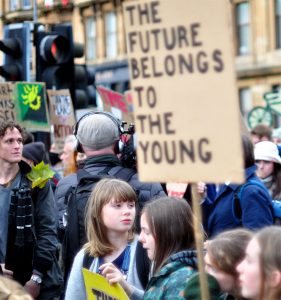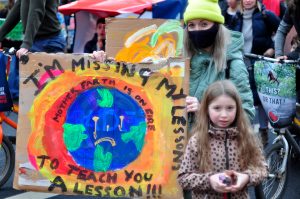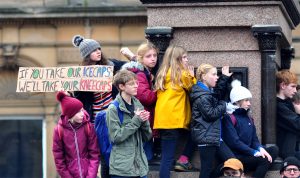 There were some strong words for the adults at the conference. One group of secondary sociology and languages students had come with their teachers after the opportunity had been publicised and parental blessings obtained. One teacher felt that the opportunity to take part was valuable to enhance understanding of how social change happens, including an experience of solidarity in action and a critical awareness of the various forces at play. A good example of this was the vibrant presence of the Belgian student group COMAC (Change, Optimisme, Marxisme, Activisme, Creativiteit) with their flags and giant refugee puppet 'Displaced Dora'. Another was  the range of solutions on offer to the climate crisis from different groups, for example diet change or system change. The former advocated by active vegan groups, including religious followers of Supreme Master Ching Hai and the latter by leftist political groups.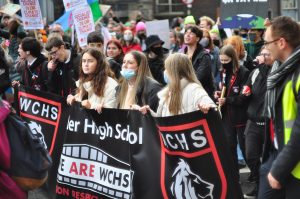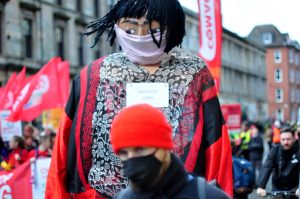 Many references were made with the pandemic. Though only the medics all seemed to be sporting face masks.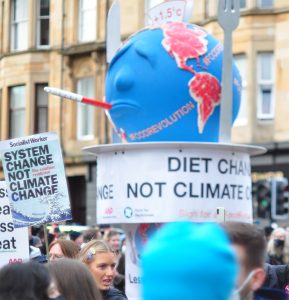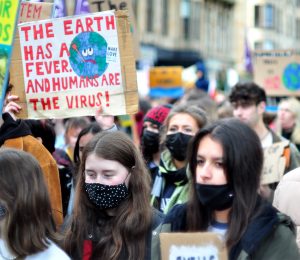 Many marchers came from across Europe, including, notably a French NGO, running interactive activities, a Spanish dinosaur, a Swedish Grandma, cyclist and a German walker in a spherical cage.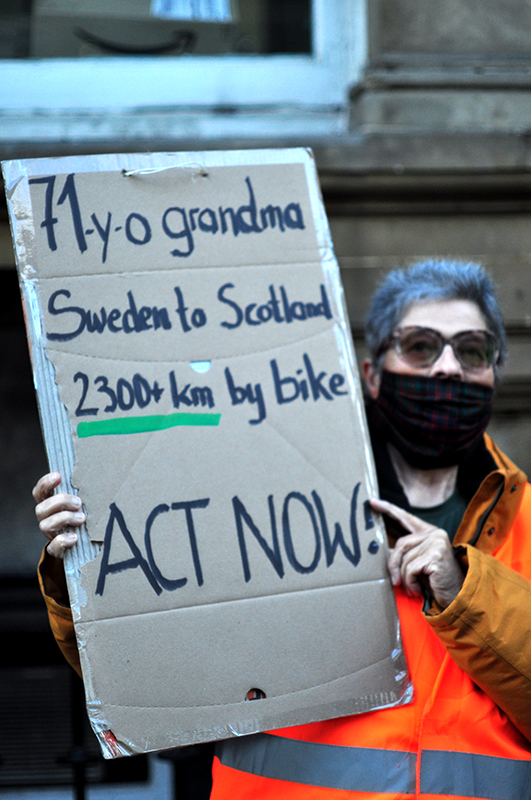 The city centre rally featured excellent speakers from across the world including New Guinea, Uganda, Colombia, Namibia The Philippines, Brazil, Mexico and  UK powerfully concluded by Greta Thunberg.
Global Day of Action 6th November 2021
The demonstration through Glasgow, estimated at around 100,000 people, assembled in rainy Kelvingrove park and was joined by numerous feeder marches. This included a strong representation from the trade unions.

As we moved towards the city centre, the heavens opened, but so did the banners from windows. The climate also came out in support with a rainbow and beautiful sunshine. A huge range of organisations: political parties, NGOs, unions, national and community groups were represented, including a strong presence from Fridays for Future youth movement. There were many groups from the Global South, including a representation of Indian farmers suffering the direct effects of the climate crisis.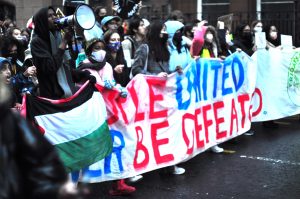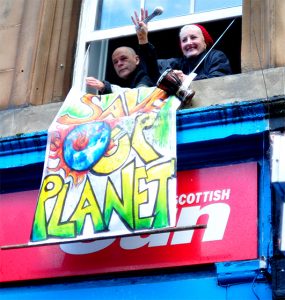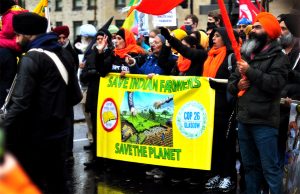 Extinction Rebellion were out in force with some sophisticated and articulate creations. There was anger but also hope in the power of people to change things. Vegan campaigners were well represented with giant inflatable animals and a strong message about lifestyles.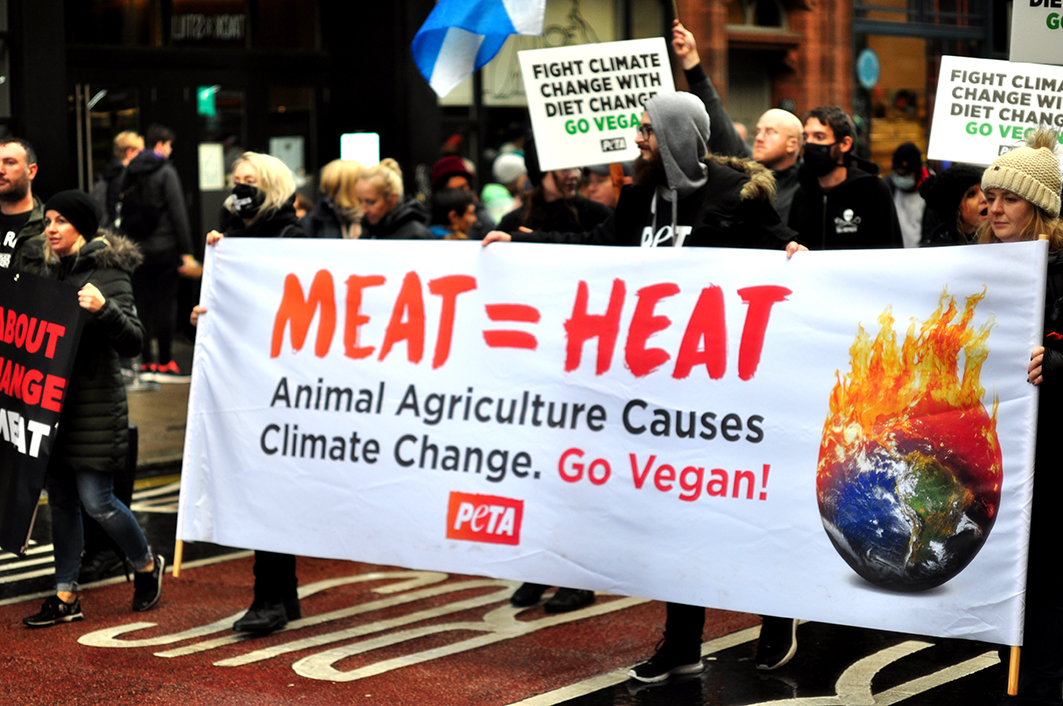 Scottish flags and 'Aye' independence slogans were also accompanied by ideas for local solutions, such as croft farming in the highlands. A major theme of the day was the rousing music. Here is a video of one of the samba bands. Later on in the march, protestors were entertained and energised by an excellent local brass street band. Watch them in action.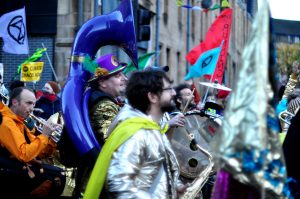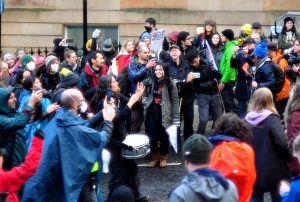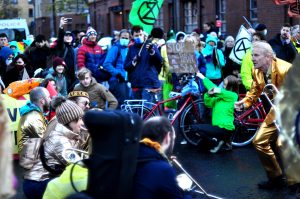 The day concluded with a  music festival on Glasgow Green which was just what  was needed as the weather took a turn for the worse. The music also erupted on to the streets with a wild parties around pick up trucks with speakers like this one. Later in the evening we visited the actual COP26 Blue Zone venue with its high security. We contemplated what the official delegates were making of the media coverage of the protests in the city and in their own countries and also their immediate surroundings, as many of them headed off to local bars for the evening.
People's Summit for Climate Justice
This incredible alternative programme of workshops, panels, films and performances ran from Sunday 7th Nov for four days across multiple venues, in multiple languages, supplemented with additional 'Movement Assemblies'.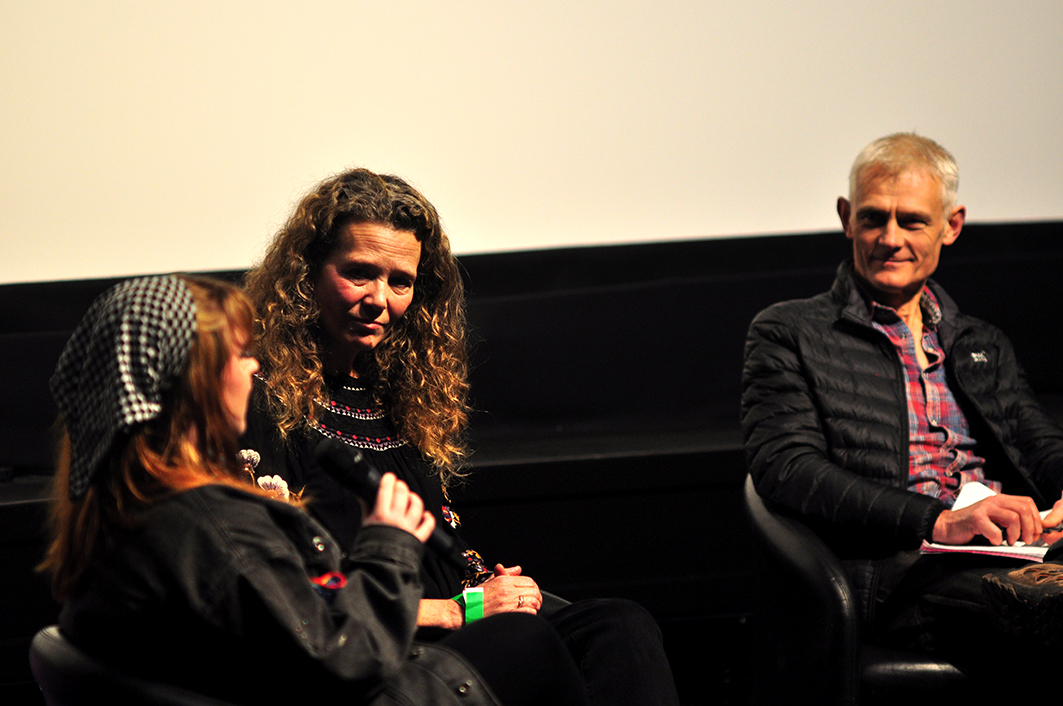 We were joined by official COP26 attendees including those who gave report backs on the day's events in the negotiating rooms. As an example, here is a sound file of a report back on Friday 5th Nov from Mohammed from Kenya. With almost 200 events to choose from and long queues to many, I'm only able to give a flavour with a few examples. A recent BBC Scotland documentary, Black, Black Oil, was an excellent stimulus for a panel discussion which included the Director, Emma Davie and Professor of Energy and Climate Change Kevin Anderson. Some of it was recorded here.
A larger panel discussion was held on Reparations, Debt and Climate Justice. This included activists such as Lidy from The Philippines, Patrick from South Africa, who spoke about the low Covid-19 vaccination levels in the Global South and with Yvonne from Ecuador and Eva from Greece spoke eloquently about the dire financial situations in their respective countries.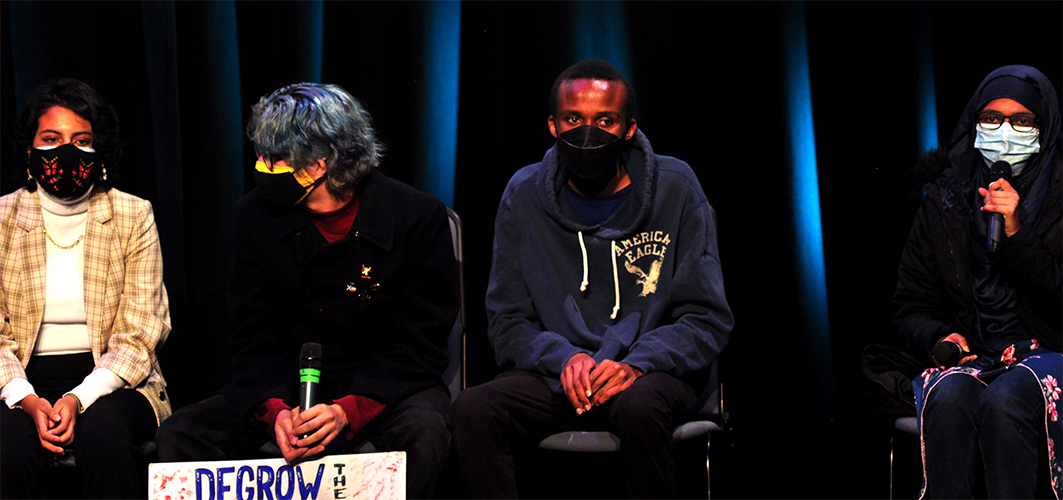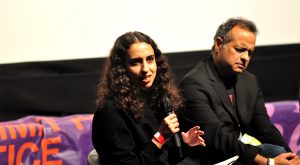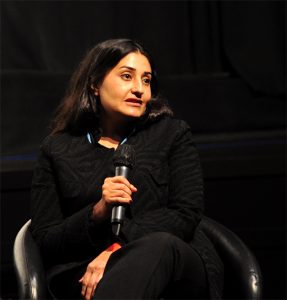 Youth activists from Fridays for Future MAPA (Most Affected Peoples and Areas) ran the second part of the session with powerful testimonies.
An analogy was given of driving on the wrong side of the road, hitting another car but then asking how the victim was going to spend the compensation money. New campaigns for climate justice may include exploring legal routes. Further sessions I attended included an interactive workshop on 'Staying hopeful' while facing the climate crisis. with a focus on self care and connection. Finally I heard three powerful speakers on the UK arms trade and its affects on the Palestinians, the Kurds and more widely, including the parallels with fossil fuel companies.
All the materials, photos, texts, videos and recordings have been summited and created by Robert Unwin.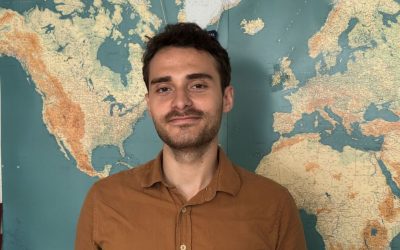 Albanoi will be joining the IS offices for a year here in Antwerp, helping out with communication. Hi everyone! My name is Albanoi and I am the new Communication Volunteer for SCI IS. It feels weird even typing that because when I applied, I did so on a whim and did not think much of it, only to find myself in Antwerp two months later, in an unknown city, alone for the first time. It is exciting...