20 April, 2020
It is high time to support our farmers!
International Day of Peasants' Struggles
Any crisis means important changes: with this global virus that has derailed our whole economic system, it is crucial to review our eating and consumption habits in a permanent way. Away from the dominant model in place. April 17 is the International Day of Peasants' Struggles. Even though it will be a virtual one for us confined workers this year, farmers are still at work. It is an opportunity to revalue and celebrate this essential profession. We relay here the call of the international farmers' movement La Via Campesina: "let us transform windows, terraces, gardens and fields into our places of demonstration, transform our pans into drums of resistance. Let us make our banners of denunciation!". On social media, many activities will take place this weekend, organised by the network of local agriculture in Belgium. #StayHomeButNotInSilence #IsupportPeasants.
It is also time to find alternatives to supermarkets and give their place back to short circuits and local agriculture!
• Everywhere in Belgium, there are "Solidarity Purchasing Groups": you will certainly find one close to you. There are also organic baskets from cooperatives or producer associations.
• If you live in the countryside, the neighbouring farms will certainly be delighted to have a new neighbour interested in their products. It is also an opportunity to bond, something we shouldn't underestimate in these times of social distancing…
Written by SCI-Projets Internationaux asbl

IVP Australia, together with partner organisation, is organising the Raising Peace festival with the aims to celebrate and raise the profile of peace, to create opportunities for collaboration between peace organisations and to inspire young people to take action for peace. The festival will take place over 10 days: 16-26 September 2021 in Australia.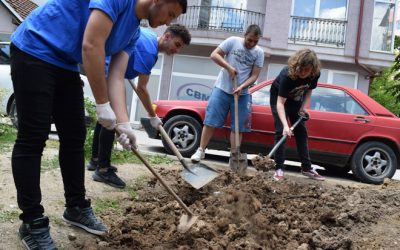 GAIA Kosovo's volunteers created a community garden in an urban space that was left unattended for a long time, bringing a new energy and bright natural colors to the whole area. The work on the garden generated interactions, conversations, new encounters and a lot of smiles between people from different generations, grandparents and young children, teenagers and adults.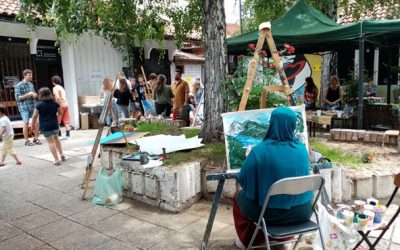 Volunteers at GAIA Kosovo organised a special Sunday fully dedicated to art, in the social and cultural place "Social Space for Deconstruction". When people live their day to day life in a divided city, they sometimes need to rethink about what we, as humans, have in common, and the universal language of art can help us do that.