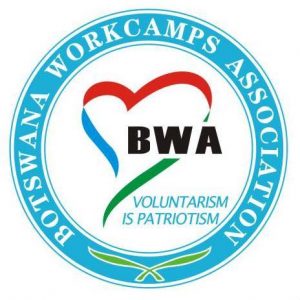 Address:
P. O BOX 1185, MOCHUDI
Botswana
Phone number:
(00267) 73614159
This organization is reachable by email via this contact form. Don't hesistate to contact them if you have any questions, they will be happy to hear from you.
The Botswana Workcamps Association (BWA) is a non-governmental, non-profit making voluntary organization registered with the Ministry of Labour and Home Affairs in April 1980 under the Societies Act. With headquarters in Mochudi in the Kgatleng District, BWA collaborates with local and national structures and bodies and is member of the Southern Africa Workcamps Cooperation (SAWC). It is affiliated to the Botswana Council of Non-Governmental Organizations (BOCONGO) and to the Coordinating Committee for International Voluntary Services (CCIVS). The mission of Botswana Workcamps Association is to enhance leadership development through community voluntary discipline, participation and increase self-reliance for broad based sustainable development in construction, environmental management and conservation, economic empowerment, psychological and physiological rehabilitation and leadership development BWA draws its membership from junior, secondary, tertiary schools and out of school youth. BWA exists under three programmes, which include, leadership development, workcamps and youth centre development.
BWA is actively involved in environmental management and conservation, considering that climate change reality starting to hit Botswana. The existence of our earth depends how the current generation manages the natural resources esp. vegetation, water, air and biodiversity including wildlife.
BWA have long been involved in establishment and maintaining of Khama Rhino Sanctuary nature reserve and park through generating, improving nature trails, camp sites and fire breaks, waste recycling, tree planting, refuse removal, soil erosion prevention and maintenance. Khama Rhino Sanctuary is located around 25km north of Serowe and 320 km North West from Gaborone, capital city of the Republic of Botswana. The Khama Rhino Sanctuary (KRS) is 8585 hectares community-based wildlife project, established in 1992 to assist in saving the vanishing white and black rhinoceros. The demand for rhinoceros horns has resulted in alarming poaching incidents in Africa, with Botswana not spared at all. The sanctuary provides safe environment for white and black rhino as well as over 30 other animal species and more than 230 species of birds. It provides secure natural habitat for rhinos whilst providing economic benefits to the local community through tourism levies and the sustainable management of natural resources. The sanctuary rhino population is breeding well and has resulted in need for expansion in resources. The Khama Rhino Sanctuary trust has successfully acquired 4000 acres of neighbouring farmland and expanded the fence creating a secure area to cater for larger rhino population. The park needs more camp sites, ablution blocks, water holes, foot paths, roads and fire breaks. This is why there is need for volunteers from SCI to assist BWA to achieve its environmental management and conversation intents.