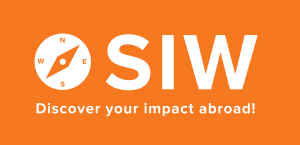 Address:
Willemstraat 7, 3511RJ Utrecht
Netherlands
Phone number:
+31 30 2317721
This organization is reachable by email via this contact form. Don't hesistate to contact them if you have any questions, they will be happy to hear from you.
The organisation of SIW consists of about 70 volunteers. With their contributions, SIW works towards the mission of stimulating people to broaden their horizon via international volunteer projects. SIW is a not-for-profit organisation (ANBI); we work with volunteers for volunteers.
The mission of SIW is to stimulate people to broaden their horizon. In order to achieve the mission, SIW brings volunteers into contact with different cultures. For this reason, SIW facilitates international contact and understanding, contributes to the personal growth and development of young people and encourages them to carry out social, cultural and environmental work. This work is offered in our projects in the Netherlands and in the projects organised by partners from our network abroad.