Branching out: (re)connecting ideas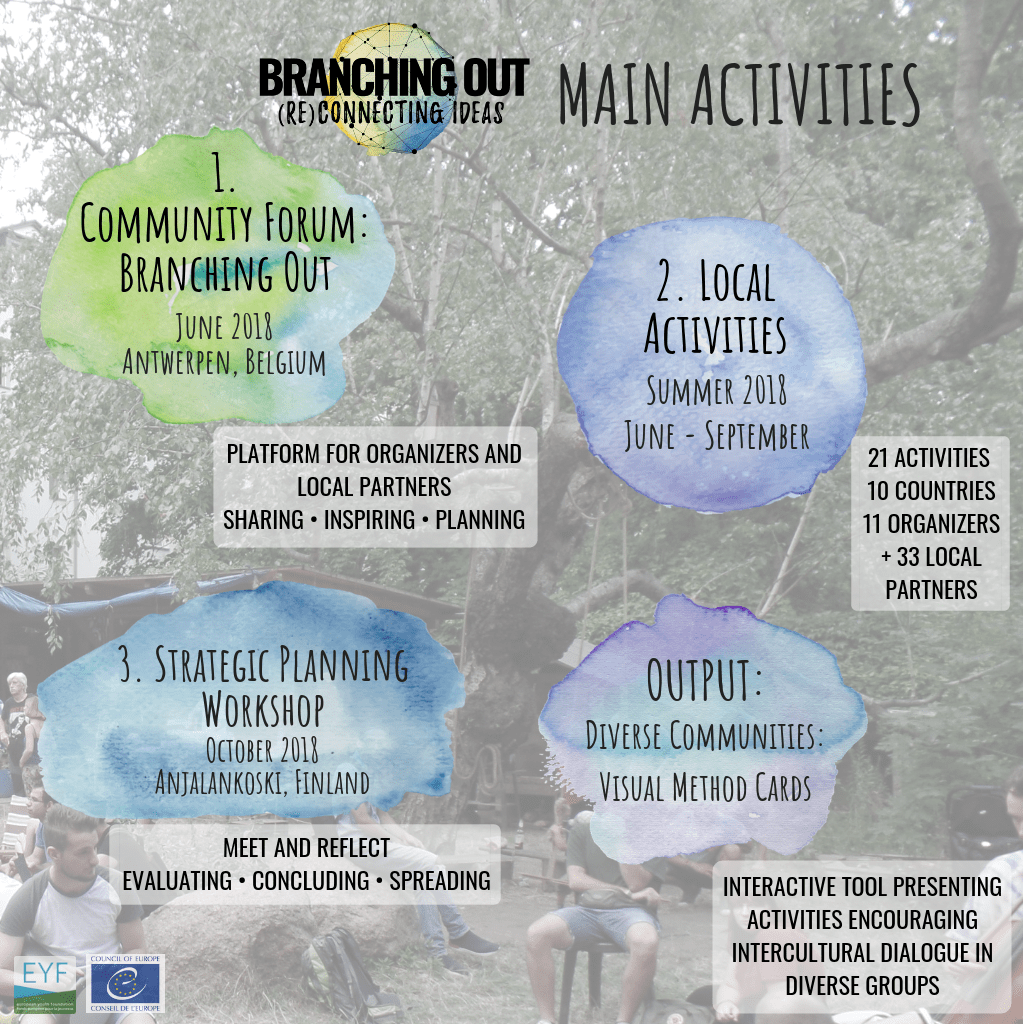 Branching out: (re)connecting ideas was a project that focused on collecting and sharing best practices when it comes to working with refugees and asylum seekers. The project gave an example of successful cooperation between SCI branches and their local groups while working together for a greater cause – including the marginalized ones in their communities and trying to make the world a better place – at least locally. The project was developed under the Building Bridges Campaign.
Create learning opportunities for young people and volunteer-based organisations to increase their capacities to act as change makers.
Systematically engage the target groups into volunteer-based activities in Europe.
Give young people and organisations a voice in formulating their vision for SCI's work in this area by co-shaping the SCI's Strategic plan 2019-22 and beyond.
The project was divided into three activities:
The Community Forum
Antwerp (Belgium), June 2018
It was a unique platform where SCI branches, other organizations and volunteer groups came together, exchanged experiences and were inspired for their future work.
Local Actions
All over Europe, June – September 2018
Local activities connected the local communities and target groups, while promoting peace through cooperation, using volunteer work as a medium, and with each done according to their local context. During the project branches and volunteers hosted 19 different Local Activities all over Europe to celebrate together diversity and solidarity.
Strategic Planning Workshop
Anjalankoski (Kouvola, Finland), 14-18 October 2018
The workshop allowed SCI branches and other organizations to discuss future strategies on working with young refugees/migrants and evaluate their past actions.
Diverse communities: Visual Method Cards
The Branching Out team proudly presented the Diverse Communities: Visual Method Cards, an interactive and easy-to-use tool that can help when looking for ways to cherish diversity and to encourage intercultural dialogue among different groups or individuals in a local community or during international activity. Behind this method are months of hard work and planning and because of that, the team did a workshop on how to use these cards and to collect feedback from participants on whether or not they find this method relevant, useful and inspirational.
Diverse Communities: Visual method cards are available online [48.9 MB] – you can find the cards and the instructions on how to use them.
The Branching Out project was supported by the European Youth Foundation of the Council of Europe.
Seminar for youth workers, trainers and educators
Ideas were discussed on how to create a dialogue between diverse groups of the society. There was an opportunity to have a study visit with CURANT, a co-housing and case management for unaccompanied young adult refugees in Antwerp.
Quote:
"'With this initiative, we want to ensure that young fugitives have the opportunity to rebuild their lives in Antwerp. Our first priority is the integration of these youngsters who, like all youngsters, deserve that extra helping hand. Curant combines human compassion and social responsibility. We hope Antwerp can be a leading example for other cities".
Seminar for youth workers, trainers and educators
The Zuckerfest in Munich bringing together different sections of the community, drawing murals with kids in Armavir region in Armenia, a workcamp in Helsinki that focused on intercultural relations and community development, and a cineforum for World Refugee Day in Barcelona. These are just few of the local actions. Read the full report here.
Featured quotes:
Marusya Ayvazyan, a volunteer involved in a project in Armenia where the volunteers drew murals with kids in the Armavir region says:
''Now I feel very happy that I have been able to do little work and make children happy and by the intercultural communication promote inclusiveness and tolerance in society. The camp gave me the opportunity to develop teamwork, communication, leadership, and drawing skills. We are very good team and that made our job much easier. We will continue our friendship and carry out many initiatives together''.
Organiser in Belgrade, Serbia where they had a community gardening and cooking event with refugees and locals:
"Refugees will have the chance to experience something different from their daily routine, meeting people from all over Europe is also important for them to increase their knowledge about Europe itself and its diversity, while they will also deeply benefit from the increased contact with local community".
Visitor of Human Library, Vibrant Storesn in Sofia where they focused on breaking stereotypes by looking on the positive side of migration:
"Thank you for organizing this event! The format of Human Library is very interesting and made me change my perspective on the migration topic. Having the chance to meet real people, "reading" their real stories, made me look on the humanitarian side of the topic. I can't wait to meet my friends and share with them this experience!".
Tips for organising local actions:
CVS Bulgaria: provide a space for children on your events! That way you will attract a bigger crowd – parents will be more willing to attend and start a conversation with other people.
Mouth-to-mouth promotion does work: informing people about your activities and events just by telling them what and where it's happening can still bring people to your activities. It doesn't always have to be through social media – sometimes more personal contact can do a lot!
Seminar for youth workers, trainers and educators
The workshop was held in parallel to and in collaboration with SCI's Exchange Platform Meeting (EPM) to discuss with a larger group of practitioners and share the projects tools and outcomes. This included the Tour de Branching Out: The Exhibition. The exhibition was a visual representation of the outcomes of the project. By having few separate sections – a presentation of Local activities of Branching out, the Gender-Blender corner, Diverse Communities: visual method cards overview and a photo exhibition of people passing through the Balkan route – a full impression was given to participants of EPM. Branching out team also reached out to EPM crowd by doing few workshops on challenges in our local communities, Refugee Fund, Building Bridges campaign and how to involve volunteers in projects and activities.