24 August, 2020
Solidarity in times of crisis
The recent crowdfunding campaign of GAIA SCI Kosovo
This year has been a very particular one due to the Coronavirus. Not only did the pandemic invade our lives, homes, and turned upside-down all our plans; it also reminded us how vulnerable we are as humans. Beyond the great number of victims, we saw the impact of the virus on our behaviors, how for example we ran to grab the last ten packs of pasta just to be sure that we will have enough, while honestly speaking, we never cook that much pasta…that's for the negative side. On the other side, we witnessed so many initiatives to help people in need that were exposed to difficult conditions during the pandemic. From providing shelter to homeless people so they wouldn't remain outside in the streets to famous head chefs organizing the distribution of quality food in neighborhoods, hospitals, for the medical staff and patients; these actions had a meaningful impact during these difficult times. While newspapers around the world are doing their jobs reminding us how the crisis has paralyzed the whole planet, we can try to focus on what has always worked best for humans, the magic recipe of all times: solidarity.
Solidarity is at the core of the recent crowdfunding campaign that GAIA Kosovo launched mid-August, together with the organization Roma Versitas Kosovo (RKV). The aim of the campaign is to collect money for the Roma, Ashkali, and Egyptian pupils and students from Kosovo. The three communities are some of the most vulnerable ones in the country and depend mostly on precarious and informal jobs. Due to the situation and measures put in place, they have not been able to work and provide for their families. Pupils and students have been even more affected by the pandemic since they could not attend school and means for online education are scarce. Once again, this crisis highlighted the strong injustice that some communities around the world are facing. The Roma, Ashkali, and Egyptian communities in Kosovo are not an exception. RVK with the support of  GAIA Kosovo has already delivered supplies (food, hygiene kits) to help more than 100 most vulnerable families during April and May 2020, and more than 500 people to get access to basic protective packages (gloves, masks). The action has been made possible with donations from different people and organizations.
Solidarity is needed in these times of crisis so populations who are facing poverty and marginalization can exercise their basic human rights, education being one of them that can simply not be neglected. The funds collected will serve to provide basic IT devices (around 30 laptops, tablets) so that the pupils and students can get fair access to education.  You can support the crowdfunding by donating in Gofundme or sharing the link.
Written by GAIA SCI Kosovo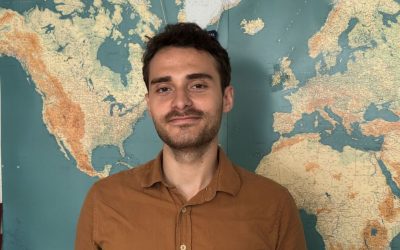 Albanoi will be joining the IS offices for a year here in Antwerp, helping out with communication. Hi everyone! My name is Albanoi and I am the new Communication Volunteer for SCI IS. It feels weird even typing that because when I applied, I did so on a whim and did not think much of it, only to find myself in Antwerp two months later, in an unknown city, alone for the first time. It is exciting...