Art and culture
A French voice from an Asian branch
The project took place in:
Malaysia
Written by Leila Seddiki from France
Leila Seddiki from France is currently LTV at SCI Malaysia, Kuala Lampur Office and took part in two wokcamp, one in Penang and the other one in Selangor.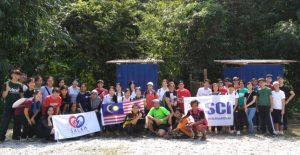 First workcamp in Penang: 
Number of volunteers: 10 international student of Hong Kong University +Billy (SCI Hong Kong), Sophie (SCI Germany) and Leila (SCI France).
From 19 to 25 December, an international work camp organized by SCI Penang Chapter was held in Penang. The program of this workcamp was composed of two parts.
The first part from 19 to 21 December was the Roof Top Farming. We worked in collaboration with the CAP (consumer association of Penang). The volunteers planted in the rooftop about 50 varieties of vegetables and herbs.
The second part was the Spark Student program: The opportunity for Hong Kong students and local students to share and exchange views and information of their respective education systems, opportunities and challenges.
The last day was an opportunity for the volunteers to discover the city of Penang and its heritage: penang hill, temples and gastronomy.
Before returning to Hong Kong volunteers had the opportunity to stay two days in Kuala Lumpur with the program:Visit of Batu Caves, Royal Selangor Visitor Centre, Twins Tower, Suria KLCC, Merdeka Square, National museum, central market and they have completed their stay by a local dinner in a Malaysian home.
Second workcamp in Selangor: 
From 2 to 8 January 2017 SCI KL and Salam Malaysia hosted 32 students to the Rotaractors from HK City University at the Temuan Orang Asli Community at Kg Pertak, Selangor. The volunteers worked with the idea of helping the village / community.
During this workcamp different work activities have been proposed in order to improve the comfort of the villagers. Building of changing room at picnic area: The volunteers worked hard for three days to complete the construction of the changing room. They appreciated seeing the final result and it is a good thing to do for the villagers.
The kitchen was one of the key moments of the camps: every day one team prepared the meal for all the participants. A Feast Dinner with the villagers held in the day 4, for this event the participants learned with local help a Malaysian traditional dance.
The evening was an opportunity for the volunteers to be able to give feedback of their days, but also to be able to share and exchange with the local participants through games, dance and also discussions.
During the last day the volunteers made a trekking in the jungle. They were able to admire the waterfall and play in the water.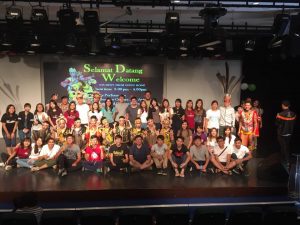 Our team with the dancers during the Cultural Dance Performance in MATIC.
Read more Voices of Volunteers