Intercultural dialogue
Making Good in Slovenia
The project took place in:
Slovenia
Written by Cristina Tosone
Slovenia hosted 5 workcamps in the month of July. One of them took place in Vodice, a few kilometers away from the capital Ljubljana.
Six volunteers gathered there for one week in order to provide some support to the small local community. They started by doing some renovation work in the firefighters station, then they did gardening and built bird houses for the local sport association. They also had the chance to help collect salt nearby the Slovenian seaside.
Although it seems like they were only working hard, they also had time to relax and enjoy the beauty of Slovenia. Camp organizers drove them all around the country, allowing them to go sightseeing in Ljubljana, swim in lake Bled and sunbathe by the sea in Piran for a while. They also had the chance to taste original Slovenian food during the evenings they spent with local people.
They all had the feeling of being part of a big family, even within such a small amount of time,  and a lot of tears were shed during the departure day, both by volunteers and local organizers. What was the reason they bonded so tightly? Probably due to a mixture of warm welcomes they received, the perfect organization, the desire of each volunteer to contribute at their best, as well as the magic of SCI workcamps which has been connecting people for almost 100 years so far.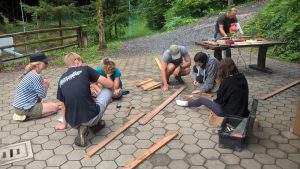 Read more Voices of Volunteers