Peace
Meet Jac a participant of "Utopias against War"
The project took place in:
Italy
From April 16th to April 22th of 2023, the seminar "Utopias against War", part of the project "No War Anywhere!" founded by the European Youth Foundation took place in Rome with the help of SCI Italy. During one week, participants have reflected on antimilitarism and its implications while planning future antimilitarist campaigns for the second encounter of the project in Vienna. Jac, a participant from Wales, agreed to share his experience with us.
My name is Jac, I had the opportunity to take part in No War Anywhere! project about antimilitarism in the "Città dell'Utopia" in Rome. I am one of the leaders of the youth wing of The Fellowship for Reconciliation in Wales. I am also taking part in queer and antimilitarism activism in my university in London. I am currently studying political sciences.
Why did you decide to participate in the antimilitarist seminar No war Anywhere ?
When my sending organization told me about this antimilitarism project, I thought it was an amazing opportunity to meet open minded people coming from different countries and backgrounds to talk about this topic. It was also a bit of a challenging adventure for me because I am an introvert. I thought it would be a great way to give me motivation and passion to continue my activist path. 
Why do you think it's important to take part in that kind of initiative, especially for young people ?
It might be a platitude but we are the next generation and we are going through a new era of civil society. As the new cohort of activism, we have to face the need of renewing activism. If nobody is here, the civilian pressure on governments and the protests are going to go down. The room left for civil society to play an active role would be very small and people will not question the system they are living in.
Can you explain what the seminar was about ?
To begin with, I do not think that I would call it a seminar. For me, a meeting place for people of different backgrounds would be more fitting. Because of the non formal aspect it was up to us, participants to actively produce exchanges and reflection. The facilitators are not teachers so we were not given knowledge but discussing it which in my opinion makes it the most valuable. We got to know each other as future activists with the background of militarism and created a web of people that could help each other in the future. Listening to testimonies of people growing in different countries like Kosovo or Ukraine teached me a lot. I really want to get more involved in international peace. My attention was especially attracted by thinking about perspectives in philosophy and how western philosophy has impregnated us, in the way we produce knowledge and see the world.
How would you define non violence and antimilitarism ? What could be someone  or something that can be a good symbol of it ?
I would define non violence as a type of activism without causing any physical harm, in a way that isn't hurting anyone.  Antimilitarism is more nebulous, it's an ideology that is opposed to militarism in every of its aspects and every of its sub-aspects like daily violence in society or heteronormativity. To represent it, I like the pacifist rainbow flag that I saw everywhere in Rome with "PACE" (peace) written on it. I found it very interesting because it could include the LGBTQIA+ dimension as well. I think that the dove is a bit old fashioned and has too much of a religious connection to it. 
Is there something specific that especially grabbed your attention ?
There was one exercise that I particularly liked where we had to close our eyes and were asked to imagine our  happy places.  For me, it was the first time I thought about that. There was an extra-attention taken into making a healthy environment and taking care of ourselves and each other. 
Was there something unexpected during the week  ?
I wasn't expecting it to be so queer inclusive !
What do you think everyone should know about antimilitarism or militarism ?
I think everyone should know how destructive militarism can be in everyday life and how much it's already part of your reality without you knowing. It belongs to a larger way we think about ourselves. For example, gender wise, how the coercive imposition of heteronormativity values a violent masculinity and generates militarism. 
What would you recommend to someone that wants to dig in more about this subject ?
I would recommend a book by Wendy Brown called States of injury, that outlines the fact that we are all subjects of neoliberalist thoughts. Because of that we do not question the way the world is and our morality can be reduced by a cost/ benefit analysis for example. Militarism is included in that mentality and has similar mechanisms as how neoliberalism influenced our mind and life. Then, Rosa Luxembourg, Gramsci or James Boldwin could be interesting activist literature.
Did you decide on an antimilitarist campaign that you want to lead ? 
Yes and I already started it with seven other people ! It's a queer activist writing group called "The Melian Society" where we write prose or poetry. We are still thinking about how to publish it, for example by creating a revue and a branch in my university. We already have an instagram account that is called @the_melian_society. We also want to write about others antimilitarist campaigns to support each other. 
How did the encounter you made during the training influenced your journey ?
Dramatically. Until now, I was interested in antimilitarism but also very focused on my own studies. I felt like I had  to let go of my beliefs and values in order to develop my personal life and to study. I did not feel that I could hold onto my beliefs on my own. Meeting so many people involved in activism gave me the will to continue to involve myself more into activism.  It reminded me that a lot of suffering is going on. I want to help end that suffering, even back home in Wale, I want to challenge the power structures!
The No War Anywhere! project is co-funded and made possible by the Council of Europe through the European Youth Foundation and the European Commission's CERV Programme.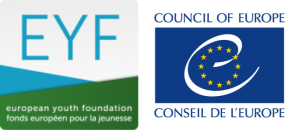 Read more Voices of Volunteers