Intercultural dialogue
My experience at a workcamp in India
Written by Zahir Raihan from Bangladesh
I had the privilege to be a participant in the 8 days long work-&-study camp organised by Maharashtra Group, SCI India in collaboration with SANVITA Ashram to gear up SCI activities after the post COVID global situation.
The Ashram is run by a registered Jeevan Aanand Sanstha to help mentally and physically challenged people, abused women on the street, orphans, infants and elderly. The objective of the Ashram is to raise the quality of life of these destitute people irrespective of any caste, religion, social background or identity by birth by creating an environment conducive to their physical, mental and spiritual growth in a holistic manner. The goal is to enable them as far as possible to become self-reliant and to facilitate their integration within the existing social structure. The Ashram also aims to train these residents to have good interaction with the family members, with the society and help them to learn basic life skills.
After 36 hours of travel from Dhaka by flights, train, bus and car I reached the Ashram at Pandur, Kudal along with my fellow citizen Mukshadur. Pandur is a little village in Sindhudurg district, Maharashtra, India. While reaching the Kudal railway station at 08:30 pm we were greeted by Mr. Sandip the executive chief of the ashram and taken to the camp venue.
Twelve participants took part in this camp including us two from Bangladesh, three from Kolkata, four from Mumbai and the rest were local. The residents of the Ashram often joined our activities. We did some symbolic manual work like moving the soil and rocks from one place to another and cleaning the garbage at the local railway station to make people aware about environmental pollution. To eliminate superstition we cleaned a cemetery situated apart from the facility. Usually people don't want to go there believing that ghosts might exist.
On children's day we were divided in groups and visited some local primary schools, shared cultural activities among the students and teachers.
One day we went hiking on a local mountain, which is surrounded by forest and natural beauty. Around 15 girls and boys from local colleges accompanied us. We discussed some global issues such as climate change, sustainable development, and the role of SCI in the changing world etc. Ten among the students were motivated and they expressed their wish to become members of SCI. Subsequently SCI Maharashtra group decided to open a SCI unit in Pandur to associate local young people with SCI. 
In a get-together we met with friends from Maharashtra, Mumbai and Bangalore local groups and SCI India central committee as well. Accommodation and food was nice for me and there was a vegetarian variety. I must praise the cordiality and individual behavior of the campers, organizers and staff of the Sanvita ashram. I recommend at least one day of free time in between the work camp in the future for washing clothes and to manage other personal things of the participants.
We interviewed three female residents of the Ashram, two from Bangladesh and one from Telangana, Hyderabad, India as per their statements. They were found unsecured and homeless moving around from one place to another in Mumbai City and taken to the Ashram as residents and for several years they were staying here.
The lady from Telangana speaks only Telugu language and we couldn't understand what she said. We recorded her voice and translated it into English, thus we came to know her address. Local police station shared the address with Telangana police and they had been able to identify and contact her brother. After traveling around 900 Kilometer the next day her brother reached over here at the Ashram in Pandur, Kudal, Sindhudurg and she was handed over to her brother's custody. It is indeed hard to imagine or feel her emotional enjoyment meeting her brother.
Perhaps, many among the residents at the Ashram have been suffering the same as she suffered for the last four and half years, some may be for more than decades. Numbers of mentally challenged residents came here with unexpected pregnancy and gave birth here. The children are being looked after here by the Ashram. I salute the key person Mr. Sandip for his great efforts of noble causes for the betterment of the society and human beings as well.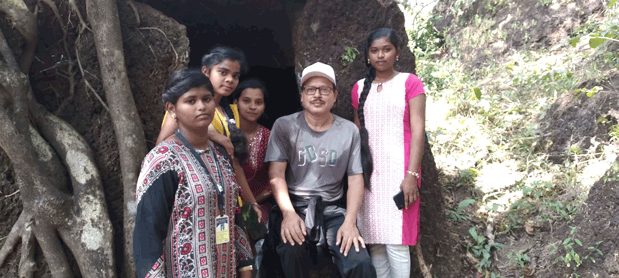 To conclude this report I would like to mention that SCI India and of course Maharashtra Group and Sanvita Ashram as well deserve the praise for organizing the work camp after the post COVID 19 situation, it would really strengthen SCI activities and inspire other SCI branches to organize work camps. I express my heartfelt gratitude to Mr. Nitin, Mr. Sandip and all friends of SCI India including Mr. Arul Raj, President, SCI India and SCI Bangladesh for giving me the opportunity to participate in the work camp.
Thank you!
Read more Voices of Volunteers